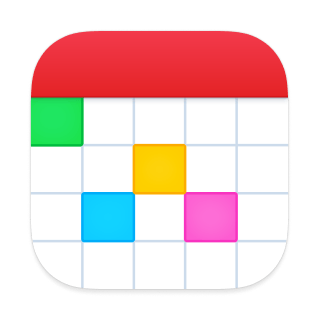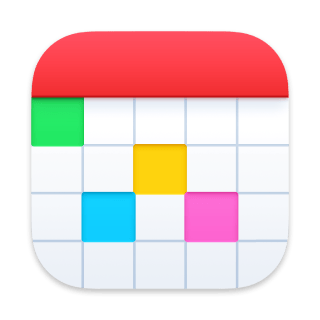 Events. Tasks. Meetings.
Download Fantastical
Requires iOS 15 or iPadOS 15 or later
Requires macOS Big Sur or later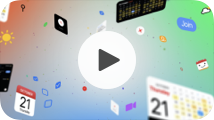 Watch the video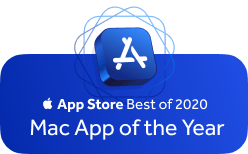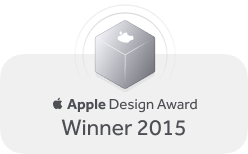 One Fantastical

All Your Devices
Fantastical works seamlessly across your Mac, iPad, iPhone, and Apple Watch.




Add your existing calendar accounts directly to Fantastical and keep all of your events and tasks in sync. Your Flexibits account syncs all your custom calendar sets, templates, notifications, weather settings, and more.
Award-Winning
Design
Fantastical has a beautiful and friendly user interface with multiple views, including detailed full screen views for iPhone, iPad, and Mac.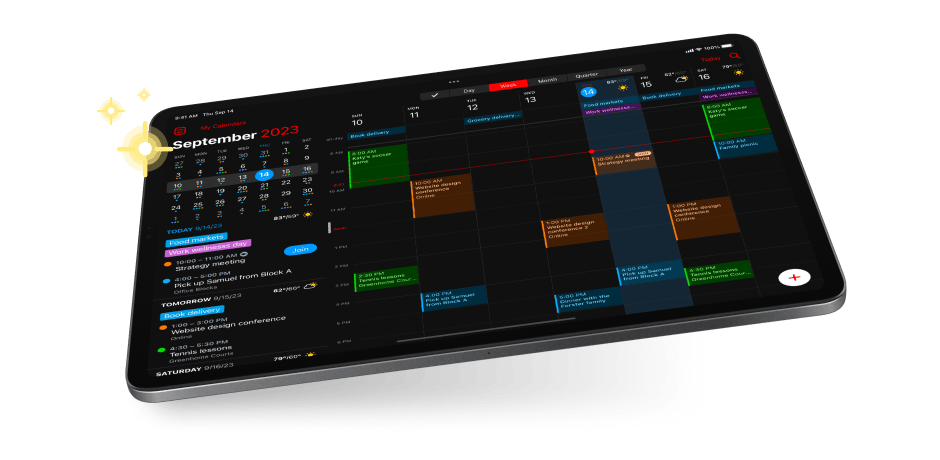 File and Photo Attachments

Quickly access the files or photos you need at your next meeting or for your next task.
Quickly upload files or images directly from Fantastical to your iCloud, Google, or Exchange events. Attachments are accessible across all devices that sync with your calendar accounts.
Powerful Views

DayTicker. Day. Week. Month. Quarter. Year.
No matter what device you're using, Fantastical will give you the view you want. See a quick overview of your calendar with the Fantastical DayTicker and Calendar views, and browse comprehensive full screen views of your day, week, month, quarter, or year when you need more detail.
Event & Task Templates

Quickly add your most frequently used events and tasks.
Fantastical can create quick templates from existing events and tasks. Selecting a template will copy all of the details from the template into a new event or task instantly. Scheduling frequent events has never been this simple.
Tasks

Plan. Schedule. Accomplish.
Design and complete your projects directly in Fantastical. Add tasks alongside calendar events and complete them when you've accomplished the task. Tasks notify you when they're due, and overdue tasks carry over to future dates. You'll never forget about a task again.
Also works with
Right Here. Right Now.

Focus on what matters.
With Fantastical's Calendar Sets and Focus Filters you will only see the events and tasks that currently matter. Enable your Work calendars when you arrive at the office, or get reminders to call your kids when you get into the car.
Calendar Sets

Filter calendars by location and time.
Calendar sets let you group different calendars and task lists together, letting you quickly toggle them all on and off at once. You can even automatically have a calendar set activate based on your location or at a specific time. Whether you work at an office or work from home, Fantastical has got you covered.
Focus Filters

Filter calendars based on Focus.
Your calendar will automatically adjust and filter only what you want to see when the current Focus changes. For example, your Work calendar set will automatically hide when you are using a Personal Focus. Focus Filters help you automatically focus on what's important right now. (iOS 16 / Ventura or later)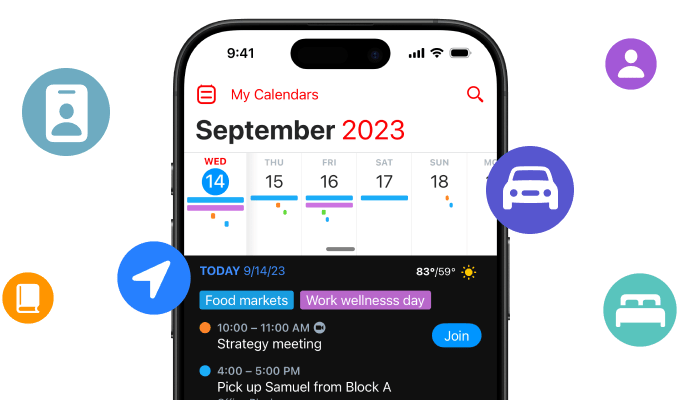 Organizing calls and meetings


is now

easy

.

Fantastical makes scheduling events easy by only offering times that work with your availability.

Learn More About Scheduling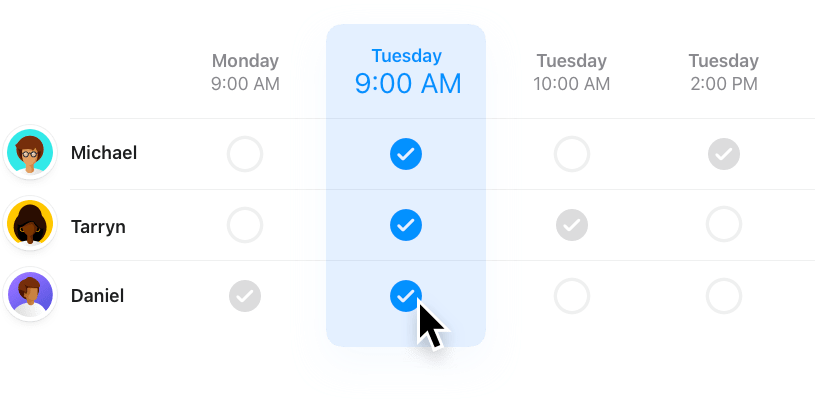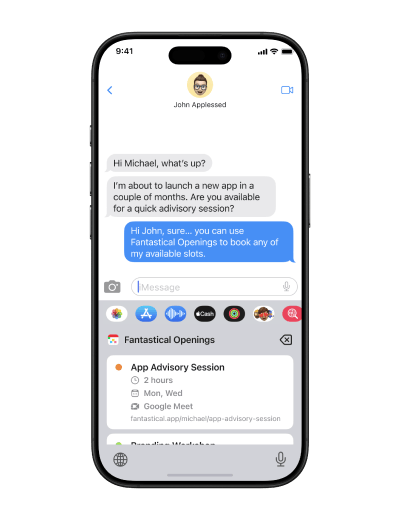 Openings
Keyboard
Quickly share Openings in any conversation.
Share your Fantastical Openings meeting links quickly and easily. Great for Messages, Mail, or any other app where you need quick access to your Fantastical Openings links.

Easily add and join


Conference Calls
Add Conference Calls
With a single click or tap, Fantastical will automatically generate a conference call and add all of the details to your event! Even better, all invitees on the event will receive the meeting invite and the conference call details. Adding conference calls to your events has never been this fast or easy.
Supported services are Microsoft Teams, Google Meet, Zoom, and Webex.
Join Conference Calls
All upcoming events with a conference call will automatically show a badge in the list, Day, and Week views. Best of all, events with a conference call will show a Join button in the list plus the Day and Week views so you can quickly join your conference call with a single click or tap when the call is about to begin. The macOS version also has a Join icon in the menu bar. Fantastical takes some of the work out of working from home.
Quickly Join 30+ Conference Call Services
Fantastical's automatic conference call link detection supports Zoom, Webex, Microsoft Teams, Skype (for Business), Google Meet, GoToMeeting, RingCentral Meetings, BlueJeans (Events), Whereby, Chime, Lifesize, VooV, BigBlueButton, HighFive, Vidyo, Circuit, StarLeaf, Lifesize, Blackboard, Lync, Around, Hopin, Vonage, Doxy, Jitsi Meet, TheraNest, SimplePractice, Dialpad Meetings (formerly UberConference), Gather, net2Phone Huddle, RiversideFM, Workplace Rooms, 3CX, and MiTeam Meetings.
Time Zones

Done Right
Stay on top of time zones with Fantastical's clear and handy time zone support.
Choose the time zones that are relevant to you and easily see the converted time on Fantastical's handy time zone card right in the event. Scheduling events in multiple time zones is now quick, easy, and helpful.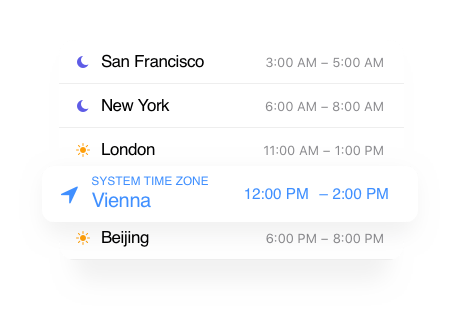 Light &
Dark
Some prefer dark. Some prefer light.
Whatever style you like, it's your choice.



Your Events


None of Our Business

Fantastical is designed with a privacy-first approach, which means it keeps as much private data on your device as possible. Your account's password is stored securely on your device using the Keychain and never leaves your device. See our privacy policy for more details.

Privacy at Flexibits
Fantastical
Widgets
14 widgets to mix-and-match your favorites directly on your home screen.
Quickly see your upcoming events, tasks, conference calls, weather, and more. Multiple small, medium, and large widgets help you stay organized even when you're not using Fantastical directly.
New
StandBy
Lock your iPhone and turn it sideways while connected to power to have Fantastical display your choice of widgets: Icon, Date, Calendar, Up Next, or Event List.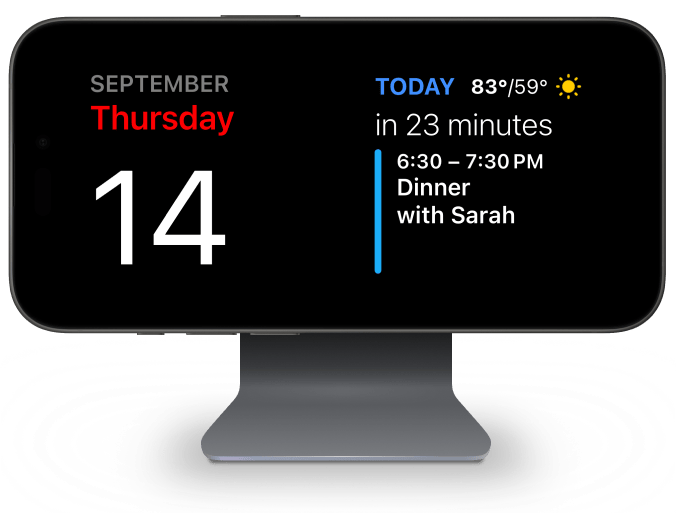 Lock Screen

Widgets
Quickly glance at your events directly on your Lock Screen with three widget options: Up Next, Calendar, and Quick Action.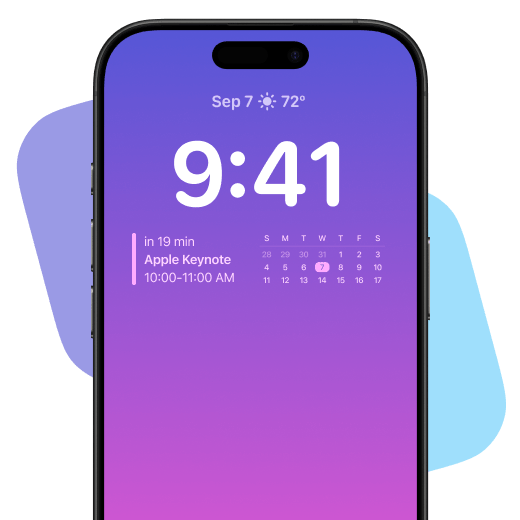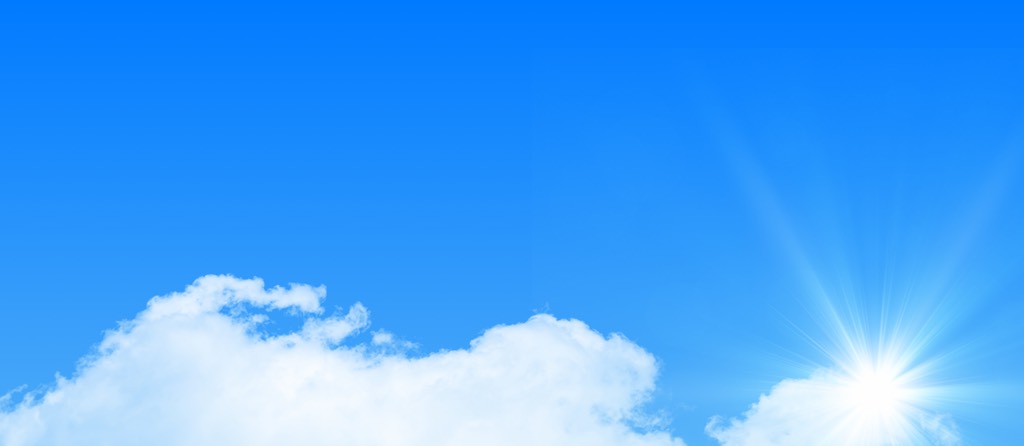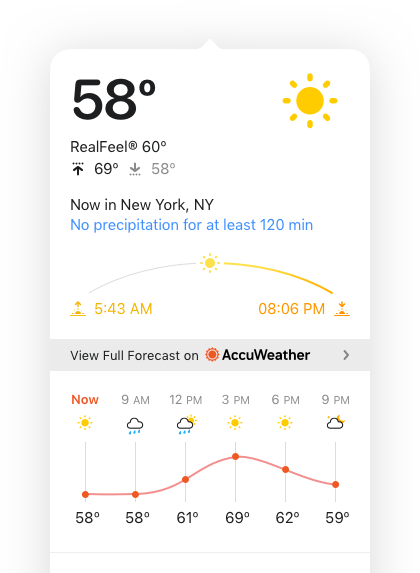 Weather
See weather conditions for your days and weeks ahead.
Fantastical integrates a detailed 10-day weather forecast directly into all calendar views, with further details on demand. Powered by AccuWeather, Fantastical's forecasts are accurate to the minute and RealFeel will inform you of what temperature conditions actually feel like once other factors (humidity, cloud cover, wind chill, etc.) have been taken into consideration. Sunrise and sunset times are also displayed so you plan your day perfectly. Plus, events with locations will display the weather details for that specific location on the location map.
Powered by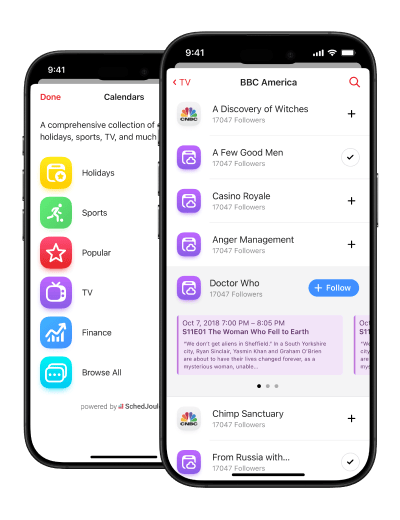 Interesting

Calendars
Stay up to date with events that are important to you.
Browse, search, and instantly add new, up-to-date calendars for holidays of various countries, religions, or education systems. You can even add calendars for your favorite sports, TV shows, and much more... Get historical data and track your relevant upcoming events. It's relevant content for your calendar and it's never been this easy.

All Your Accounts
Fantastical supports the most popular calendar services and does so with power and productivity.
Fantastical has its own powerful engine for CalDAV and Microsoft Exchange: This means you can add your calendar accounts directly into Fantastical. Fantastical supports iCloud, Google, Microsoft Exchange, Outlook.com, Microsoft 365, Yahoo!, fruux, Meetup, as well as any other CalDAV account.

Family Sharing

with up to 5 family members
Get Flexibits Premium for Families and up to five family members can use all of Flexibits Premium's powerful features. Plus it's a snap to set up: the primary account simply invites all the other members to join and that's it.
Get Started
Fantastical Speaks

Your Language
Fantastical is fully localized in English, French, German, Italian, Spanish, and Japanese. Simply enter your event or reminder in any of those languages and Fantastical will automatically understand. It's magical.