User Stories: How Cardhop Won Me Over
If I'm being honest, I've never been particularly excited about the Contacts app on any of my Apple devices. For me it's just been a dumb list where I can put people in my life so that I can talk to them elsewhere. I want their names, their emails, and their phone numbers so they auto-complete in iMessage or email apps. The Contacts app was a means to an end, so I never considered looking for something better; what would someone like me even get out of a better Contacts app?
But when Flexibits announced that Cardhop 2 was coming out and it would be a part of the Flexibits subscription I was already subscribed to, I figured I didn't have anything to lose by at least trying it out. I knew people spoke highly of the original version of the app, but again since I never cared much about this type of app, I didn't use it myself and thought this was a good chance to see what all the hype was about. To my surprise, there were indeed a few features that I found useful on a regular basis and has me running the app all day on my work computer.
Natural Language Input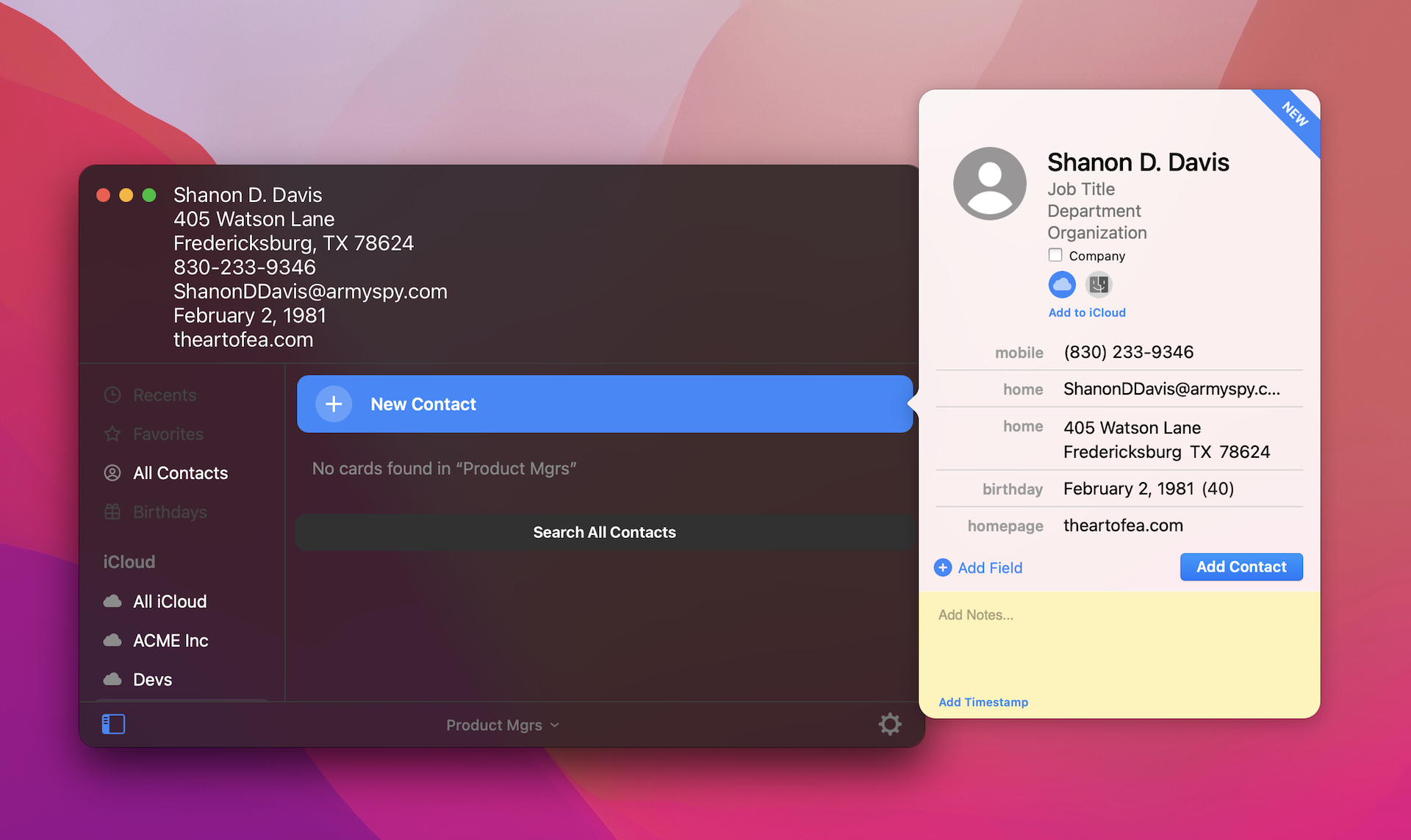 One of my favorite things about Fantastical is its natural language input for calendar events. It's super simple to create an invite by just typing out something like "Sync up with John at Starbucks from 4-5pm" and have a one hour meeting set up at the right time, date, location, and with an invite sent to John. It feels like magic and is really powerful.
So I was very pleased to see that this natural language input is built into the core of Cardhop as well. Simply type into the always-visible text box in the app to find someone, add a new contact, or even invite people to a meeting in Fantastical. I can type "Jane Doe" to bring up Jane Doe's contact card, or if she is not in my contacts yet, it will immediately start creating a new contact for her. From there I can either tap or click through the contact card to add fields, or I can just continue typing them into the text box and Cardhop will intelligently parse them into the right fields for me.
For example, I was able to paste the below information into the text field and Cardhop filled out the person's name, full address, phone number, email, birthday, and website perfectly. That's pretty darn magical.
Shanon D. Davis
405 Watson Lane
Fredericksburg, TX 78624
830-233-9346
[email protected]
February 2, 1981
theartofea.com
Invite People or Groups to Meetings in a Flash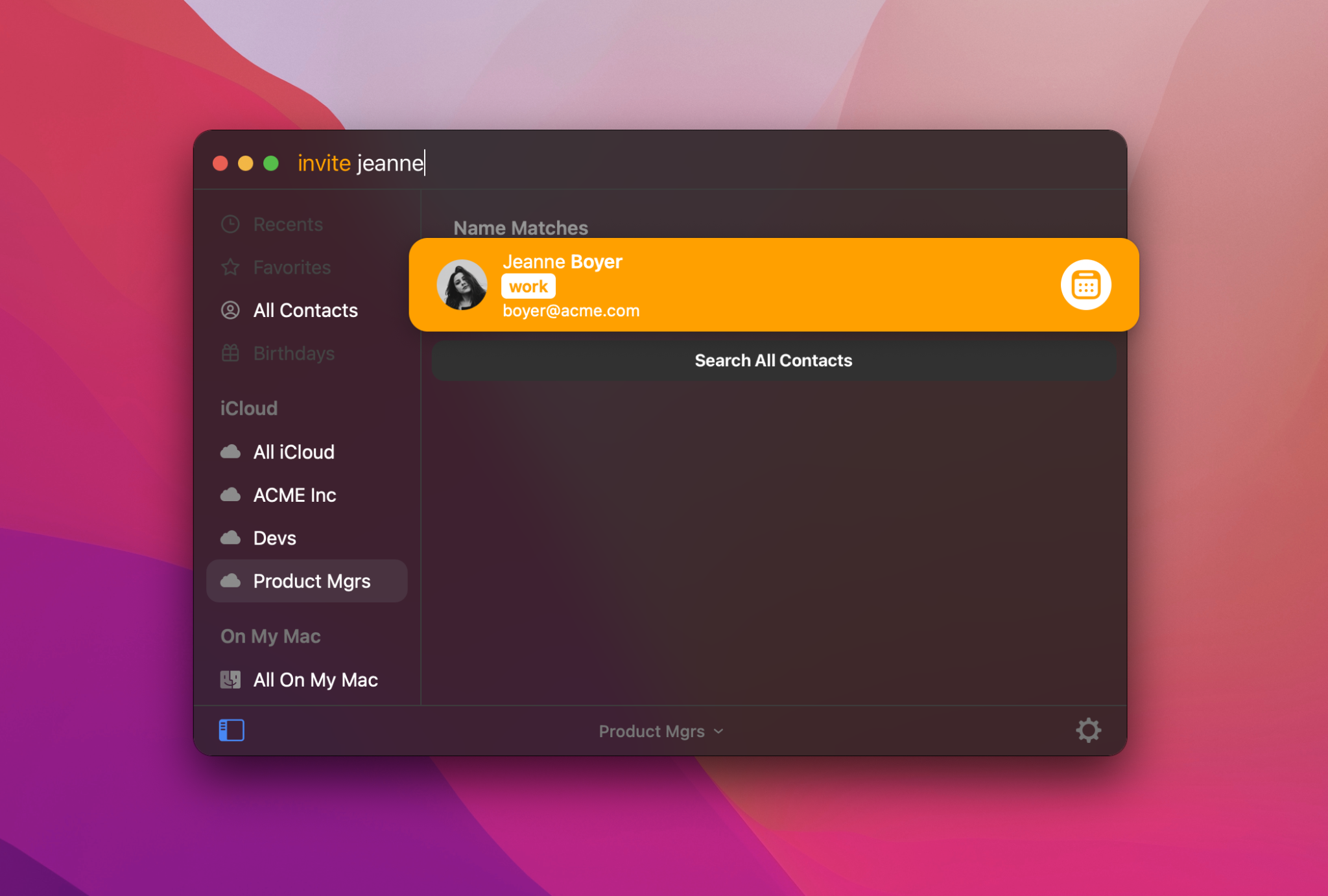 Another thing Cardhop does really well is integrate into Fantastical, and it's exactly the sort of integration you would expect from a contacts app and a calendar app created by the same company. From the text box in Cardhop, I can type "invite" and then give names or groups of people who I want to invite to a meeting.
So for example, I can type, "invite raymond" and hit Enter on my keyboard to switch over to Fantastical with a new calendar event created and with Raymond added already as a guest. I just fill out the rest of the meeting details in Fantastical and send it off.
And if there is a group of people I want to invite all at once, like say the other product managers on my team, I can type "invite product managers" and I'll be sent over to Fantastical will all the people in my "Product Managers" group invited.
Once I discovered this feature, I immediately went through my work contacts and created a few groups for the people that I typically need to invite to things and it's made this feature way more useful, in addition to making my contacts list more manageable all around.
Scanning Business Cards
This feature is not unique to Cardhop, but I think Cardhop does a really good job of scanning business cards or letterhead to add a new contact. Just tap the "plus" icon on your iPhone and the "scan business card" option will appear. This will open the camera, it will automatically detect when you're put a card in front of it, and then in a second or two it will parse the card info and get it into a new contact in Cardhop.
Again, this isn't a unique feature, but I've tried it on a bunch of cards and a few letterhead examples I had around the office, and it works super reliably. I'm writing this in the summer of 2021, and iOS 15 is right around the corner with OCR features built right into the system, and I can only imagine that Cardhop will get even faster once it is able to add these new Apple SDKs.
Winning Over My Mother with Relationships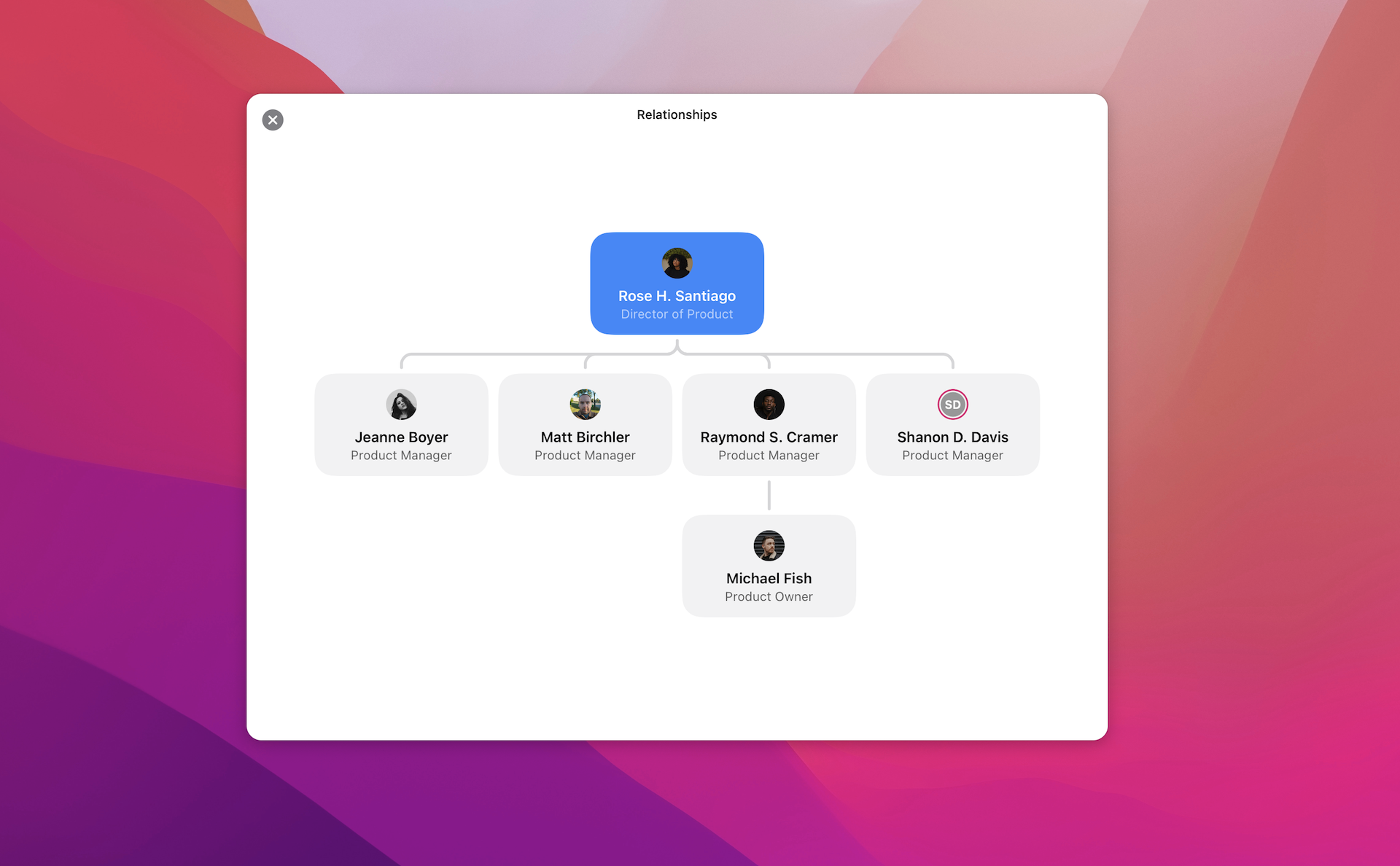 My mom is on my Flexibits subscription as well, and while she is retired and isn't scheduling meetings all day, she loves one of the new Cardhop 2 features even more than me: relationships. In Cardhop 2 you are able to create relationships between people and the view their relationships with everyone else in your contacts lists.
She has a hobby of collecting family history information and she's been figuring out relationships and creating pen & paper family trees for decades. With Cardhop she has been able to create relationships with the people she already had in her contacts such as "Matt is the son of Jane and Joe" and "Jane and Joe are married" and she's managed to create an entire family tree in Cardhop.
Not only does this family info show up in each contact card, but from any contact she can tap "show relationships" to bring up a visual family tree that shows how everyone going back a few generations is related. It's a pretty impressive use case, and while it's not how I choose to use the app, it speaks to the flexibility of the feature.
Am I a Convert?
I'm certainly not spending all day in Cardhop, managing my contact list, but I do have it installed on all of my devices, and I get the most use out of it when I'm working on my Mac. I can use a keyboard shortcut to bring up Cardhop at any point and just start typing to see my contacts, to add a new contact, or to schedule a meeting with a few people.
If you're already a Flexibits plan subscriber than you can get Cardhop 2 for no extra cost, it's just a part of the subscription, so I highly recommend checking it out even if you've never seen the value in an app like this before. If nothing else, the Fantastical integration could make using Fantastical even better, so why not give it a shot?