Quick and Easy Event Proposals
Emails, texts, and chats are great, but sometimes you want everyone to be together to finish a project at work or perhaps to have a nice catch-up call with friends. And if you've ever needed to schedule an event with multiple people, you know how hard that can be!
Contacting each person that needs to be included and then sifting through the various times everyone has available always takes much more time than it should. This keeps you from focusing on important things, like getting a presentation ready for the meeting you're trying to schedule, and adds unnecessary stress to your day.
Thankfully, Fantastical's meeting proposal feature is here to help! Fantastical can do the hard part of scheduling events for you, letting you focus on the event itself without having to manage it excessively. Fantastical can quickly send all your invitees a list of dates and times to choose from and automatically find the best option, all without you having to contact people directly to ask.
Using proposals at work
Collaboration may be an important part of your job, but you shouldn't have to spend more time organizing meetings than spending in the meetings themselves! Coworkers are likely to be just as busy as you, and it can be tricky to find a time that works for everyone…
This is where Fantastical's proposals feature comes in. Simply start creating an event in Fantastical, select your first date and time, and then choose the "Propose Another Time" option to add multiple dates and times to the proposal. You can choose to have the meeting start at the same time on each date or stagger the times to give your invitees more options.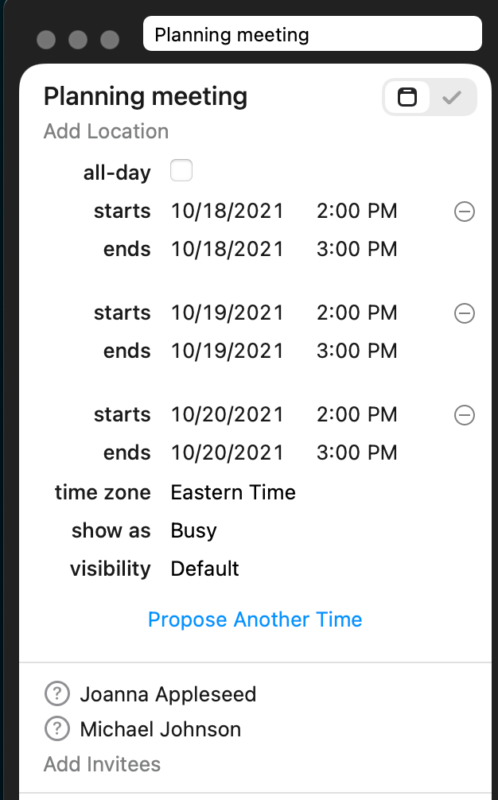 Add your invitees, create the proposal, and wait for the responses to come in. No emailing back and forth, or waiting to get one response before you can reach out for another. Just a few clicks in Fantastical and you can focus on getting your work done without any interruptions!
Personal gatherings and proposals
Scheduling time with family and friends can be just as time consuming as scheduling a work meeting. Trying to meet up for a meal or to watch a movie can be overwhelming when everyone has a different schedule! Use Fantastical to help you manage these personal situations, too.
With social restrictions lifting and new movies arriving in theaters, a night out with friends sounds like a great way to try and return to normality. Making it a reality takes a bit more work though! The old way of doing things means sending out a group text and then going back and forth over who can go to which showing. Or, instead, you can create a quick proposal in Fantastical and let it handle all the work for you!
Create your social event and use the "Propose Another Time" option to add the start times of the movies you want to see. Next, add your friends to the invite and you have an easy way to see which time works best for everyone, all without the endless back-and-forth that often accompanies group scheduling.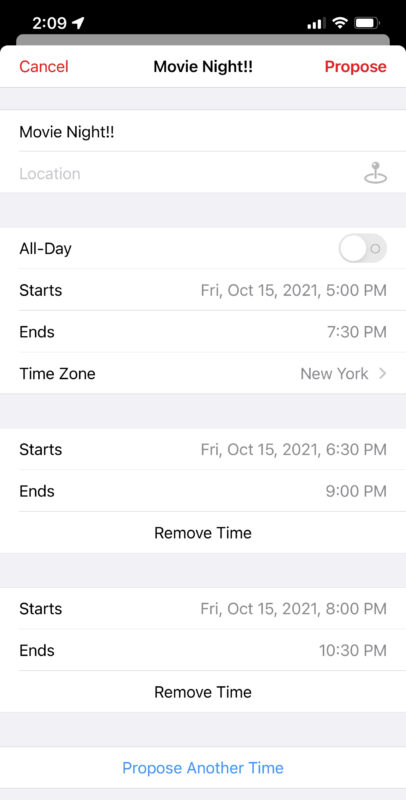 Your friends will each receive an email from Fantastical giving them the options they have to choose from, and they can then choose one time that works for them, or multiple times if they can attend several different showings. What's more, your friends don't even have to be Fantastical users to use this feature!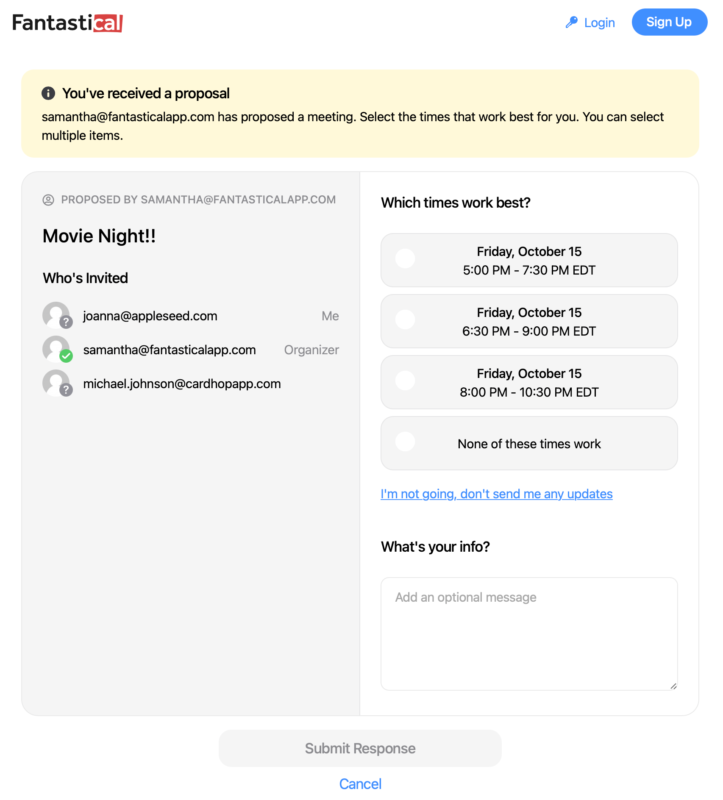 Using the link in the email, everyone picks the time(s) they can meet, Fantastical will then figure out the time that works for everyone, and finally, the event will automatically be created your calendar account. Your invitees will be sent an invite with the selected time, as well. If your invitees are also Fantastical user, then they will also have the option to pick the most convenient time(s) for them in Fantastical, directly on the proposal. Although, as mentioned above, being a Fantastical user is not required to respond to proposals.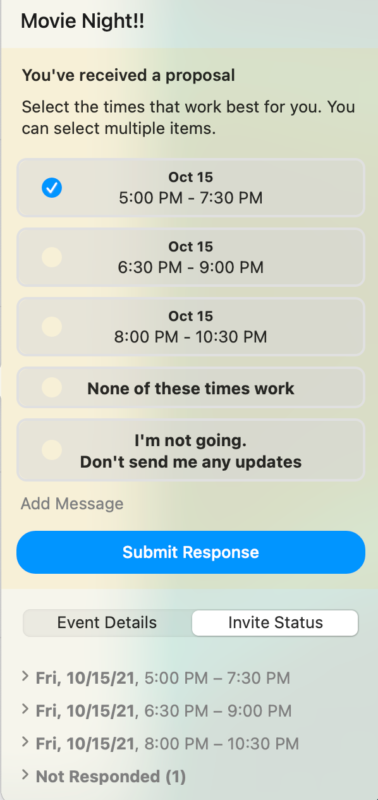 Meeting proposal options
So far, we've talked about basic meeting proposals in Fantastical, where you send out a proposal and Fantastical creates an event based on the responses. However, you do have some options to choose from if you wish to have more control over the process. The proposal settings are located at the bottom of the creation box when you are creating the proposal, and at the bottom of the event details for an existing proposal.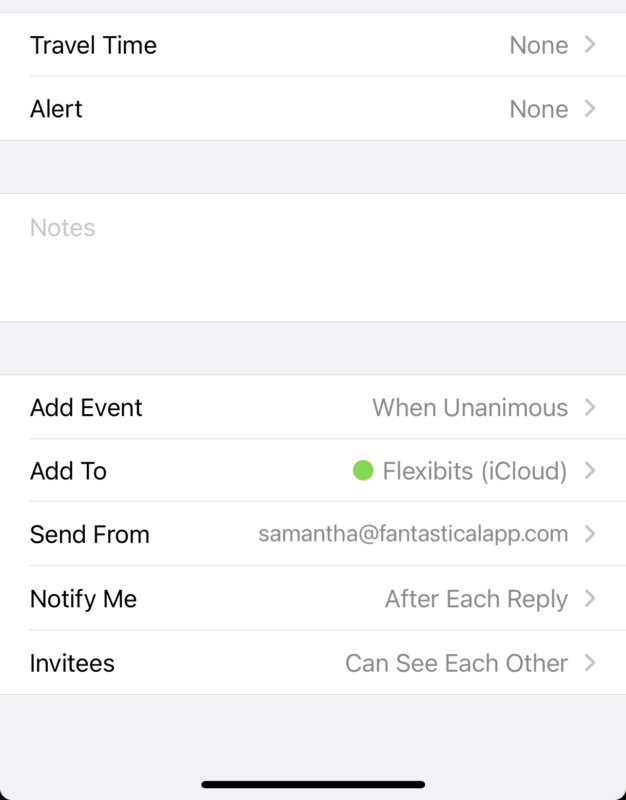 If you want to see the dates/times that your invitees have chosen, set the "Add Event" setting to "Manually". Once you change this setting, Fantastical will show you the responses to the proposal instead of creating the event automatically. This lets you see all of the responses from your invitees, giving you the option to choose the final date and time that you think works best. You can also see if all invitees have responded to the proposal, or if some responses are still outstanding.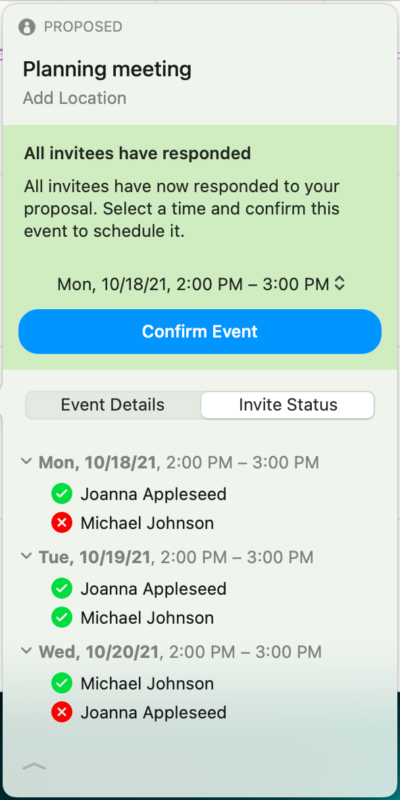 You can also choose which calendar you want the event added to, and which email address you want the proposal to be sent from. This lets you tailor the proposal to your specific needs at any given time.
Use URLs to share meeting proposals
Do you think email sounds a little archaic these days? No problem! Fantastical has you covered.
In Fantastical 3.5, we introduced the new Meeting Proposal Link feature. This lets you create a meeting proposal, generate a public URL, and then share it with multiple people without having to add them individually to the proposal or rely on them checking their email.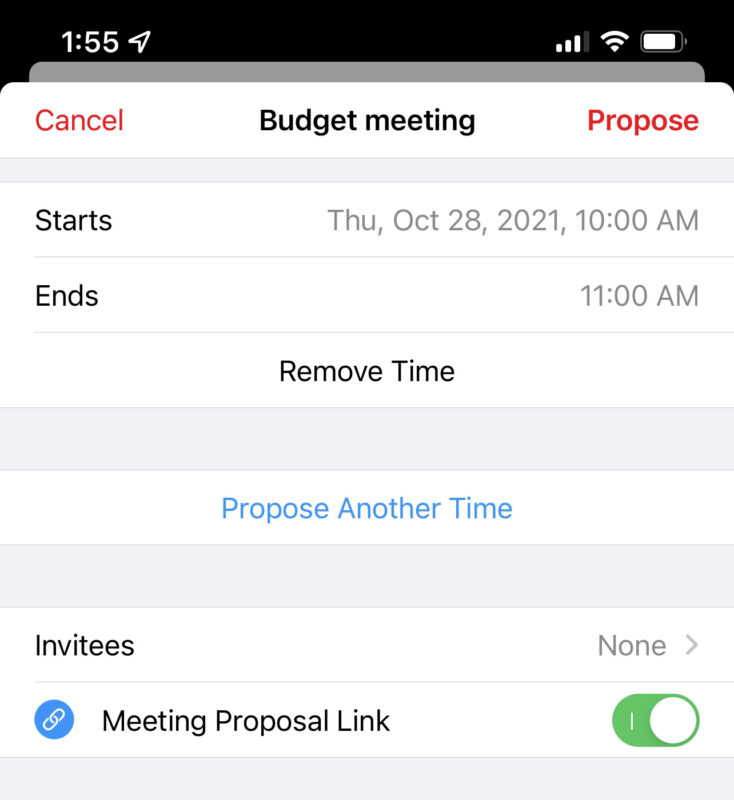 Simply create your proposal, add your dates and times, enable the "Meeting Proposal Link" option, and select "Propose" to add the proposal to Fantastical. A public URL will be generated that you can copy into your clipboard to share directly with anyone you want invited to the event, plus it will also be saved in the proposal details for easy access at any time. Paste this URL into an iMessage chat, Twitter DM, Slack channel, Discord server, or wherever else you interact with people.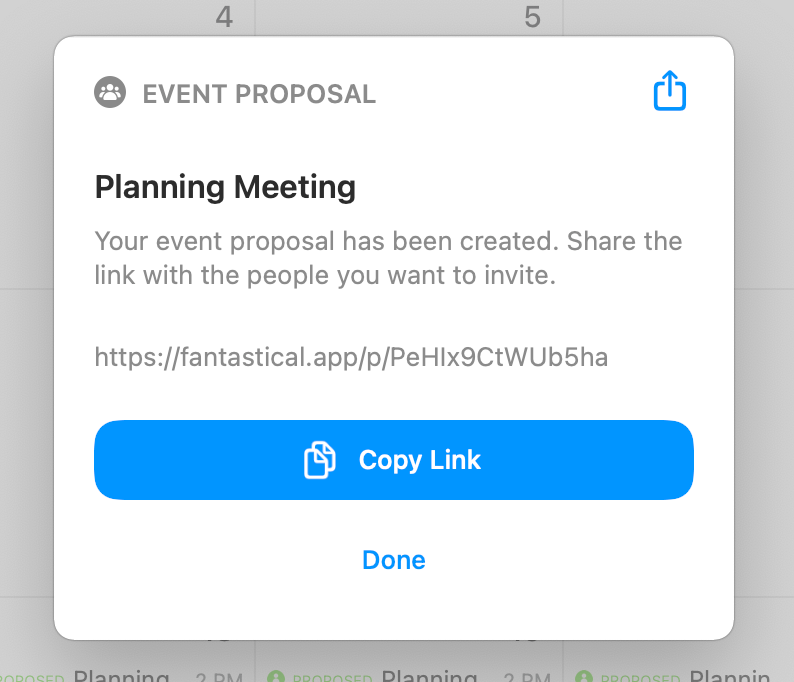 Another advantage of using a URL to make your proposal is that you won't need to manually add invitees to the proposal when creating it – making it even quicker to set up an event with multiple people. Give it a try and see if you prefer to make your proposals in this manner!
Learn Even More
We hope this post has shown you an easier way to create meetings, both at work and in your personal life. You'll no longer have to work hard to get people together. Instead, let Fantastical handle the scheduling and get back to whatever it is you have to get done!
If you want to see meeting proposals in action, be sure to check out our tutorial video, and do stay tuned as we continue to explore more of the great features Flexibits Premium has to offer! Until next time… 🙂