Fantastical Scheduling Arrives with Version 3.6: Openings, Proposals, plus Quarter View!
A new year brings a (huge!) new Fantastical update! Prepare to have your meeting planning streamlined with the debut of Fantastical Scheduling! Included are the all-new Openings feature, revamped Proposals, and a super helpful Quarter view. Check out our video overview of Fantastical Scheduling below and then read on for the full lowdown!
Openings
When was the last time you arranged an event with someone? Regardless of whether this was meeting a friend for lunch, scheduling a work planning event, or setting up a date with a significant other, you're probably used to messaging each other for a while to try and find an opening in each of your schedules. And if you're meeting with more than one person, these conversations can quickly snowball in complexity and prove hard to keep track of.
We believe Fantastical can help solve this problem. Enter Openings – Flexibits' solution to cutting down the back-and-forth conversations between parties when scheduling your events.
The next time someone asks when you want to meet, send them your unique Openings URL and they'll be able to see exactly when you're free and pick an open slot in your schedule for the event. No more extended conversations about dates and times that only get more complex as more people become involved!
What's more, we specifically designed Openings to put your privacy first: to calculate your availability, Openings uploads the time slots you're unavailable for, but no event details (name, location, invitees, etc.) are uploaded to Flexibits when using Openings.
Further, the people you're organizing an event with don't even need to be Fantastical users, and so there's no need to make sure all of your friends and co-workers are also using Fantastical before you can start benefiting from Openings (although, if they aren't using Fantastical yet, it might be a good idea to let your friends know how much easier their lives could be if they were 😉).
So that's the theory behind Openings. Now, let's have a quick walk-through of Openings in practice, to give you some ideas of how to use this feature for yourself. For full details, please refer to the Openings page in Fantastical's help book.
You first need to enable the Openings feature, which can be done from Fantastical's Settings/Preferences. When you enable Openings, you can pick which calendar set Fantastical Scheduling will use to see which time slots you have available. Many people will want to select 'All Calendars', but if (for example) you have shared calendars from other people that have no bearing on your availability, you have the option to choose exactly which calendars will be used to determine your current openings.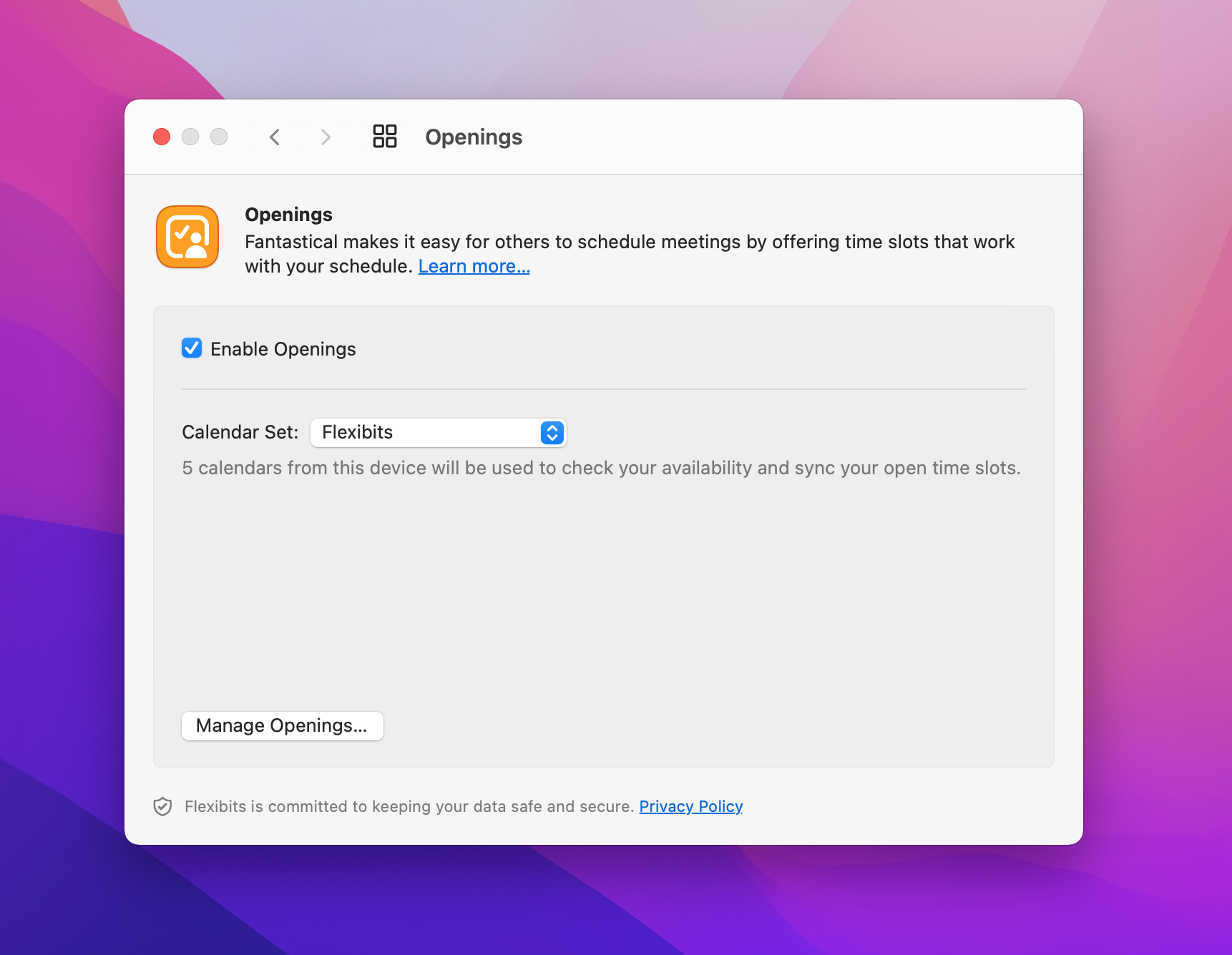 Next, head over to hub.flexibits.com and you'll see a new Openings section in your account's sidebar. This is where you set up meeting templates, which are used to send to other people when they ask for a time to meet. Feel free to make as many templates as you think are helpful (work events, lunch meetings, band practice, study groups etc.)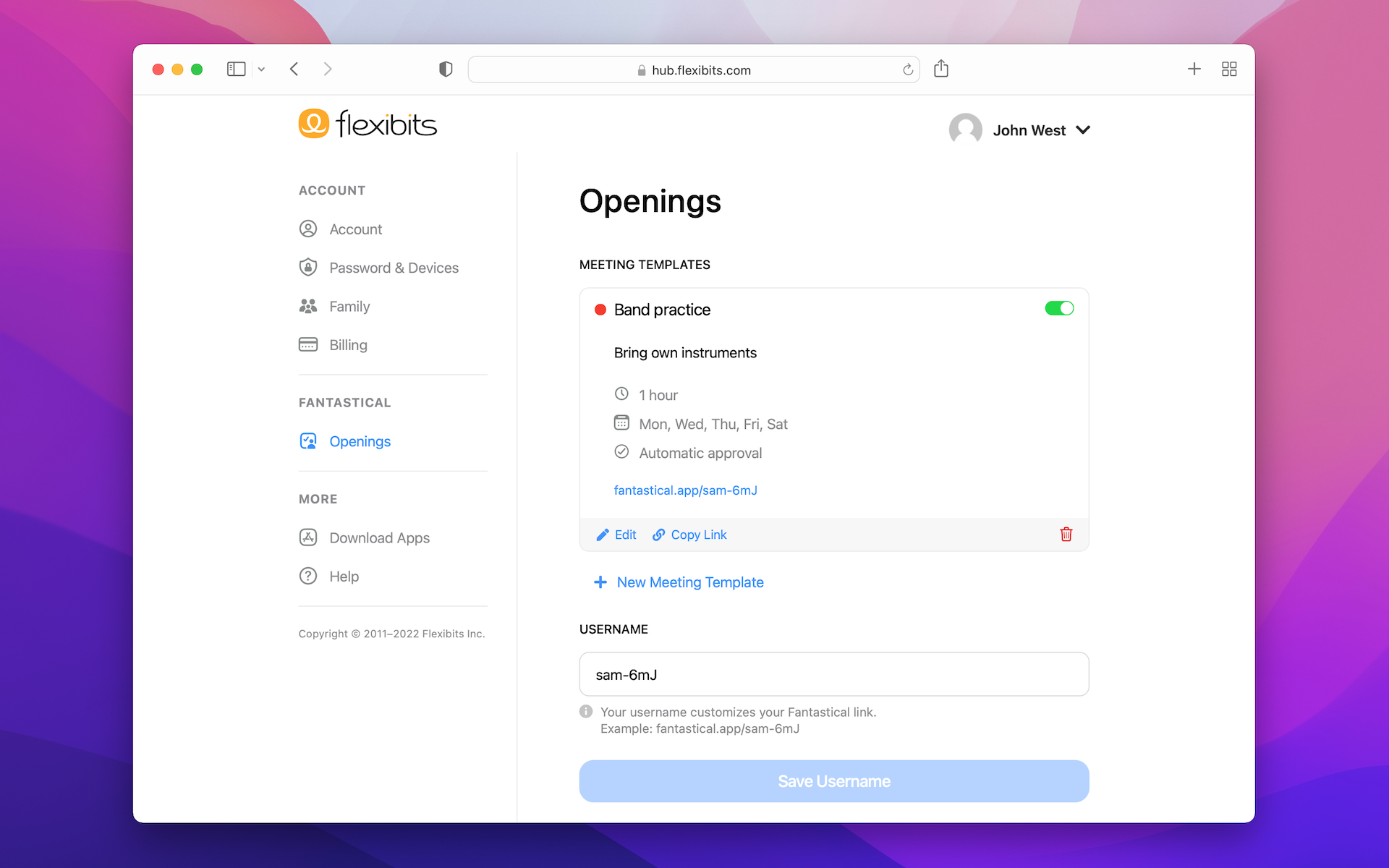 Once your templates have been set up, the next time someone invites you to an event, send them the URL that corresponds to your template. Your recipient will open the link and be taken to the Fantastical Scheduling webpage, and they then select the times they want to meet. Again, there's no need for your recipients to be using Fantastical themselves – as long as they can open a URL in a web browser, that's all that's required to use Openings!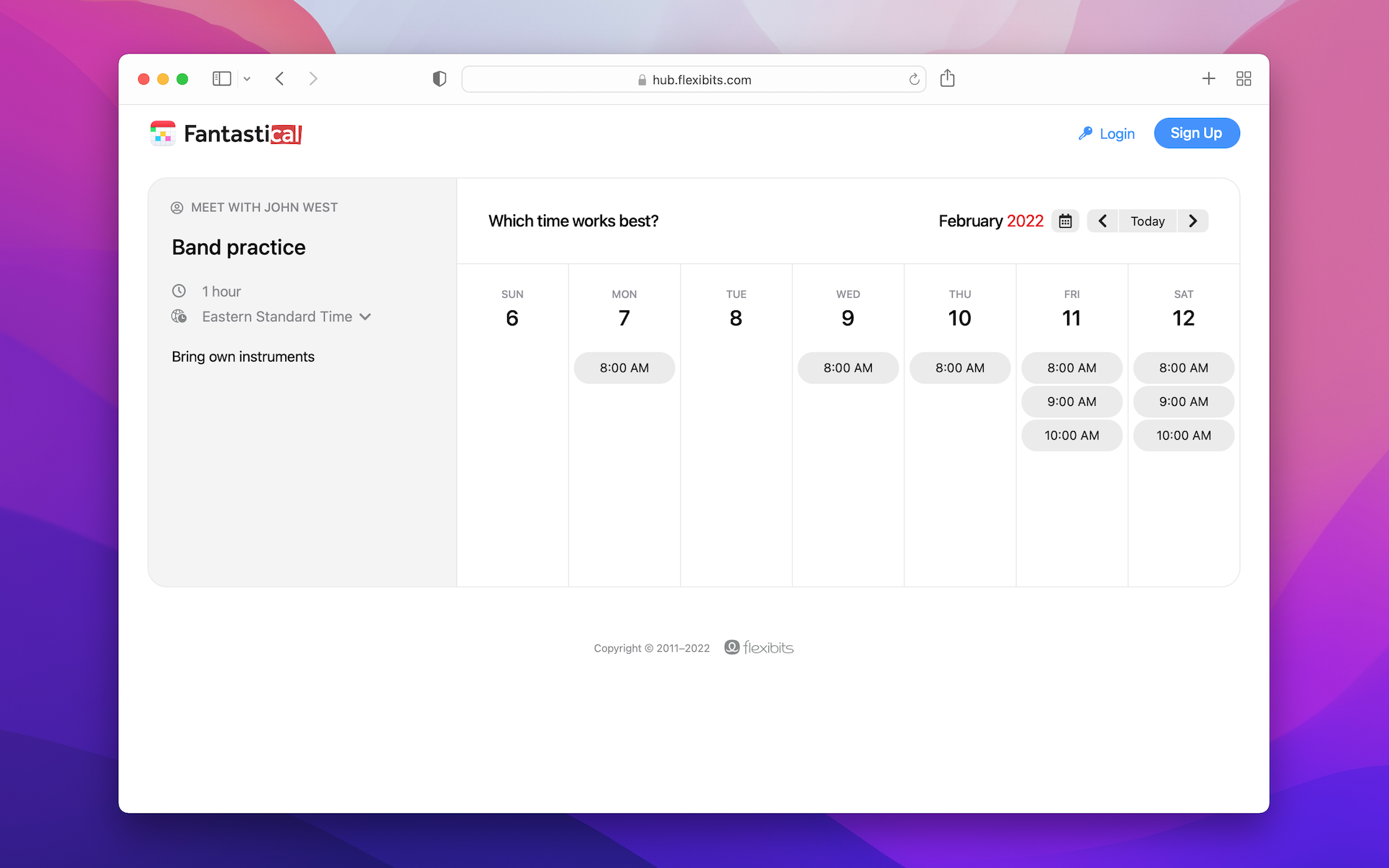 Your recipient can now see the time slots you have free in your calendar, and they can pick one to request to meet with you at this time. And just to re-emphasize, it's only the open slots in your schedule that Flexibits or your recipients can see – your event data remains private and is not made available to recipients.
After your recipient confirms the time they want to meet, an in-app notification and email are sent to you, informing you of the meeting time. An event is automatically created in Fantastical and an invite is sent out to the recipient so it appears in their calendar too. For ease of use, this is all done automatically, but if you prefer to review your meeting requests before they are approved and scheduled on your calendar then you have the option to do so.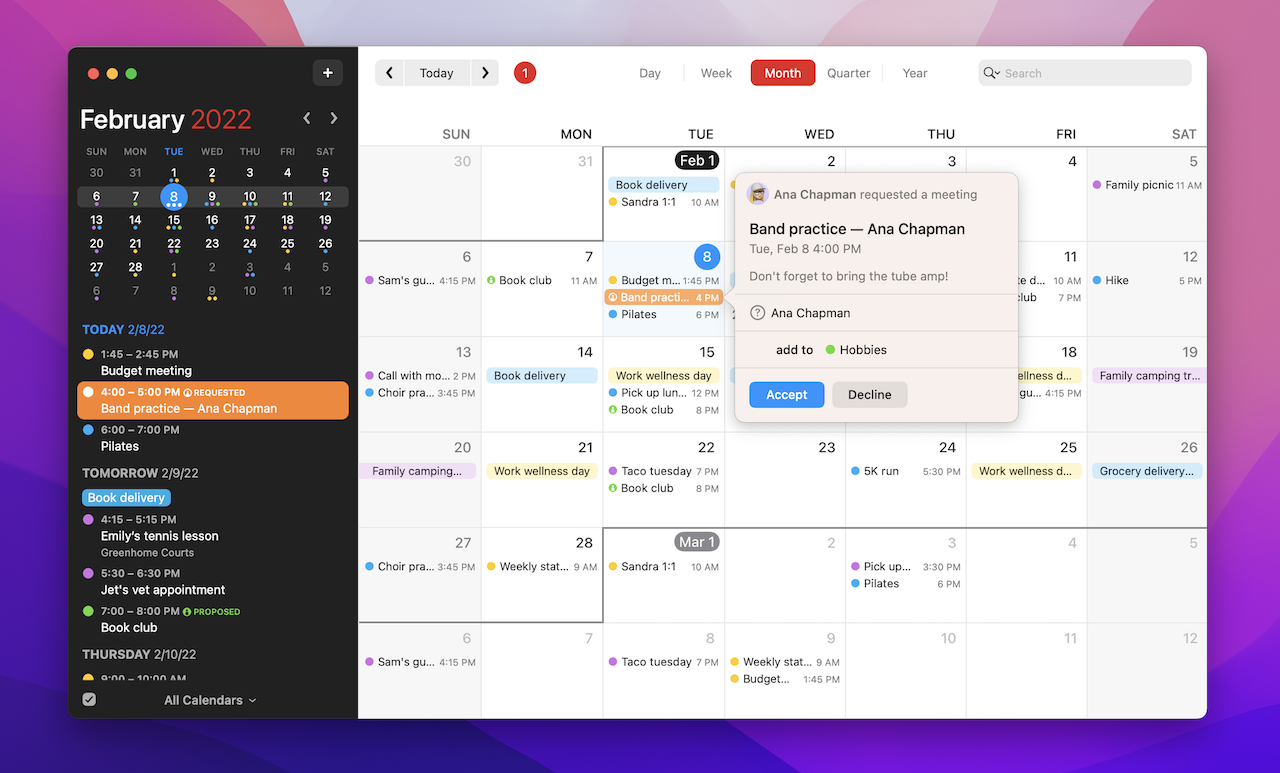 So what previously required multiple messages to try and coordinate is now resolved automatically by Fantastical Scheduling, all while maintaining your events' privacy and not forcing people into the Flexibits ecosystem.
How will you use Openings to aid your scheduling? Perhaps using Openings to schedule a budget meeting will help you dedicate more time to planning the meeting itself rather than trying to schedule it with multiple parties, or maybe letting Openings organize a time for your next family gathering might make your meet-ups become more regular in future? Be sure to let us know how you use Openings to make your event organization easier – we're looking forward to seeing how you find creative ways to use it!
Proposals
Alongside Openings, we've significantly enhanced Fantastical's existing proposals feature. Proposals are now much more integrated into Fantastical's in-app UI, and serve as a useful alternative to Openings. Whereas Openings is helpful when you want to allow people to book from a wide range of available time slots in your calendar, Proposals are better suited to when you have an idea of a few specific times you want to schedule an event for.
In short, Openings = "choose a free slot in my calendar." Proposals = "which of these times work best for you?"
Let's take a look at how Proposals work in action.
The next time you make an event invite, select Propose Another Time to add further options for your invitees to pick from.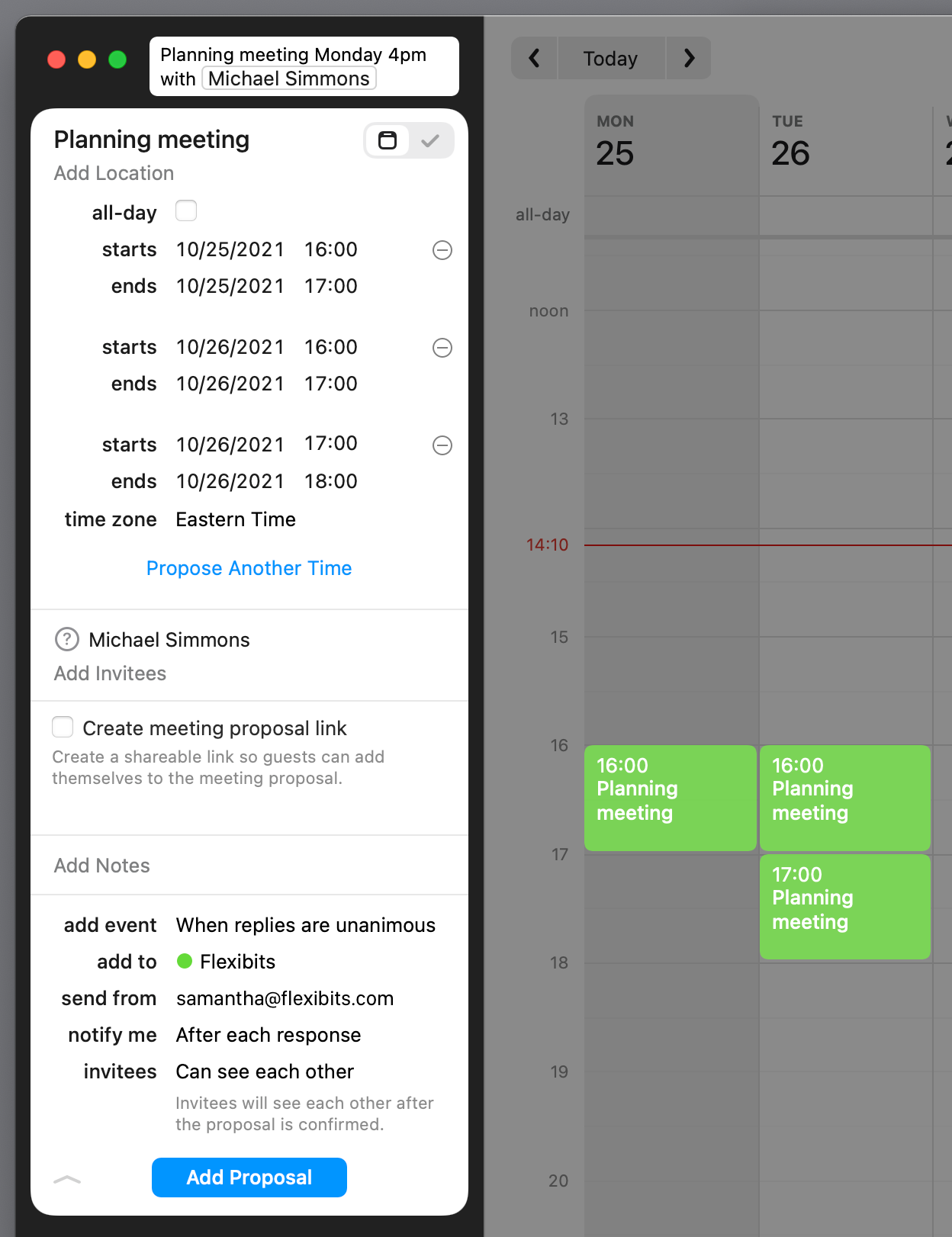 Your invitees will then receive an in-app notification (if they use Fantastical) and an email, alerting them to the fact that you're proposing an event with them.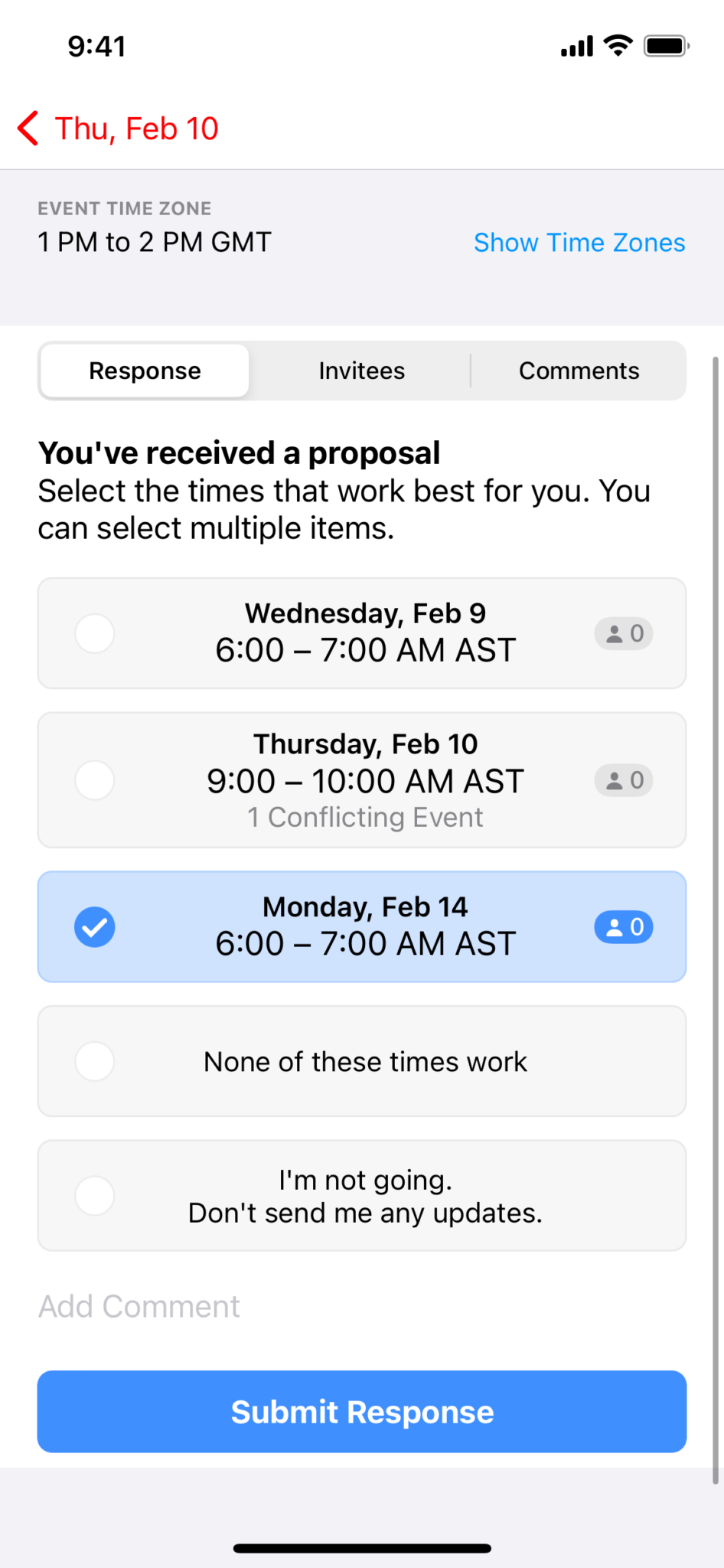 Once they receive the event proposal, other Fantastical users will be able to use the new in-app Proposals UI to select their preference from the options you proposed, see other invitee's selections, and leave a comment if necessary. This makes for a much more cohesive way to use proposals, but if your recipients don't use Fantastical yet, then they can click the link in the proposal email to view your proposed times and respond in their web browser instead.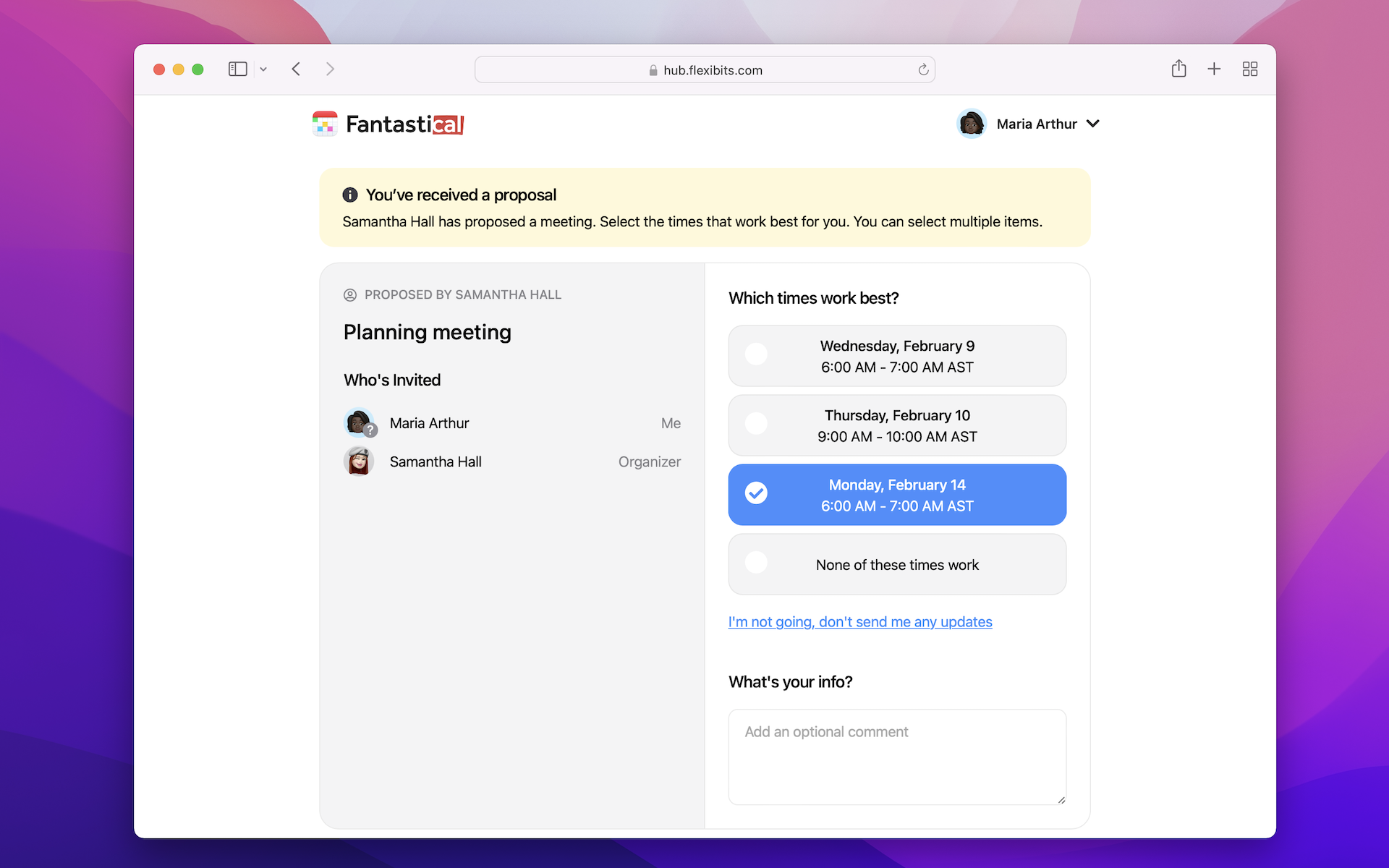 As the invite organizer, you can now view your proposed times and invitee responses directly in Fantastical, confirm the final date, and see people's remarks in the Comments section.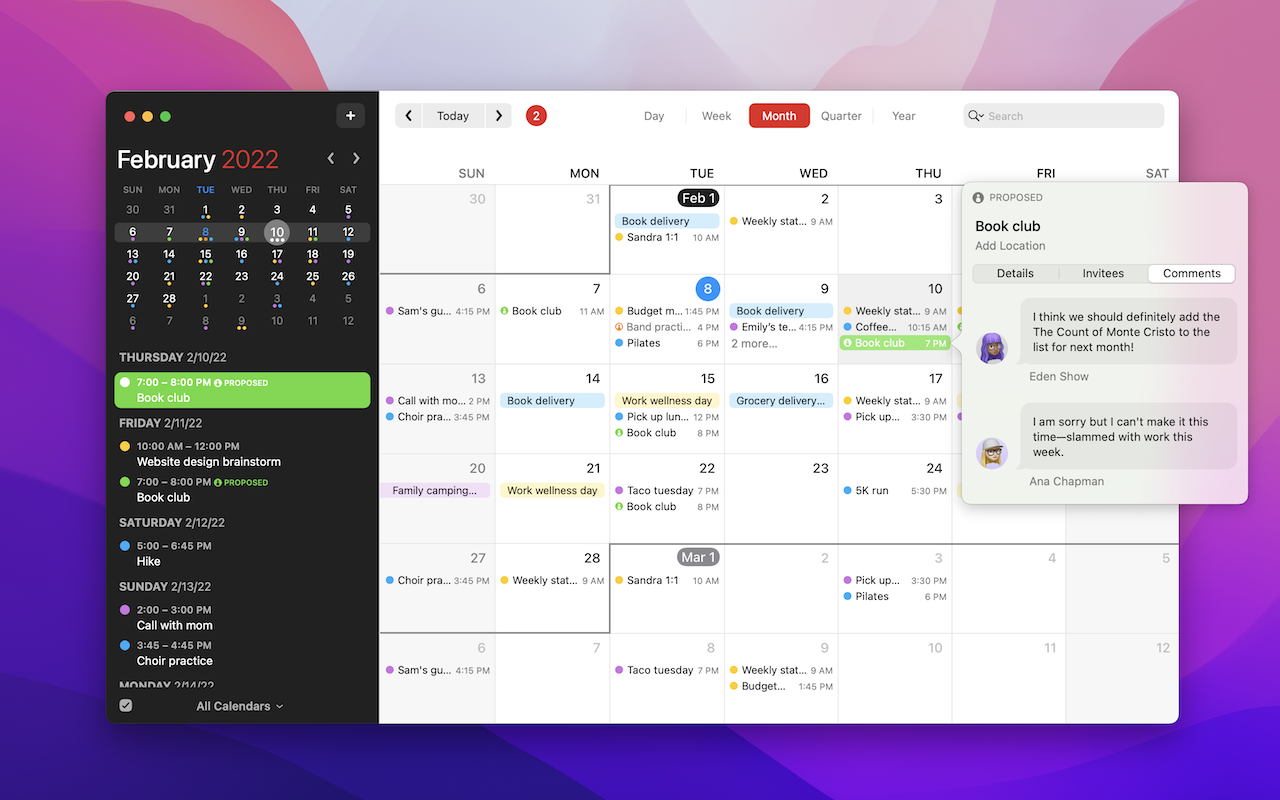 Proposals now give you a useful alternative to Openings, ideally when you have a few times in mind that you'd like to schedule an event for, but are able to provide some flexibility. Are there upcoming events in your schedule that could benefit from Proposals? Perhaps if you send more proposals instead of just scheduling an event invite at a set time then you may have better attendance at your future events?
Quarter View
The final, major new feature included in Fantastical 3.6 is the all-new Quarter view. Quarter view sits between the month and year views, and as the name suggests, let you see three months at a time on your calendar.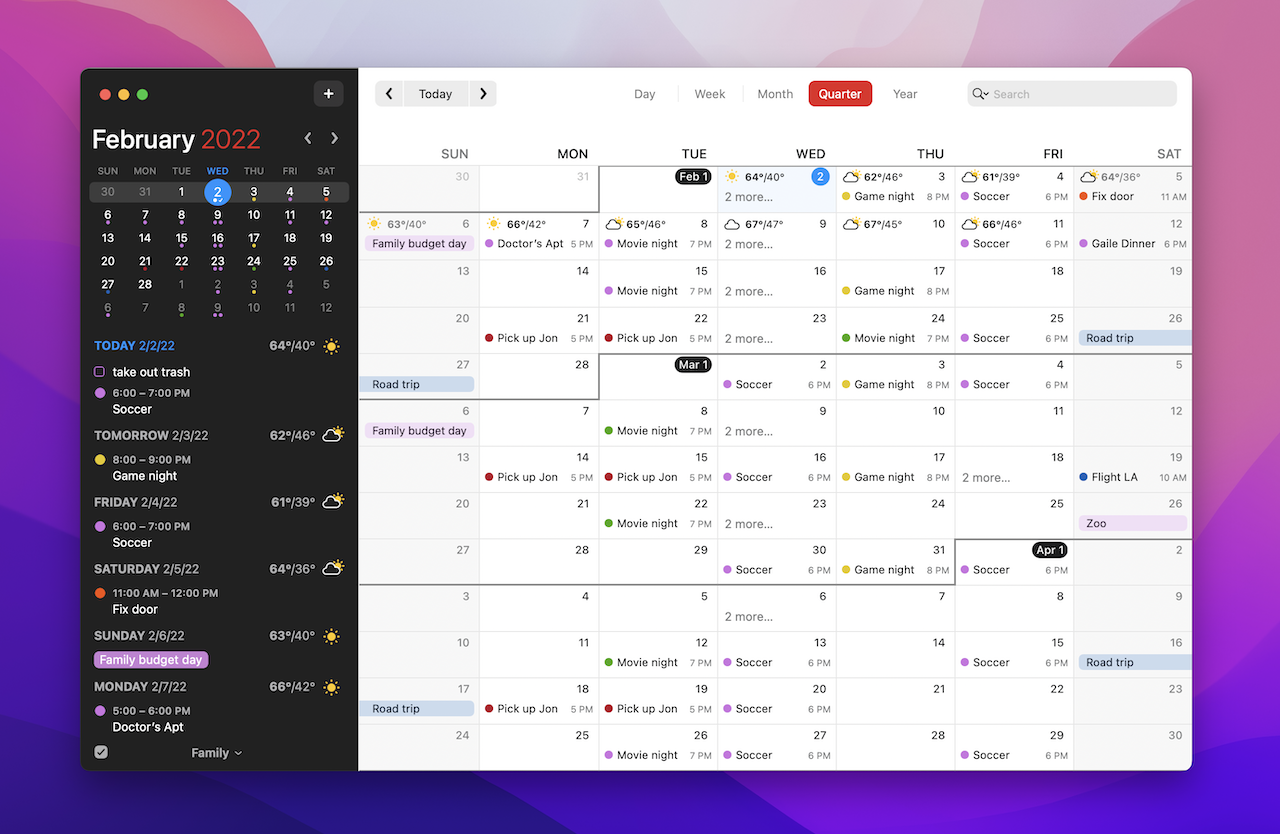 This is ideal if you use a quarterly planning schedule, or simply want to have a quick overview of the next few months without having to scroll through each month individually.
When it comes to scheduling meetings, Quarter view works with Openings and Proposals to give you a much clearer picture of your upcoming schedule, and makes selecting dates for potential events much more efficient.
Next time you need to schedule a meeting a few weeks in advance, try switching to the Quarter view and see how helpful it can be!
List view enhancements
In addition to the headlining new features described above, we've also taken the time to tweak Fantastical's list view in the sidebar on Mac and iPad, and in the DayTicker and Calendar views on iPhone. Now, you can click or tap today's date a second time to instantly scroll to the next event in your day, hiding your past events. This makes it easy to focus on Today's remaining events – give it a go and see if you find it helps your daily focus!
Give Fantastical Scheduling a try for free!
Flexibits Premium comes with a two week trial, and will allow you to test drive all the new features in Fantastical 3.6, as well as the rest of Fantastical's extensive, premium feature set.
If you've already used your two week trial of Flexibits Premium, we're taking the opportunity to reset everyone's trials, giving you chance to use Flexibits Premium again for a couple of weeks! Feel free to experiment with Openings, Proposals, and Quarters, and see how you can fit them into your future scheduling.
Learn more
This blog post has only briefly touched on the new features found in Fantastical 3.6. For more detail, be sure to take a look at the Fantastical help book, which contains a comprehensive overview of each feature and associated option, and much more besides.
We hope Fantastical 3.6 helps you kickstart or maintain good planning habits throughout 2022, and we can't wait to hear how you use this update to make your life easier to stay on top of! More to come!