Use Fantastical Scheduling to Help Run Your Business
Introduction
Have you used Fantastical Scheduling yet? Fantastical Scheduling was designed to make your day-to-day life easier to manage, and even though it's great for personal scheduling, it thrives when handling your business meetings. If you run a business, then this blog post is for you!
Did you know, approximately 75% of business clients are now using mobile devices and scheduling services to book appointments? Not only does this mean the majority of your customers or clients are using an online scheduling service, but many businesses are paying for such services.
In this blog post, we'll inspire you to take advantage of Fantastical Scheduling to help you run your business more efficiently.
So how does Fantastical Scheduling work for my business?
Lots of businesses have transitioned to using online scheduling services, and clients or potential customers have become comfortable and are also expecting this functionality. After all, it's much easier to see a business's availability and book a time without having to email back and forth to schedule!
Fantastical Openings provides a convenient way to present your availability for clients, customers, or partners to book time with you. For example, let's say you're a yoga instructor that provides 1:1 sessions, either in person or from your home. Clients can use your Openings link to book a slot on your schedule in less than a minute.
Your Fantastical link is created with a customizable meeting template.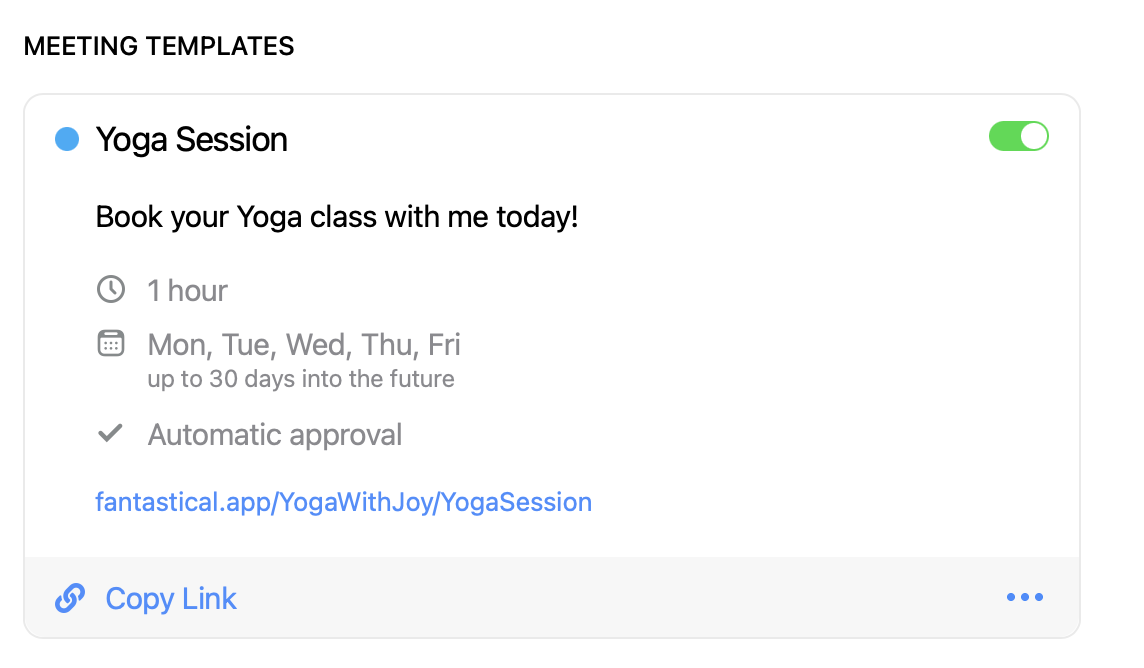 Use a meeting template and edit to fully customize your availability, scheduling slots, and date ranges for when people can book time with you. You can also customize the link you send to others when they request time on your calendar – you can even include your business name here.
Once a recipient clicks their Fantastical link, they'll see your availability and various options for booking time with you.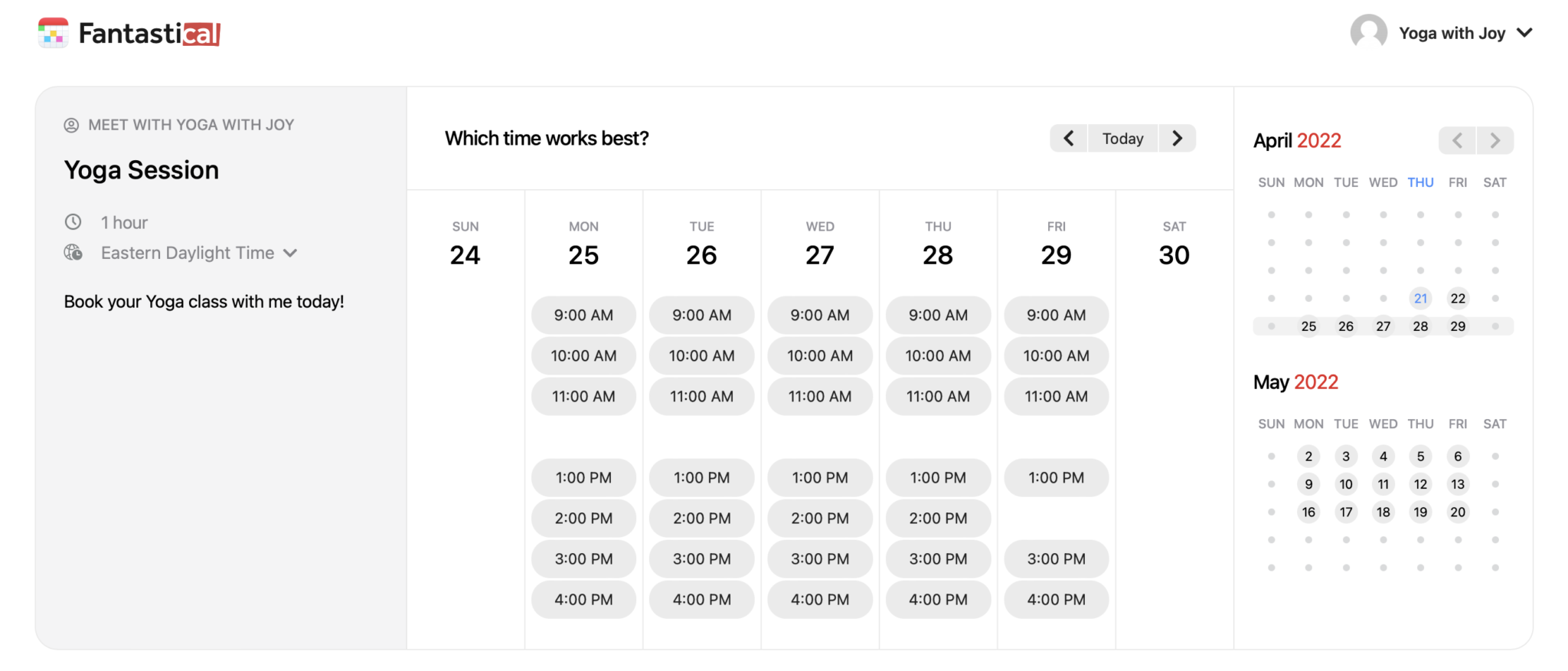 It's also very easy to create multiple meeting templates, allowing you to share different links with people depending on the context. So if you're an educator, you could add your Fantastical links to your educational website or profile. One link could be for existing students to book a short feedback session with you, and you could use another link for students to schedule dedicated tutoring time in your calendar.
Openings could also be helpful if you're a realtor, who makes use of Fantastical Scheduling to let clients schedule property viewings. Create multiple Openings meeting templates for each property or area you cover, and then send these links out to clients looking to view specific homes.
With all of the communications required with clients each day, Openings can take some of this organisational workload off of your plate. Openings also removes the stress from booking times over the phone or in-person, and it allows clients to really analyze their schedule in detail before committing to booking – hopefully saving cancellations later down the line!
Incorporate Openings links to bring in business
It's safe to say that at some point we've all had the experience of unsuccessfully trying to get hold of that one, elusive person who didn't have time to manage their schedule! Fantastical Scheduling helps people feel connected to you even if you're managing extremely busy schedules every day. Your clients can always see your availability, without feeling like they have to hunt you down!
One great way to easily share your Openings link is by pasting it into your email signature. For example, if you're the owner of a restaurant, adding this link to your email signature is a great way to let staff know when you're free to discuss operational matters with them. Or perhaps you could have another Openings link in your email signature to provide potential customers with a timeslot to discuss upcoming catering events?
Alternatively, let's say you run an online shop that sells customized t-shirt designs for little league baseball teams – adding your Openings link to your shop's social media profile or webpage bio would present a great opportunity to drive potential connections to your business. By placing the Openings link it in your "about us" section, you'd provide a convenient way for people who are interested on your product to arrange a time to discuss the look they're hoping for with their t-shirt design, or ask questions about delivery times and pricing for large, custom orders.
Any page where people can read about your services and learn more about your business presents a great business opportunity to leverage with Openings. This not only allows potential clients to connect with you, but it also sets the tone that you are easily accessible and ready to help! Your client will likely feel more committed than they might if they just sent an open-ended email to enquire.
Where could you see yourself using Openings links in your business?
Using Proposals to manage a busy schedule
If you prefer to offer a handful of specific times for potential meetings, then Proposals is the solution for you. Using a Proposal allows you to pre-select the specific times you want your meeting to take place at.
For example, let's say your bakery business plans to attend a food fair, and you'll need to meet and discuss your upcoming order with multiple ingredient suppliers to make sure you have extra supplies for people visiting the fair. Chances are, your sugar and egg suppliers might be working to their own busy schedules, and it may be difficult to coordinate a time for a prep meeting that will work with everyone. In this situation, sending out an invite with multiple proposed times will allow each supplier to find a time that works with everyone, ensuring sure your plans for the upcoming food fair can be carried out without a hitch!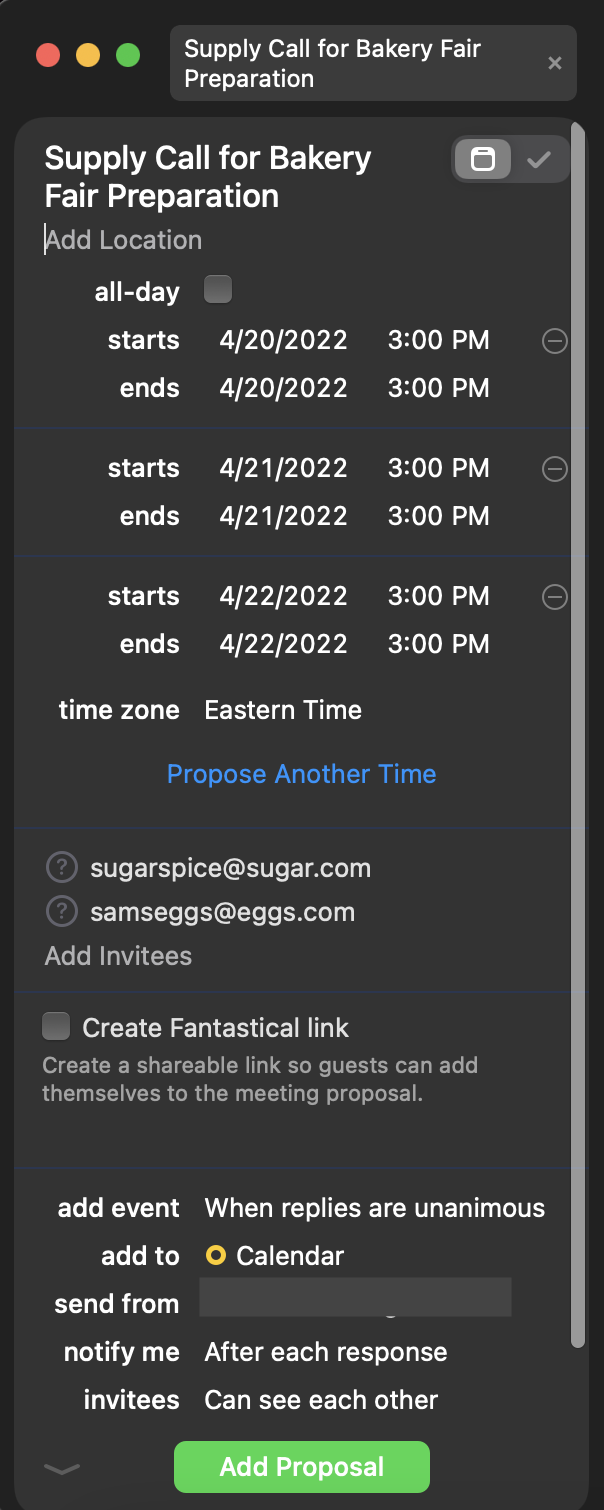 When the suppliers reply, Fantastical will go ahead and schedule the event automatically (although you can choose to do this manually if you prefer). This helps cut down the time it takes to schedule a meeting with multiple people, saving you having to reach out to each person individually and then coordinate each invitees' schedules manually.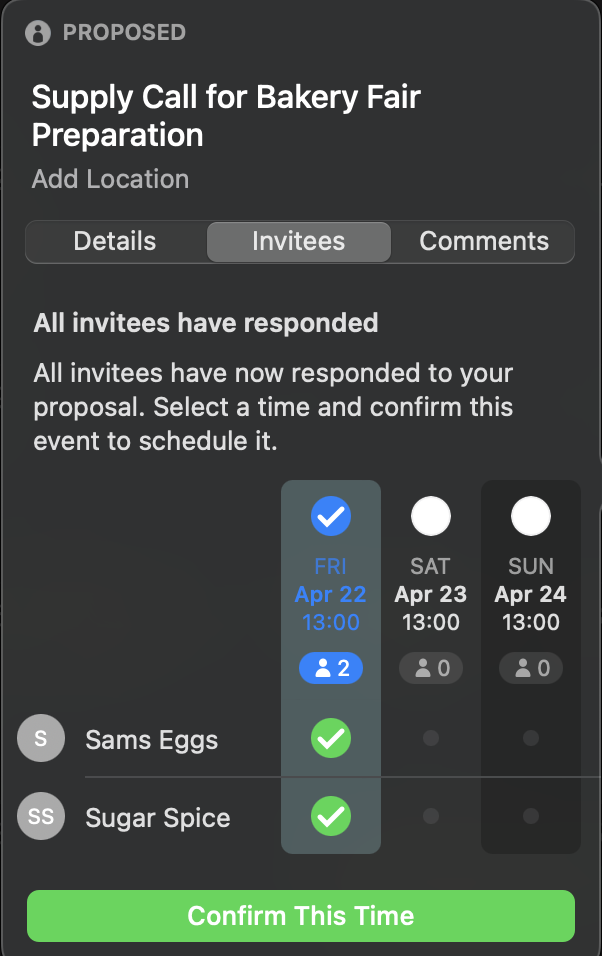 Learn More
As we've discovered, there are many different ways to utilize Fantastical's scheduling feature in everyday business. Whether it helps you connect with your client base, or makes you more available to those that need to book time with you, Fantastical Scheduling assists in managing your calendar, allowing you to spend more time being productive and enjoying the fun parts of owning, running, and being part of a business. After all, you shouldn't have to work so hard to schedule meetings! We understand this, and we hope you've been inspired to use Fantastical Scheduling in your business too!
For more information about Fantastical Scheduling, including details on how to configure each of the options we discussed above, please refer to our help book.
Thanks for reading, and see you soon!