Be On the Same Page with Shared Calendars
Let's paint a picture…
You plan to go bike riding this weekend with your brother and add it to your calendar. You should be all set, with that time is blocked off in your calendar, right? Oops! You forgot to tell him! So now you're double booked because your mom already made plans to meet you for brunch at the exact same time… now you're going to have to cancel one of these events to attend the other! If only there was a way to see each other's calendars in the same app so that this wouldn't happen again…
Well, we have good news for you! Using a shared calendar with Fantastical will prevent this sort of thing from happening again. 🙂
Shared calendars can enhance my social life? Sign me up!
A recent study showed that seventy percent of people found they were happy when plans got canceled and they could stay in! But now that it's slowly getting safer to meet up in-person again, how might that number might change if people use Fantastical to manage their schedules?
Returning to our above example of being double-booked, one solution would be to set up a shared calendar that you give your family access to and vice versa. Shared Calendars have to initially be set up on your calendar service's website, but once this has been done your shared calendars will appear for use in Fantastical. Then, when your family members add events to the shared calendar, you'll see it on your end right away, alongside all your other events.
This is a great way to get more involved and social with friends and family. Adding events such as "Friday Cheers" or "Trivia Night" to a shared calendar might encourage others to join you, or even invite you to future plans after seeing your interests! Seeing that your friend is going to an event may inspire you to join the fun, or to actively plan more events. No more fear of missing out — you get to see what's going on around you and join in on the fun!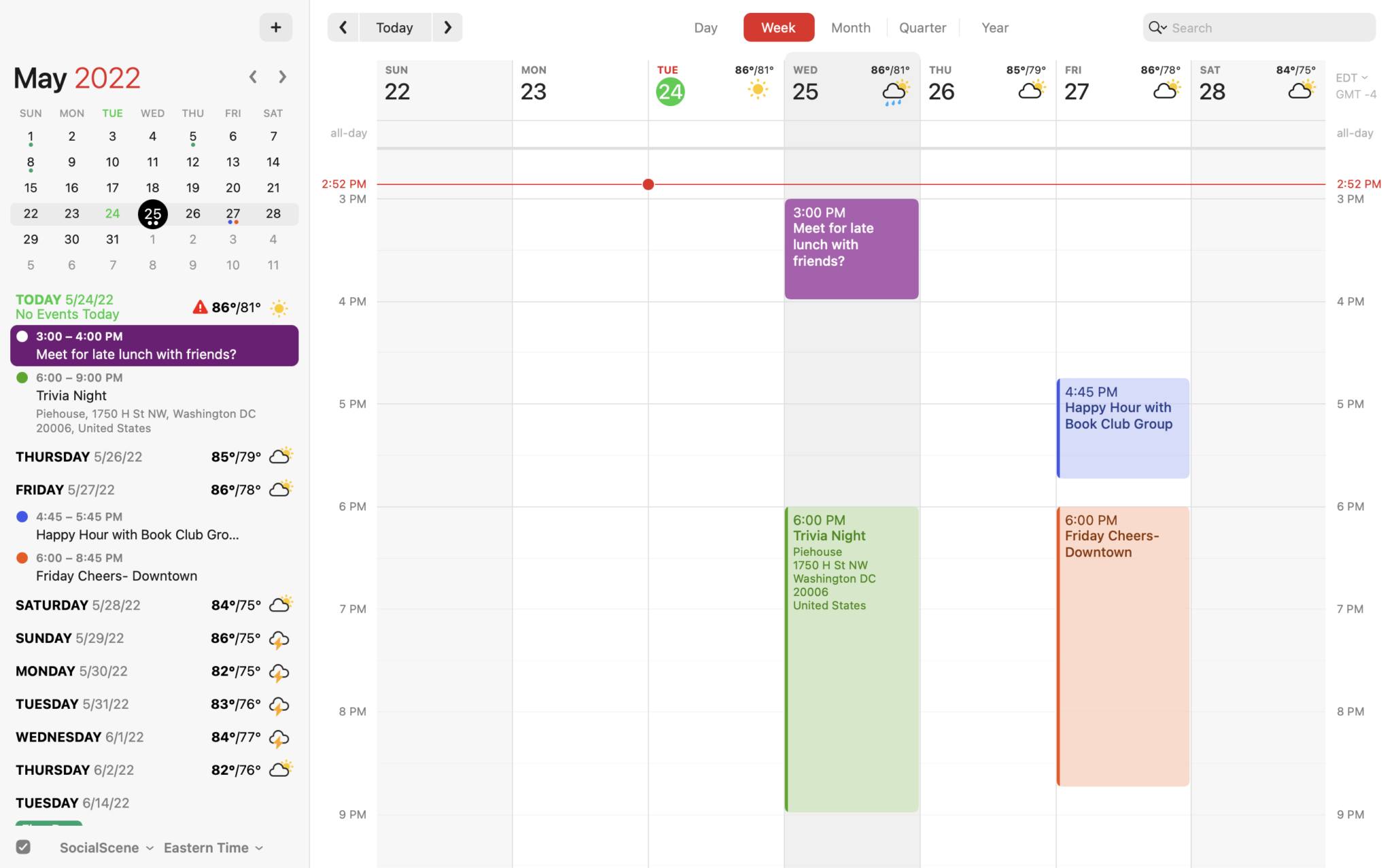 If you have a group of friends that never seem to get a plan to follow through, adding the group to a shared calendar will help you see all the events for each person on one screen, giving you a better view of everyone's availability. So for that group of friends from college that live all over the world, you can now start planning out your annual get-together with confidence!
Keep everyone in sync with shared calendars
We're willing to bet that everyone has one person in their lives that has a difficult time remembering plans… how often have you had a friend or family member contact you to say, "Wait, do we have plans for Wednesday evening!?" when it's been communicated multiple times already? Giving this person access to a shared calendar means that all they have to do in future is check the calendar and see when the next event is — simple.
So next time your partner, friend, or other family member calls asking when you were supposed to meet for drinks, just tell them to look at your shared calendar in Fantastical!
Make shared calendars work for you in the workplace
Shared calendars are great to use in the workplace to manage busy schedules. If you're a personal assistant, having access to your boss's calendar helps keep your boss busy but not overworked.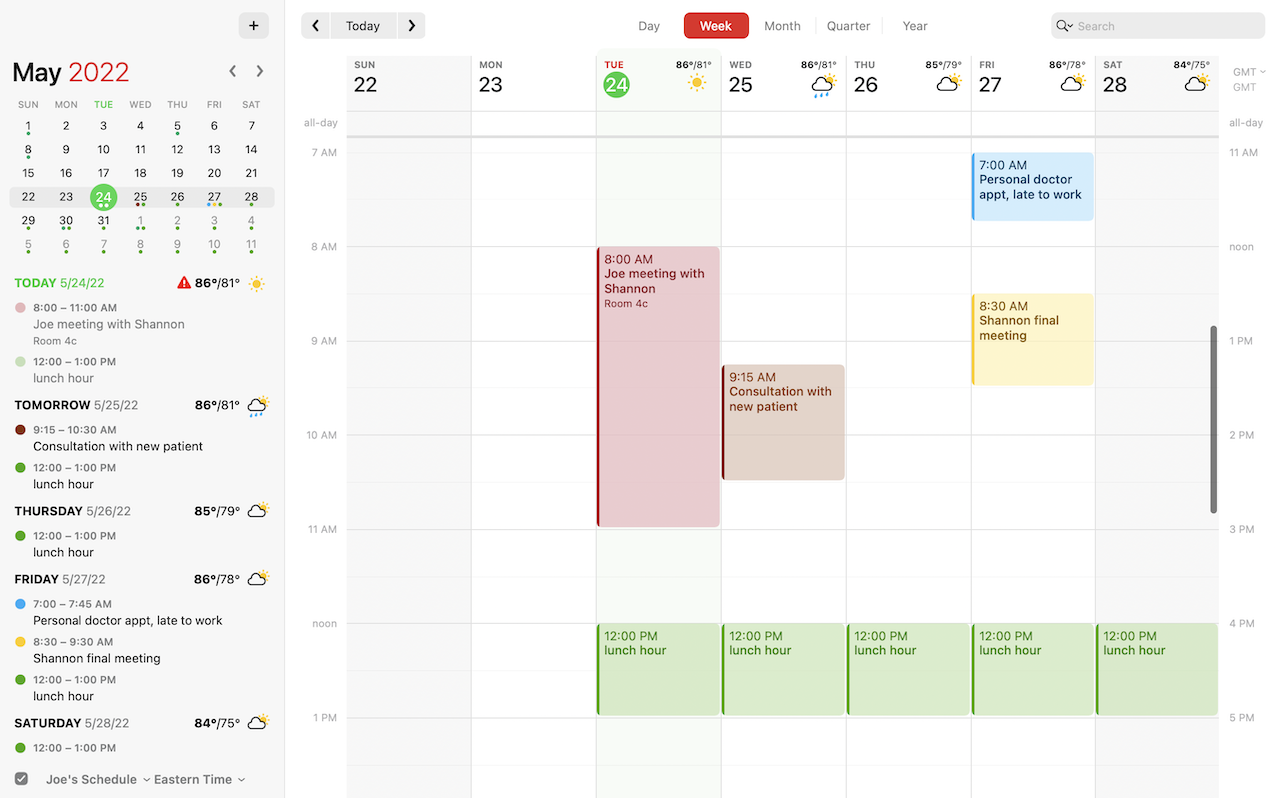 For example, if a client calls in and asks for your boss's availability, you have full access to what their calendar look like and you can book an appointment without interrupting them.
Or when it's time to take that much-needed vacation, updating the company shared calendar to enter your vacation time will show that you're off the clock and unavailable over this period. Everyone you've given permission to view the shared calendar will be able to see your availability and minimize any confusion around when you're returning to work, eliminating those "Just a quick question for you, I'm not sure if you are back yet…" emails.
In Fantastical, you can also create a calendar set specifically for your shared calendars. This helps to declutter your calendar views, but still allows you to quickly access shared calendars with a couple of clicks/taps (or a keyboard shortcut). That way, when it's time to finish work for the day, you can switch back to your personal calendar set.
Getting your kids to the ball game — on time!
One thing parents often don't get enough credit for is managing busy schedules with children in different programs, sports, and extracurricular activities.
In this context, it's helpful to use shared calendars in Fantastical to co-ordinate with a partner or spouse about getting kids to different appointments on time. Organize your commute, schedule your carpool, and see in advance if a sport game gets rescheduled. Things like this are ideal to place in a shared calendar, and you can use Fantastical to save you a considerable amount of time arranging your kids' activities. Try using a shared calendar to see your niece or nephew's sport season, and then you can be their personal cheerleader — showing up at the right place every time!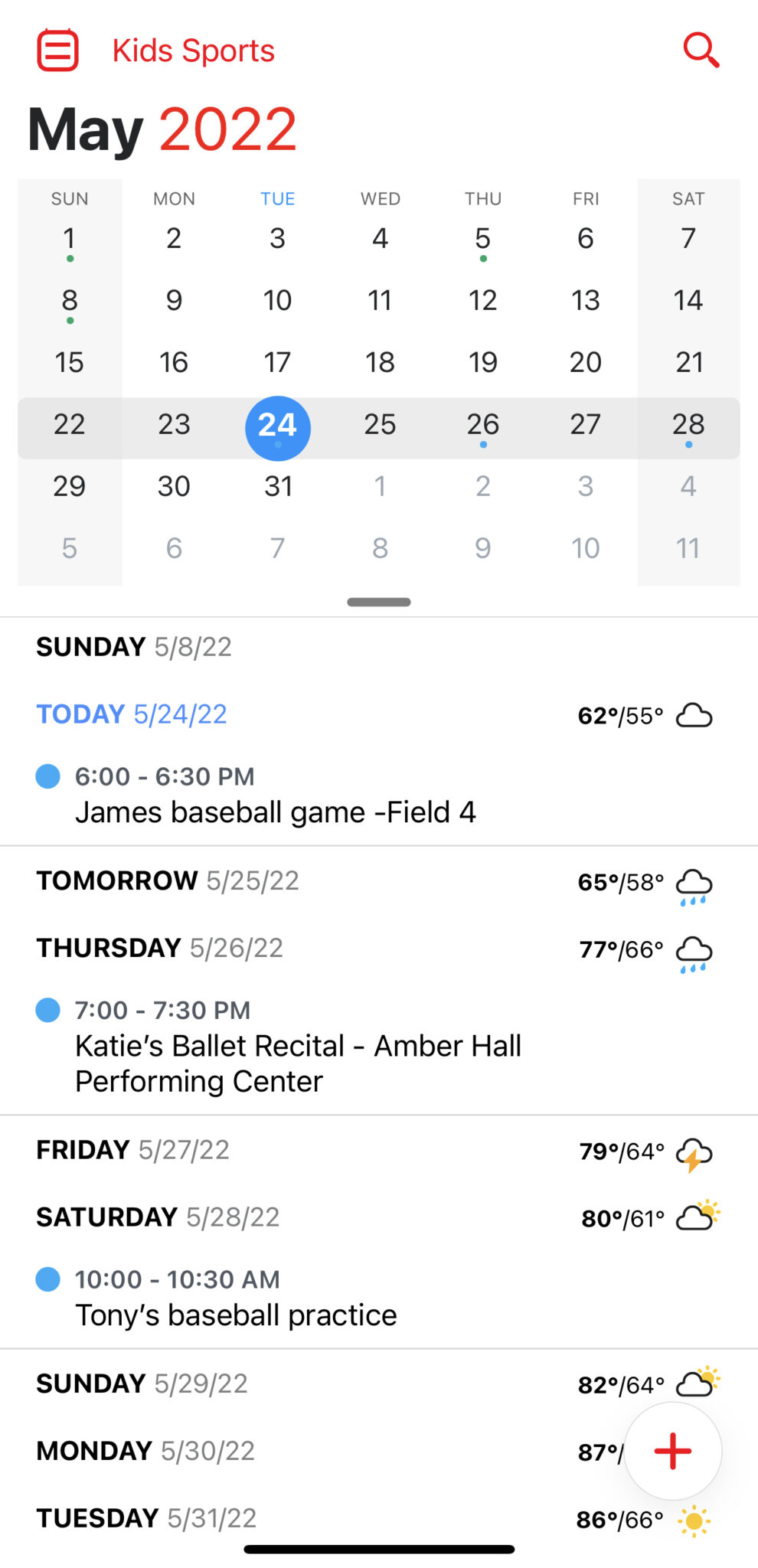 Learn more
Using shared calendars along with Fantastical is a no-brainer! Not only does it save you time and energy, but it allows you to be more in control of your everyday life and to actually enjoy the moments instead of focusing on the details around it.
For further information on how to use Fantastical's extensive feature set, be sure to take a look at our detailed help books.
We're excited to hear how you use shared calendars in Fantastical, so why not tweet at us to say how shared calendars streamline events in your social, family, and professional circles?
Thanks for reading!