iOS 17 Updates: Introducing Fantastical 3.8 and Cardhop 2.2.12
For some, Christmas is in December. For others, it's that glorious day in mid-September — the day when Apple releases its latest update to the public and all of our devices are laden with new treats to explore.
iOS 17 features some real winners, including FaceTime voicemails, FaceTime calls on Apple TV, and voice message transcription. (Cue everyone who detests sitting through their chattiest friend's voice messages breathing their sigh of relief.)
It also looks like Apple is heading in a more flexible and modular display direction. No longer will our devices be confined to merely "Lock" and "Home" screens, but instead they can be configured to show us precisely what we want when we want it.
For our part, we've released updates that focus in particular on…
Widgets: Given the move towards breaking the Lock/Home screen binary, widgets have played a big part in Apple's display updates. iOS 17 has a lot of improved Widgets support, including interactivity so that you don't have to go all the way into an app to perform small actions.
StandBy: This is Apple's new display mode that gives a customizable smart display for when your device is charging and not in use. This mode is designed to give you a quick information at-a-glance.
Let's start tearing open that wrapping paper, shall we?
Apple Watch Update
Apple Watch users, the wait is finally over. We've refreshed our Fantastical Apple Watch app to make it much easier to keep an eye on your calendar when you're on the go.
Fantastical's Smart Stack widgets will give you a sleek peek of your calendar without cluttering your watch face with too many complications. Here's what our Up Next Timeline Smart Stack widget looks like: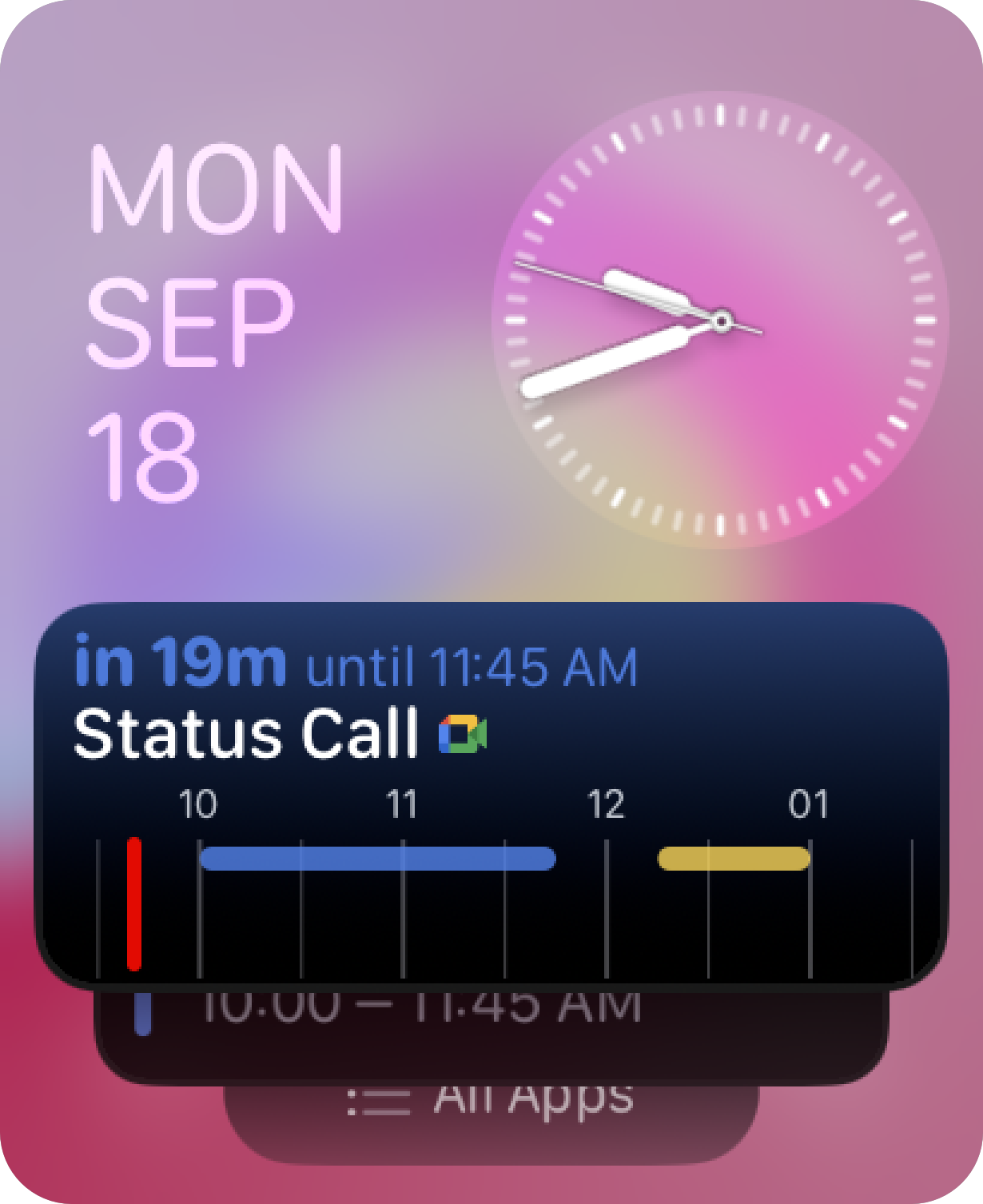 Other Smart Stack widgets you'll be able to use are Today's Date, Up Next, and Launch Fantastical.
For the maximalists out there, you can now have multiple Fantastical complications on your watch face, with each one showing different information. We've got five different complications showing here… what's your high score?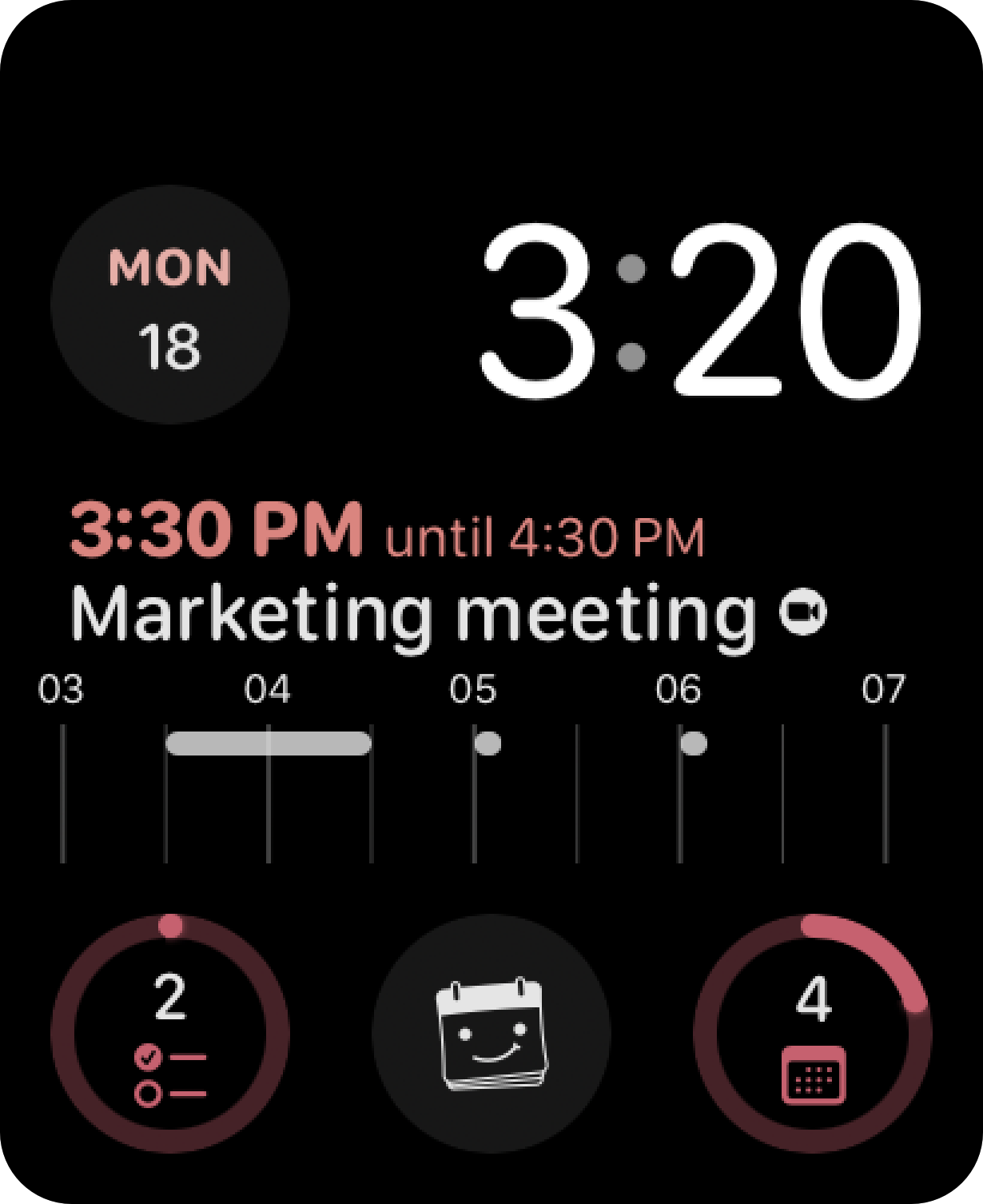 There are a total of eight different watch face complications for you to choose from.
Widgets Galore
Widgets are receiving a serious glow-up in this release, and we've decked out our widget features to match.
Interactive Widgets
With the new interactive widgets, you can now complete tasks directly from your home screen Widgets.
Our Calendar + Event List widget lets you select a date and see those events directly in the widget itself, and quickly switch between dates to see what's coming up.
This interactivity works not only on your iPhone, but in Sonoma on your Mac as well.
StandBy
Obviously, the first thought you had when you heard about StandBy was: "Gosh, I hope they make StandBy widgets for Fantastical and Cardhop!" Of course we did.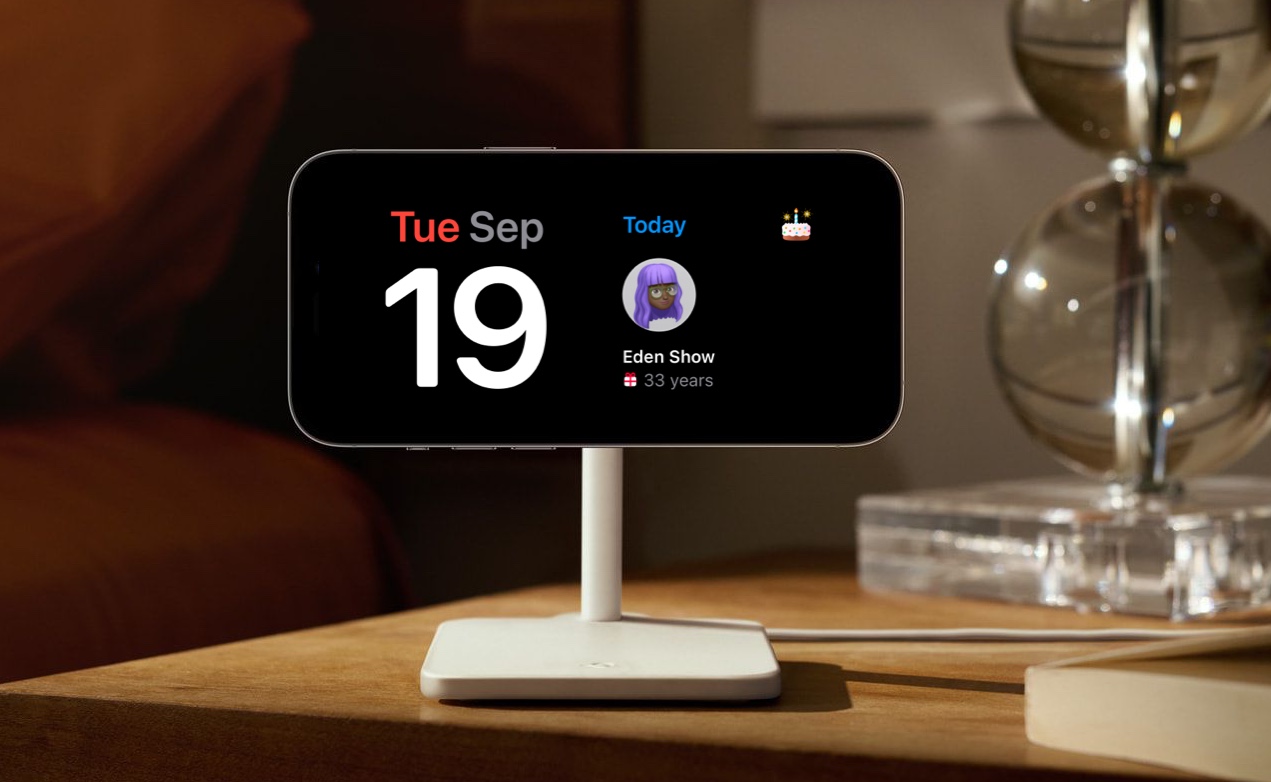 StandBy is available on all of your devices that are running iOS 17. To add Fantastical and Cardhop widgets to StandBy, just add them while your device is in StandBy (the same way you'd add them to the Home screen).
There are five different widget types for Fantastical in StandBy:
Event List
Up Next
Calendar
Icon
Date
And three different widget types for Cardhop in StandBy:
Celebrations
Cardhop actions
Business card QR code
Remember that your device needs to be locked, charging, and rotated into landscape mode for StandBy to work.
iPad Lock Screen Widgets
We didn't forget about you, iPad lovers! Our latest updates also include support for iPad Lock widgets: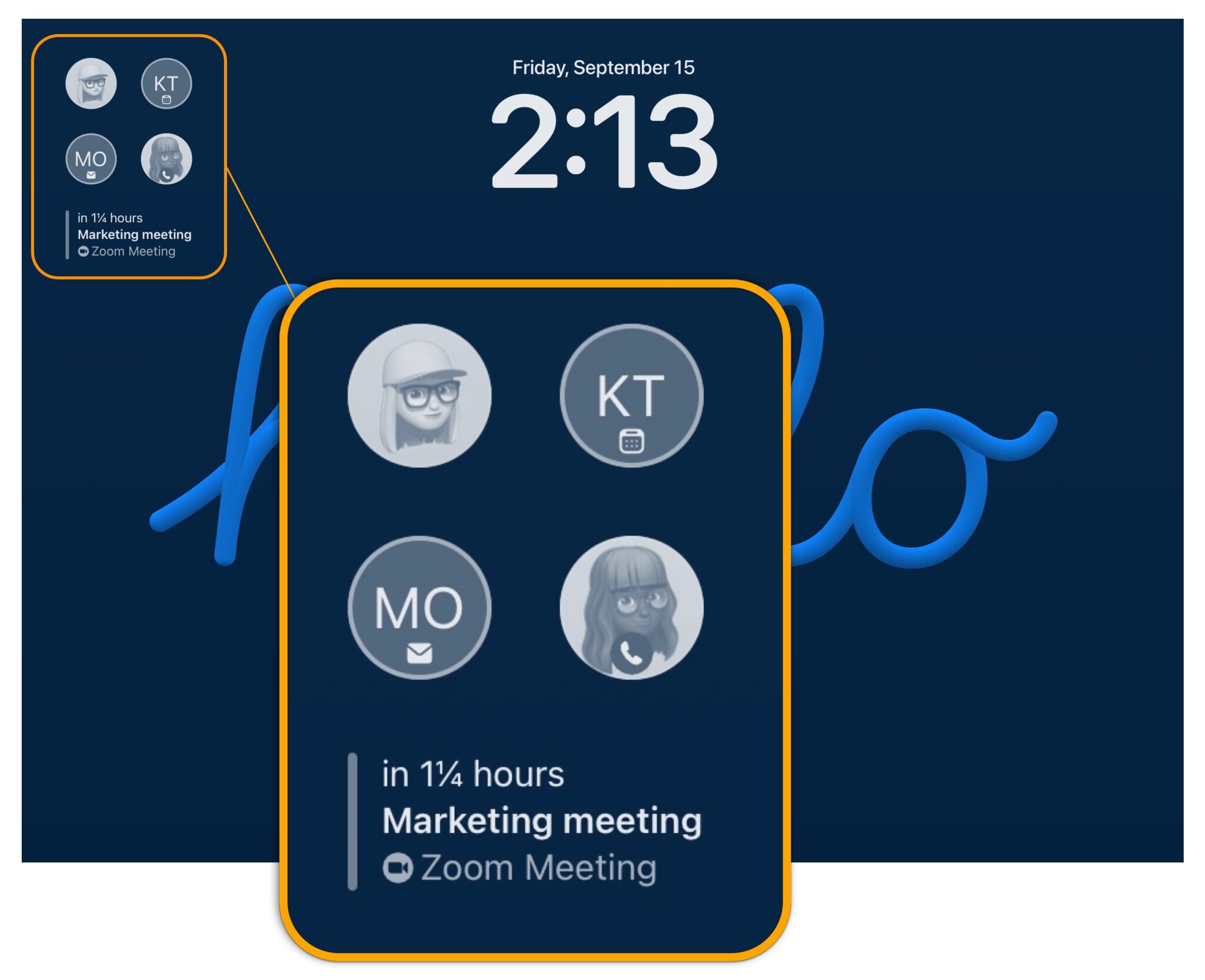 Quick Hits: Openings, Live Activities, and Alert Sounds
Don't worry, the widget mania didn't keep us from updating other key elements of your Flexibits experience.
Openings now supports adding multiple conference call options on each template, as well as the ability to add a call-in method and/or an in-person location. Invitees can choose from any of these options when booking an Opening with you.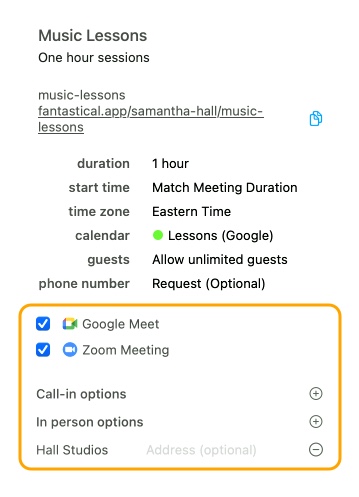 Live activities has also been updated to show your upcoming events up to 8 hours ahead, instead of only 1 hour ahead. This will make it way easier to see all upcoming events throughout your entire day in the Dynamic Island (if your device supports it).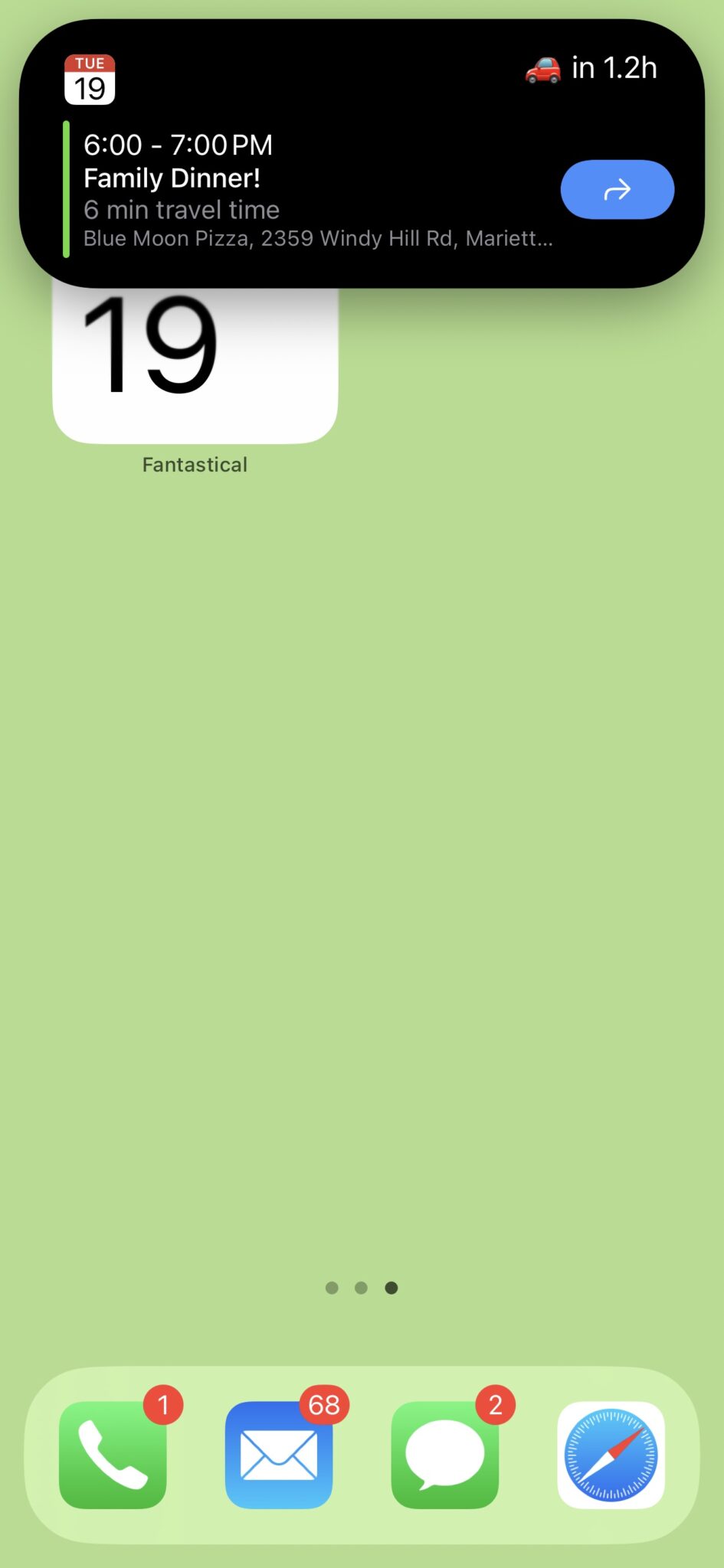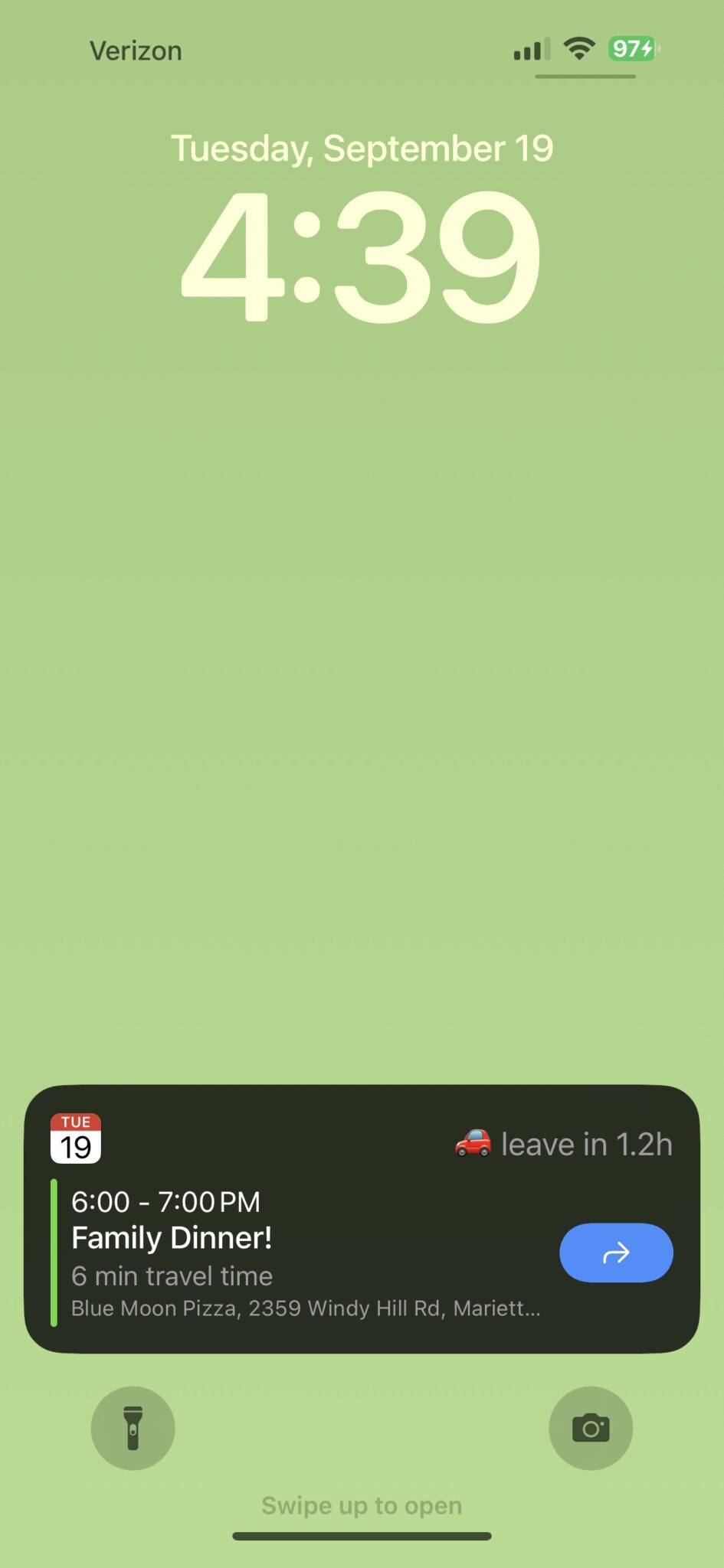 Last but not least, we've added louder, longer alert sounds to Fantastical iOS to help make sure your day stays on track. Check out the soothing Music Box (Long) alert sound:
We've also got Airport (Long) and Foghorn (Long) for those of you that need something a little more attention-grabbing.
–
That's all we've got for now! We hope you have as much fun exploring iOS 17 as we've had preparing our updates for it.