Cardhop 2.1 Launches Today: Improved Fantastical Integration, QR Code Sharing Widget, Celebrations, And More!
2022 brought major updates to Fantastical, including the introduction of Fantastical Scheduling – a fully-featured scheduling system for booking events.
However, we know there's a dedicated community of Cardhop devotees eager for new updates too, and today's release is for you! Cardhop 2.1 launches today, with new features that have been in the pipeline for some time, and a bunch of other minor enhancements and tweaks you're sure to love. But even if you don't use Cardhop as much as Fantastical, we think there'll be a few exciting features for you too 😉
First, let's break down the main components of Cardhop's 2.1 update.
Fantastical action
Cardhop already integrates with Fantastical, allowing you to choose contacts or groups in Cardhop and then invite them to events in Fantastical. Cardhop 2.1 expands on this integration, enabling Cardhop to create events and tasks in Fantastical that link back to specific Cardhop actions.
For example, you can tell Cardhop to make a task in Fantastical to call a specific contact, placing a link to the Cardhop Call action in the task's notes. Or perhaps you might schedule a time to FaceTime another of your contacts. Cardhop will pass this off to Fantastical to make the event and place it in your calendar, again linking back to the FaceTime action for this contact.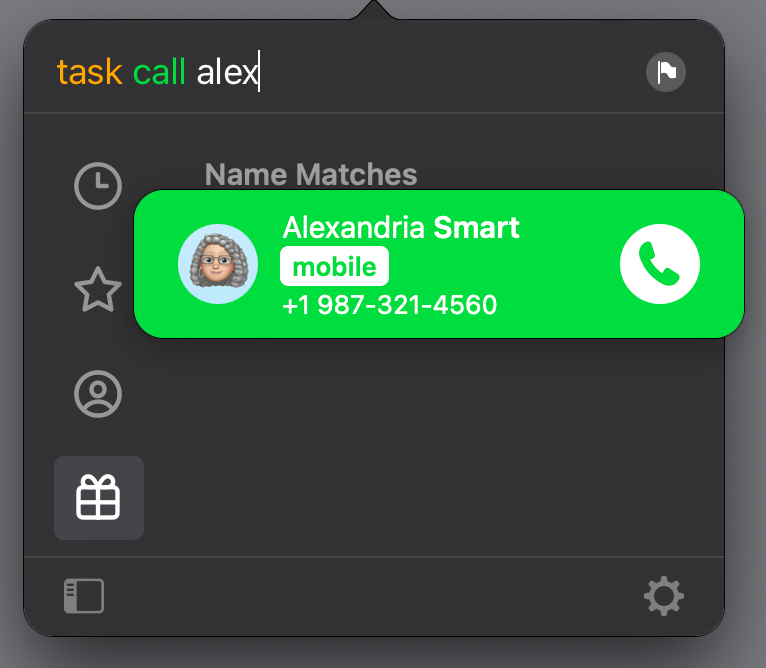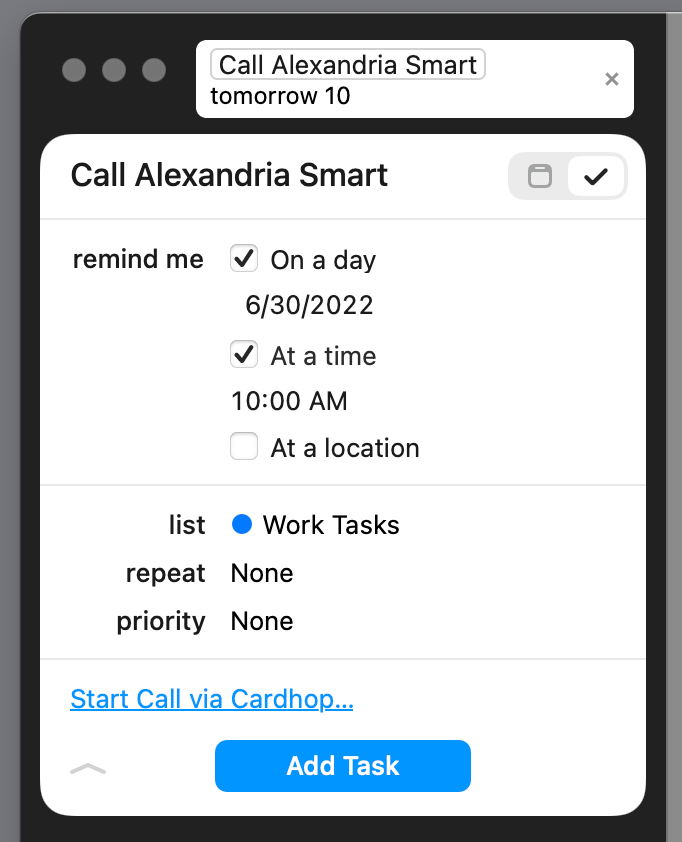 This prevents having to enter the same information twice in different apps, keeping you flowing smoothly throughout your day.
What Cardhop actions will you find useful to turn into events and tasks in Fantastical?
Business card QR code widget
We know people love sharing and managing business cards in Cardhop, and Cardhop 2.1 makes it even easier to share the contact information from your business card(s) with new people.
You'll now find a business card QR code widget for Cardhop, which places the QR code from one of your business cards on your iPhone's Home Screen or Today view. Now you can share your contact details without even having to open the app!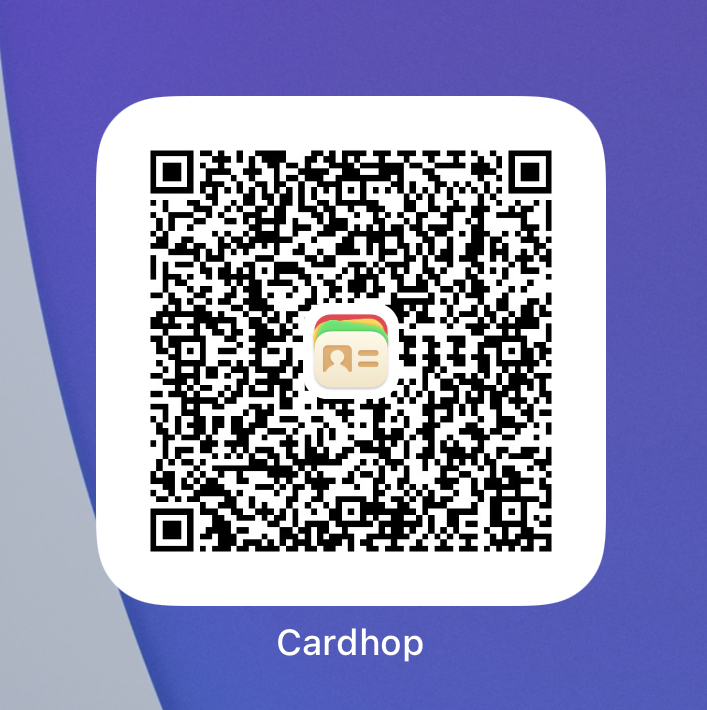 If you have a number of different business cards, you can add individual widgets for each card's QR code. Perhaps you could place different business card QR codes on different iPhone Home Screens?
If you want to save as much time as possible, try putting your QR code widget(s) right at the top of the Today view, and then you can pick up your phone and swipe left to share your details – no need to even go to the Home Screen!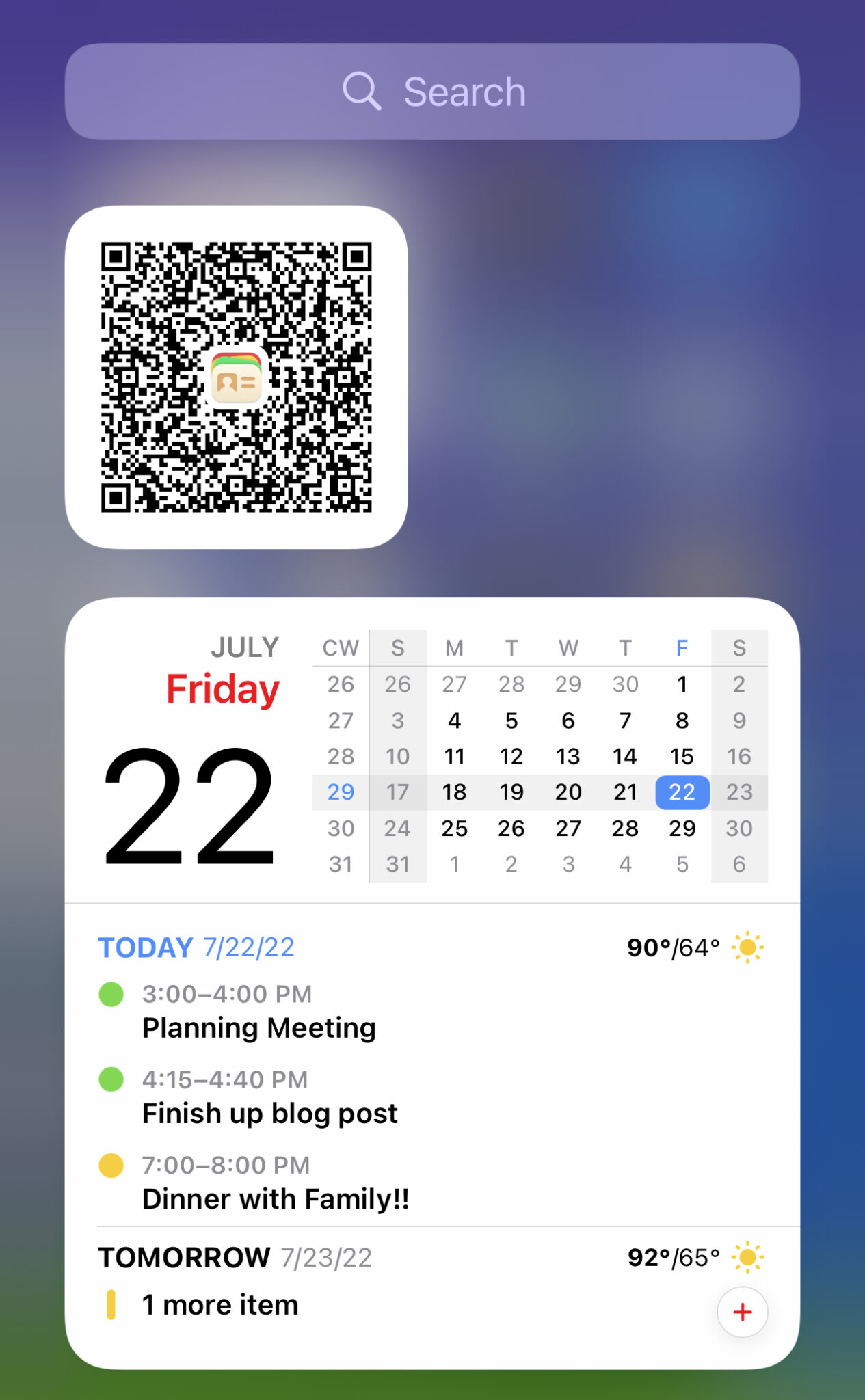 Celebrations
Cardhop users are already familiar with how it helps prevent forgetting birthdays, keeping you in your contacts' good graces!
Cardhop 2.1 now offers the same functionality for anniversaries too, and we've renamed the 'Birthdays' feature to 'Celebrations' to mark this inclusion. Go ahead and pin the Celebrations widget to your Home Screen, configure a reminder for anniversaries just like you can with birthdays, and then when Cardhop notifies you on the day, perform an action in Cardhop to send your best wishes.
And more!
Cardhop 2.1 also introduces new actions for starting chats and calls in Microsoft Teams, and now you can also paste a social media URL into Cardhop and have it extract and display the username rather than the URL. And of course, we've provided a bunch of other fixes and tweaks behind the scenes too. If you're an iOS 16 beta tester, then you might notice an improved experience on the beta version of iOS too.
Be sure to check out the Cardhop Help Book for full details.
Thank you for your continued support of Cardhop! We hope the 2.1. update continues to add value to your Flexibits Premium subscription, and encourages you to use Cardhop in tandem with Fantastical to keep your life organized and manageable.
See you soon!