Wonderful Widgets in Fantastical and Cardhop
When Apple introduced widgets in iOS 14, it opened up a whole new way to access your information in Fantastical. It doesn't matter which version of the app (Premium or Free) you're using, everyone has access to Fantastical's selection of widgets. With the release of Cardhop 2.0 we brought widgets to Cardhop for all users as well, letting you access your contacts even faster than before. Most recently, iOS 16 introduced Lock Screen widgets, which makes for a very quick and convenient way to view your essential calendar and contact information.
While widgets are common knowledge these days, we're going to explore some of the options we offer in Fantastical and Cardhop that you could be missing out on. Stick around and you just might be surprised by some of the things you can do directly from your home screen!
Conquer your day with the Up Next widget
One glance at your calendar tells you that your day is packed full of meetings and tasks you'll need to accomplish before you can even think about heading home. It's Friday and the weekend is calling your name if you can just make it through the list that seems to keep growing… and growing… The more you look at your schedule the harder it is to believe you'll get to leave the office before you have to be back Monday morning.
Instead of calling your partner to have them drop off camping supplies because you're stuck at the office the next three days, start tackling the list one item at a time using Fantastical's Up Next widget.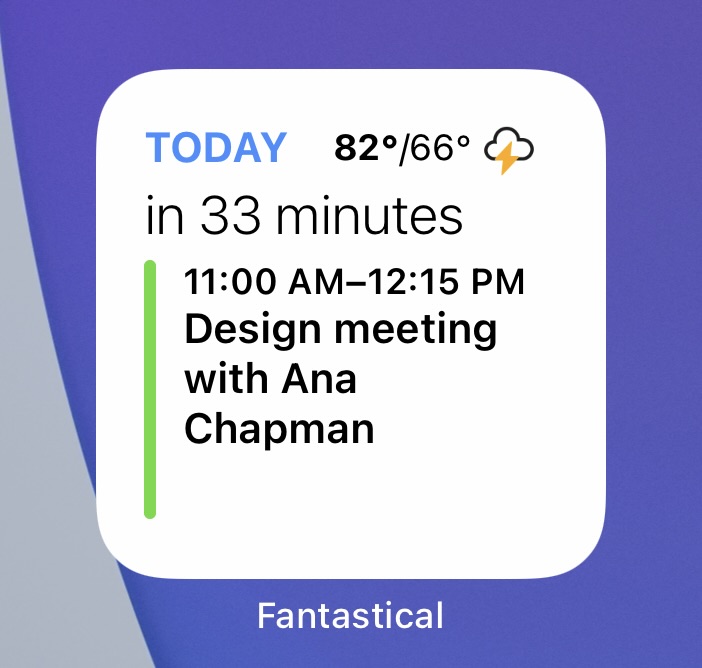 With the Up Next widget, you won't be overwhelmed by seeing all of the events and tasks that need to be completed because it only shows you the next item on your list. You get to focus on one event or task at a time without having to think about the next five that are upcoming, and before you know it you have everything accomplished for the day! It's time to head home and enjoy some well earned relaxation. Who knows, you might even break out that camping gear in your backyard and make some s'mores. 😁
Staying in the know with the Cardhop Quick Actions widget
After the fiasco of the last budget meeting, Bob has decided he's going to start taking matters into his own hands. No more waiting on his colleagues to send him the updated info he needs for his reports, and then not receiving it at all! Instead he's going to be proactive and reach out to them each month to confirm he has the correct information. Now he just needs to find the easiest way to remember who he needs to contact and he'll be all set.
Enter the Cardhop Quick Actions Widget.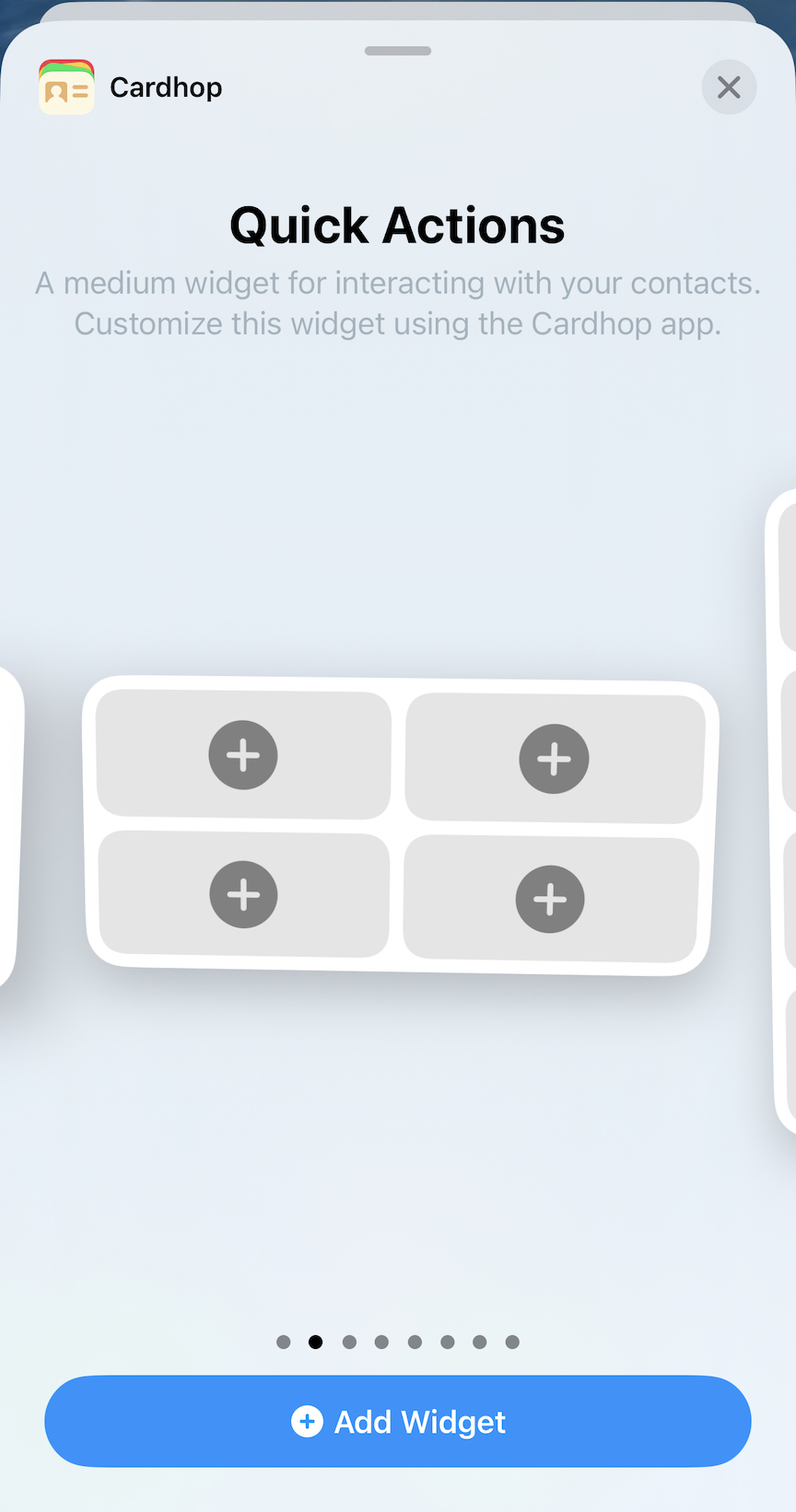 After adding this widget to his home screen, Bob can set it to always show him the colleagues he needs to contact and choose the best contact method for each person. Once that's done, all he has to do is tap on the contact he needs and he'll immediately be able to reach out using the preferred method for each contact. Ana prefers email? Check. Matthew always wants you to call him on his cell phone? No problem. Eden will only answer text messages? Done!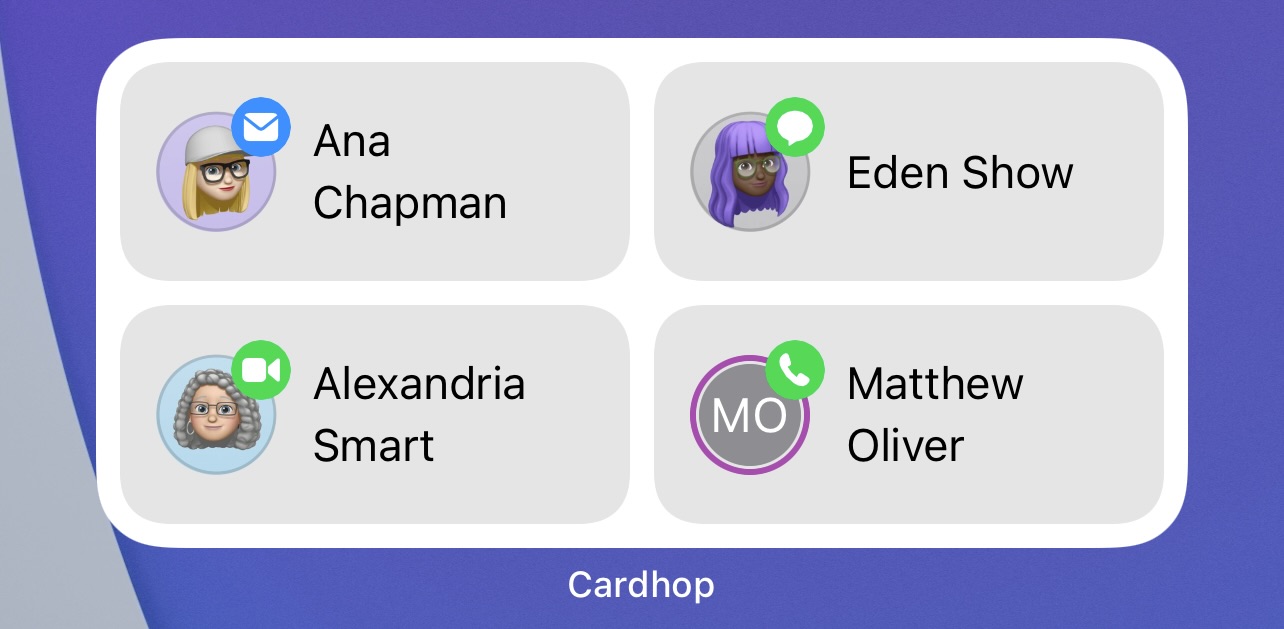 Bob is confident that his part of the presentation is correct each time and isn't left feeling embarrassed, or looking for a new job!
No lists for you? Use the Fantastical Calendar widget
Lists are great, and can be helpful if you enjoy knowing exactly what's coming next. Just because everyone else likes them doesn't mean you have to though. You may only want to see a snapshot of the upcoming month or two without all of the details cluttering your screen. No need to know what the events are, just see a visual of what days you have free in the coming weeks.
Don't worry, we've got you covered here as well with the Fantastical Calendar widget.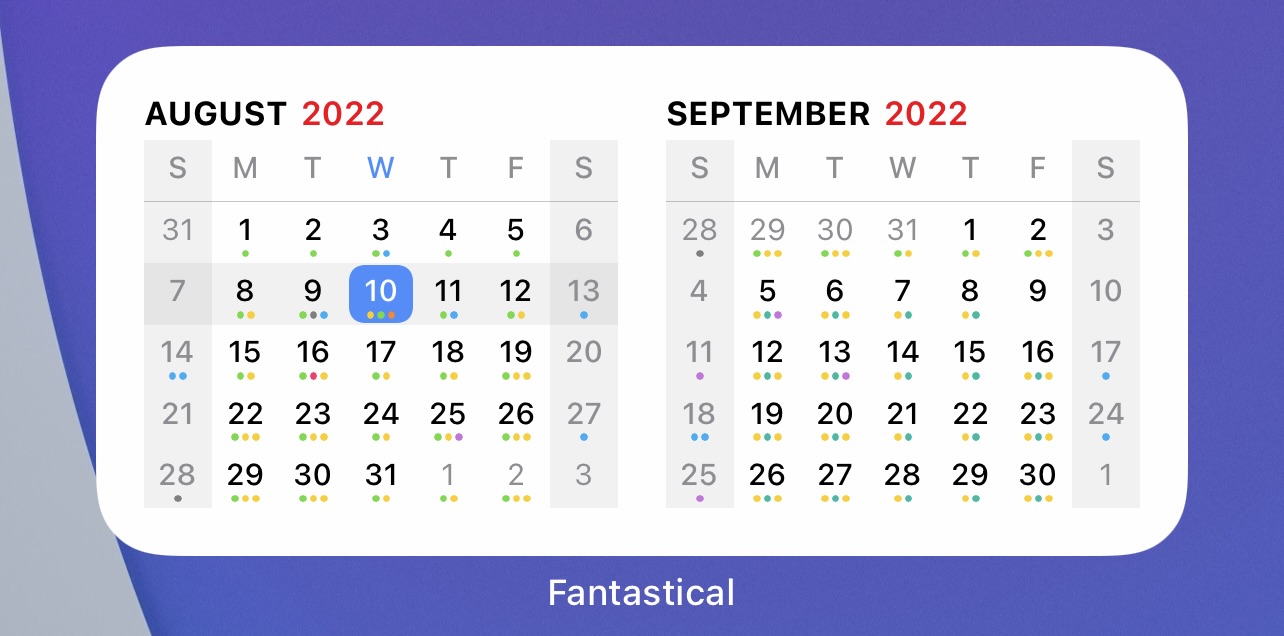 Add the Fantastical Calendar widget to your screen, turn on item indicators, and with just a glance you know that you have a free Friday next month on the same weekend your favorite baseball team is in town. In no time at all you have a vacation day approved at work and tickets for the upcoming game. No better way to spend a Friday evening, even if you don't root, root, root for the home team. 😉 
Celebrate good times with Cardhop's Celebration widget
So you're tired of sitting home all the time and want to get together with friends to have some fun? A cookout sounds okay, but is not quite the level of excitement you're hoping for. What can you plan to get everyone together and have a good time? A party, of course!
You start by making a checklist in Fantastical of everything you'll need to do: order food and drinks, find decorations, create a playlist. It's all coming together great, but you want something to take it to the next level. When you pick up your phone to call your best friend for help, you happen to see the Cardhop Celebration widget and realize their birthday is coming up. Then it hits you, why have a regular party when you can have a CELEBRATION! 🥳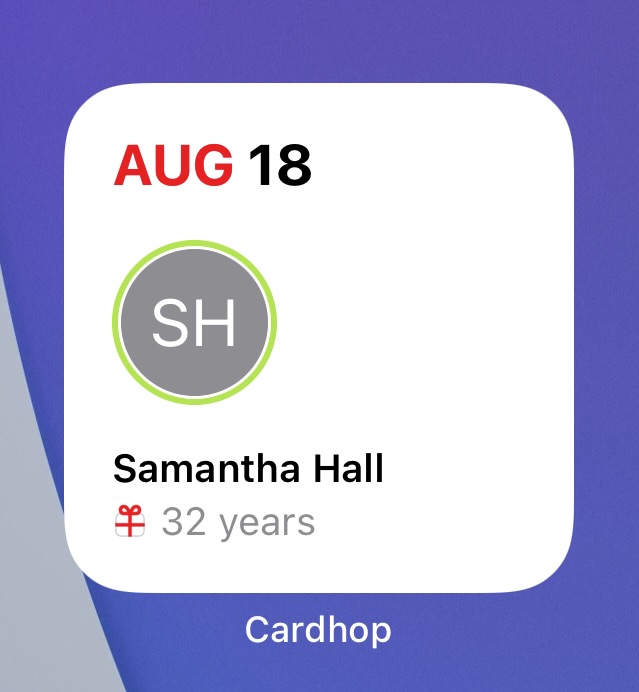 This time next week you and your friends will be eating cake and dancing the night away.
And why stop with just one party? Switch to the large Celebration widget and you can plan parties for ALL your friend's birthdays… and their anniversaries as well!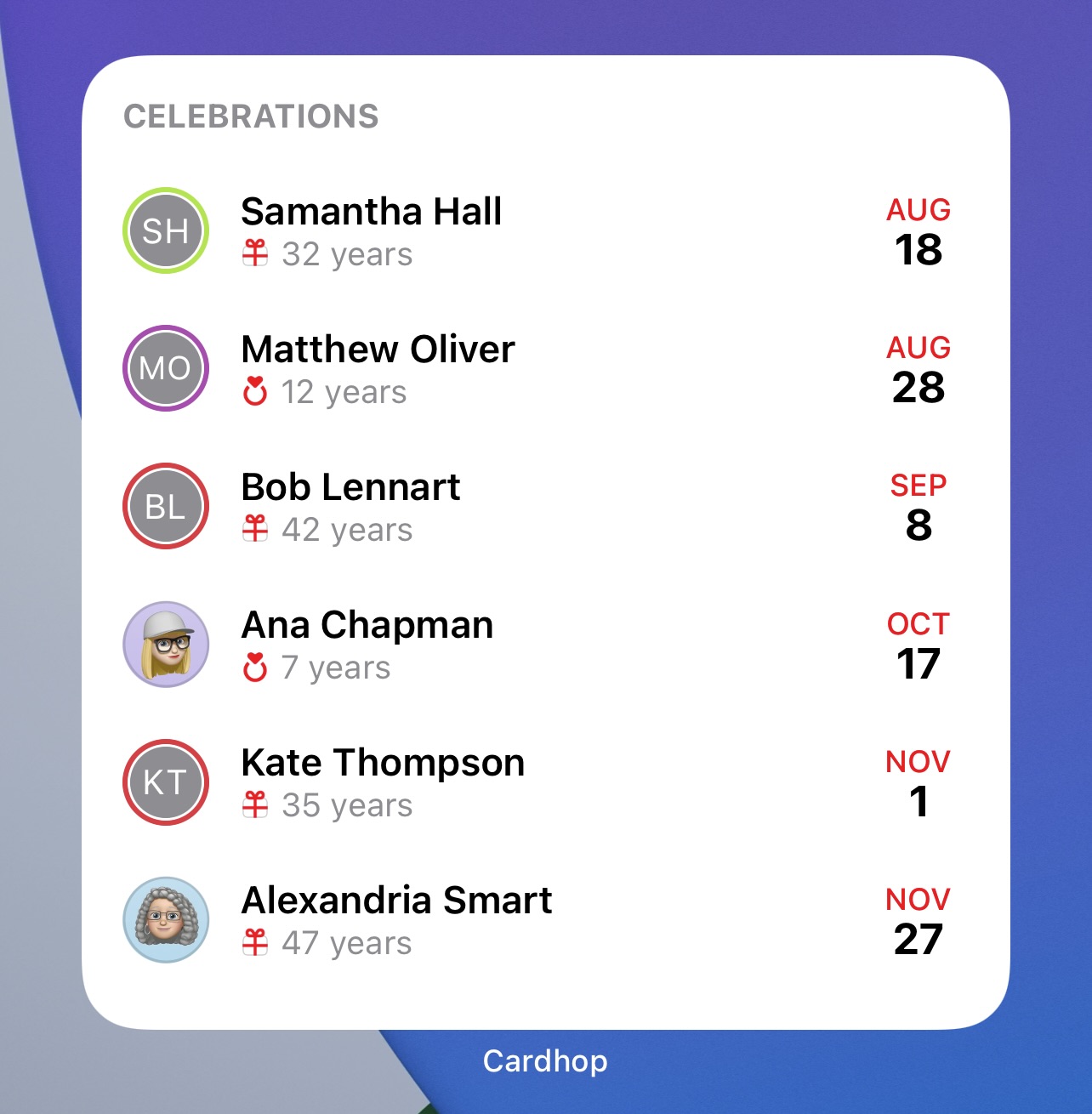 Let the good times roll… and maybe order a new pair of dancing shoes so your feet don't hurt. 💃🏻
Creating new events has never been this easy
The pizza was just delivered and you're ready to enjoy a night with your family. Right before you take a big bite of the warm cheesy goodness you remember that you need to set up a meeting with your colleague for tomorrow. You could unlock your phone, find the Fantastical app, open it, and tap the + to add a new event. Or if you are using iOS 16, you could start creating an event without even unlocking your phone.
Just add the Quick Action Fantastical widget to your lock screen and no matter where you are or what you are doing all it takes is a quick tap to start creating a new event.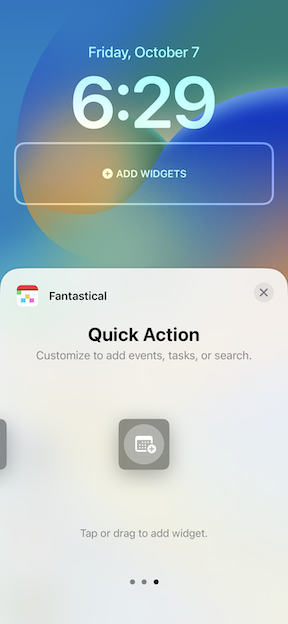 Choose the add event option when customizing the widget and Fantastical will immediately open to the event creation screen with the parser active and ready for your information.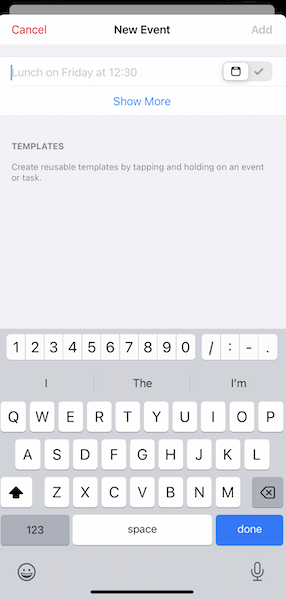 In just a few seconds your meeting is set and your pizza didn't even have time to get cold. Now you can sit back, relax, and start thinking about what to have for dessert. Who wants ice cream?
Tips & tricks to get the most out of your Flexibits widgets
All Flexibits widgets have multiple settings that can be changed to fit your current needs. Just tap and hold on the widget, select "Edit Widget," and have fun trying all the different settings that are available.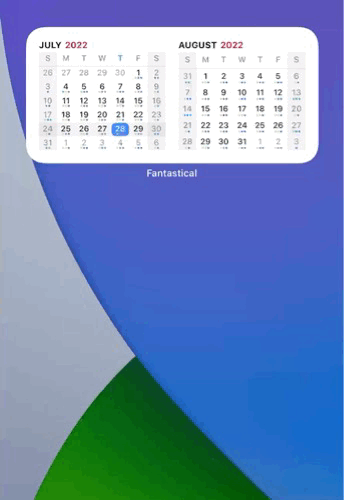 If you have an active Flexibits Premium subscription, you get access to those features in the widgets as well. This includes the fantastic "Join" button for meetings, and the ability to choose from multiple calendar sets so you can customize what you see.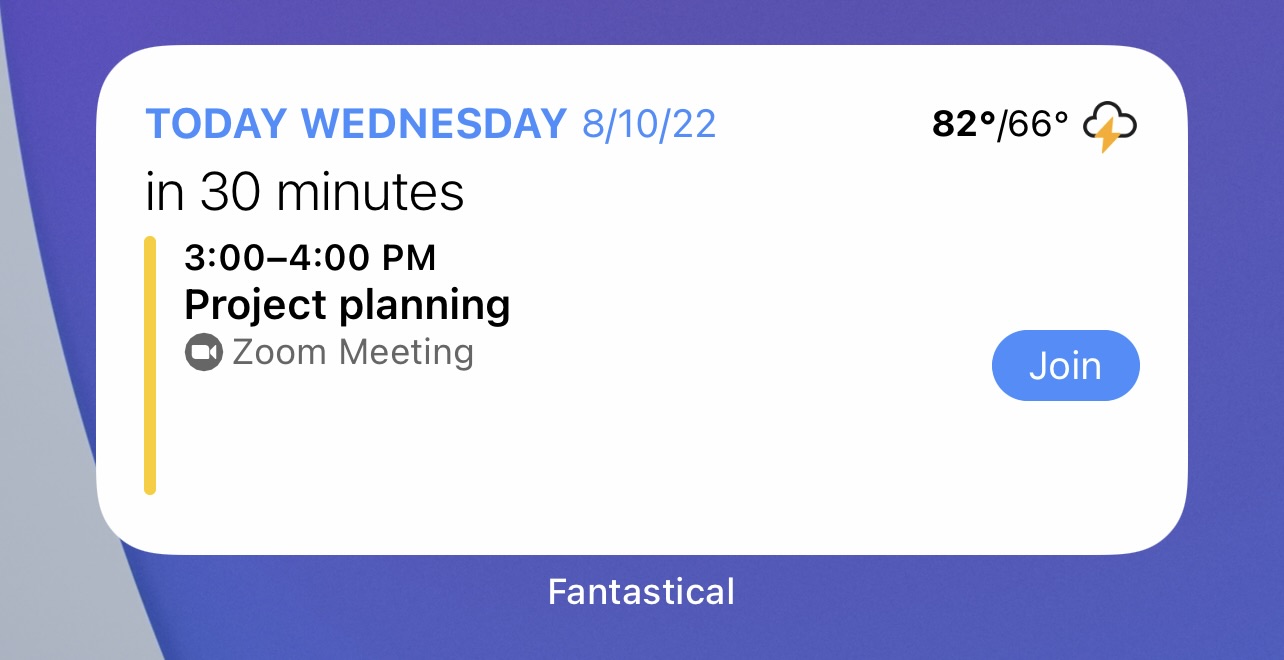 Widgets are not just for your home screen! Try adding your favorite Fantastical and Cardhop widgets directly to your Today view on the iPhone for quick and easy access to all of your information! If you've upgraded to iOS 16, you can use the widgets on your lock screens too. Add different widgets to each of your lock screens to customize what information you see and when you see it!
Have an iPad and want to see even more info? Try out the XL iPad widgets. The Fantastical Event List + Calendar XL widget gives you an expanded view of what's going on in your life and with the Cardhop XL Celebration widget you can see SO many more upcoming birthdays and anniversaries! 

Finally, there isn't a limit to how many widgets you can use, so play around with all of them to find the best combo for your needs. Stick the Up Next widget on your lock screen and the Fantastical calendar widget on a home screen. Add the Cardhop Birthday widget on your home screen, and the Business Card widget to your Today view. There are so many possibilities to explore!
Learn more
Widgets are a fun way to customize your devices and can be used on the iPhone, iPad, and Mac. You can find out more about all of the widgets we offer by checking out our Support pages.
Thanks for reading, and keep an eye out for our next post as we continue to explore the great features of Fantastical and Cardhop!