Get started on your new year's resolutions with a few productivity tips!
Happy New Year! 🎉
OK, so not everyone wants to start the new year with resolutions and productivity and the like, but as it turns out, I am that nerd (sorry, not sorry, as they say.) So, if you are also that nerd, let's talk about Fantastical and Cardhop and how to make productivity easier so you can start the new year with less stress.

I'm a bit embarrassed to say that I am not yet a power user of Cardhop and Fantastical. I have had Fantastical on my devices for years now, but I have only been using it as I use most calendars: it's just in the background until I need to remind myself when that dentist appointment actually is. Now that I'm working for Flexibits, I have been focusing on leveling up my knowledge of these apps and every time I dive into the documentation, I find I learn something new and wonderful. So, I decided to go to the experts and ask the rest of the Flexibits team what their favorite productivity hacks were.
So here, in absolutely no particular order, are the objectively best features of Fantastical and Cardhop, as told by the rest of my lovely crew who make and support Fantastical and Cardhop.
Customize your calendar sets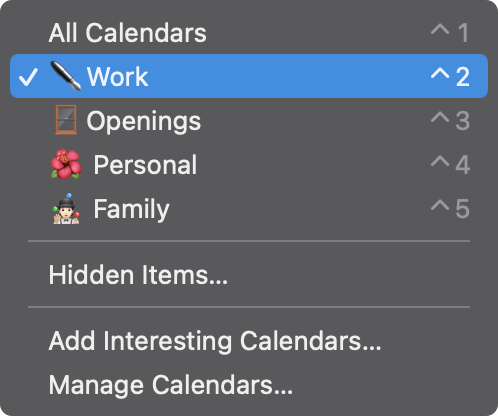 Jonathan would like us all to know that calendar sets fully support the use of emoji. As a visual person (and a chronic over-user of emoji 😁), I immediately opened up Fantastical and added emoji to all my calendar sets as soon as I heard this! 🎉
And Tori had another great calendar set trick… she optimizes her calendar sets by using time and location cues:
"I love the feature that allows you to set your calendar sets to automatically switch at a certain time or location. It really helps me manage my work/life balance. Basically at 5PM everyday, my calendar switches from work to personal, then at 9AM it switches back to work. It is refreshing and very useful."
Connect with Cardhop
I never knew I needed a better contacts app until I started working at Flexibits. But after learning about Cardhop's printing feature, I can't wait to learn what else this little app can do. Adam uses the timestamp feature in Cardhop to keep meeting notes organized (I will absolutely be copying this!) and Alessandro asks Cardhop to deliver birthday notifications a day early so he's not caught without a gift – clever!
Soneé uses Cardhop's widgets for keeping in touch with his favorite people:
"I really like the action widgets for Cardhop on iOS. I keep them on my home screen so I can quickly call my sister on FaceTime and other family members. I place them in a stack so I quickly swipe between them so it's like having a speed dial."
Make our language parser do the work for you!
I've always been impressed by the language parser in Fantastical, and as it turns out, it's even smarter than I thought it was. Today I learned that the parser can handle durations (‼️) which is ridiculously cool. Just type your event details into the parser and include 'for x hours', and 🤯
(…should I be concerned that the AI does time math better than me?)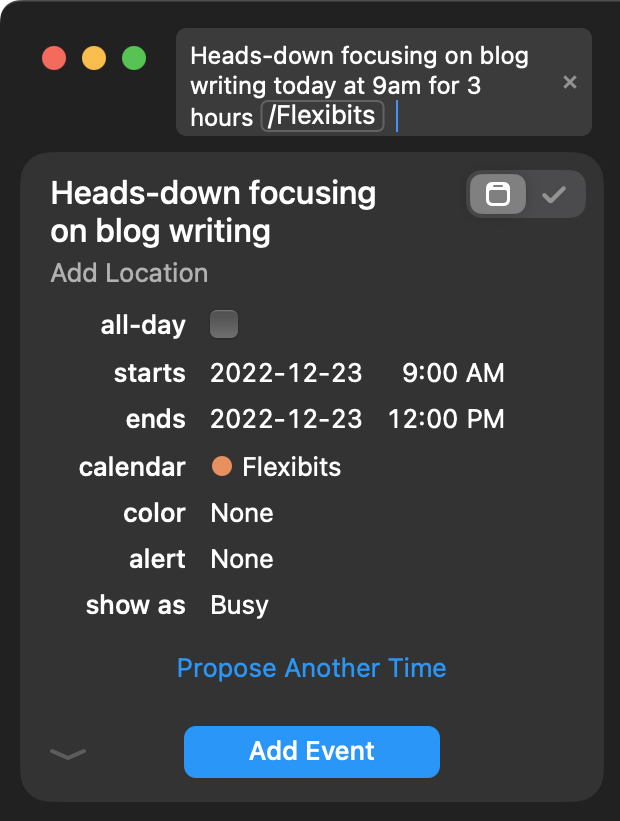 Chrissie uses the language parser to update section labels when adding info to contact cards:
"… just type the label name in front of the info you are entering. So if you are entering someone's home phone number you could type home then the number and it's labeled for you."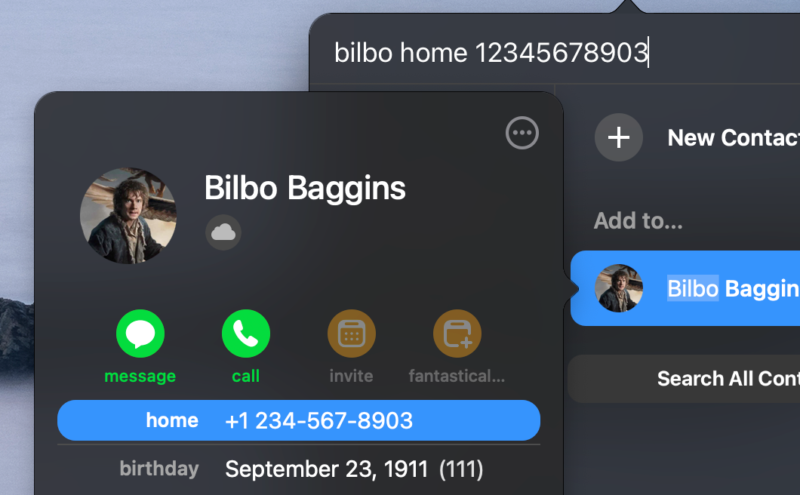 (This is officially my favorite tip because she included a screenshot with a contact card for Bilbo Baggins.)
One more tip before we all get back to work…
David wants to make sure we don't get too bogged down in all the 'necessary and useful' things:
"This is more fun than 'productive' but, one of my favorite features in Fantastical is having the ability to add your favorite sports teams' schedule to the calendar. This way you don't have to look it up on a periodic basis."
Of course our team had too many ideas to fit into one post, so stay tuned for more tips to come. As always, please share your favorite tips and tricks with us! 💡