Here at Flexibits we're constantly working to improve our apps by updating existing features in Fantastical and Cardhop, and we love adding new features to the apps as well! However, with all the updates we have it's easy to miss a feature that you might find useful. So we're going to start highlighting some of the changes that we think you'll enjoy right here on the Flexireads blog 😁
To access the latest Fantastical features in this post, make sure you're running our latest version (3.7.14). Go ahead and install that update if you haven't already, and let's dig into some exciting new content!
Conference calls for Proposals
Fantastical's Proposals feature is a great way to quickly schedule an event with a group of invitees, and now we've made the process even easier by giving you the option to include a conference call when creating your proposal. That's right, you no longer need to wait until the proposal has been confirmed on a specific date to add a call to the scheduled event!
With the new conference call feature, you just need to select your preferred conference call option during the proposal creation.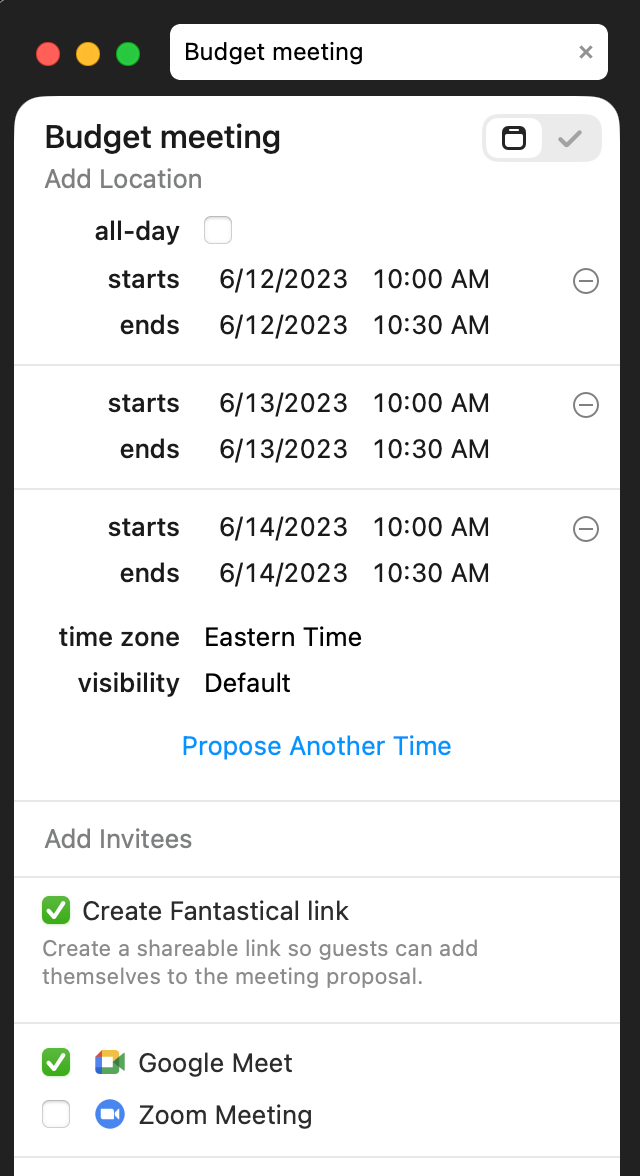 When the event is confirmed, your meeting link will be created and included in the event invitation so that your invitees have immediate access to the call details.
We currently support adding Zoom and Webex links (if you have those account types added directly to Fantastical), as well as Google Meet (on calendars connected to a Google account) and Microsoft Teams (on calendars connected to a Microsoft account).
Customize your Openings & Proposal links
While we're on the topic of Fantastical Scheduling, you can now customize your Openings and Proposal links for specific invitees before sending it.
The available options for your Openings links include the name, email, and phone number of your invitee, as well as the option to add a message to the link. For Proposal links, you can fill in the name and email of your invitee, as well as add a message to the link. To make it even better, we've added the option to set the language for the link using one of our currently supported languages.
When you send a customized link, we fill in the invitee information you provide so all your invitee needs to do is select their preferred date & time and submit the request.
Check out our Support page for tips on how to customize your links!
Durations for Tasks
One feature that we've received a lot of requests for is the ability to set a specific duration for your tasks in Fantastical. We're happy to announce that this feature has been added to the app 🎉
That's right, you can now have your task show for a specific amount of time in Fantastical's Day and Week views to help with planning and time blocking.
To use the new duration option, enter the task name followed by [duration] in the parser. For example, if you want to create a task with a 60-minute duration you could do so by entering the following in the Fantastical parser:
task Clean the garage [60m] tomorrow at 10am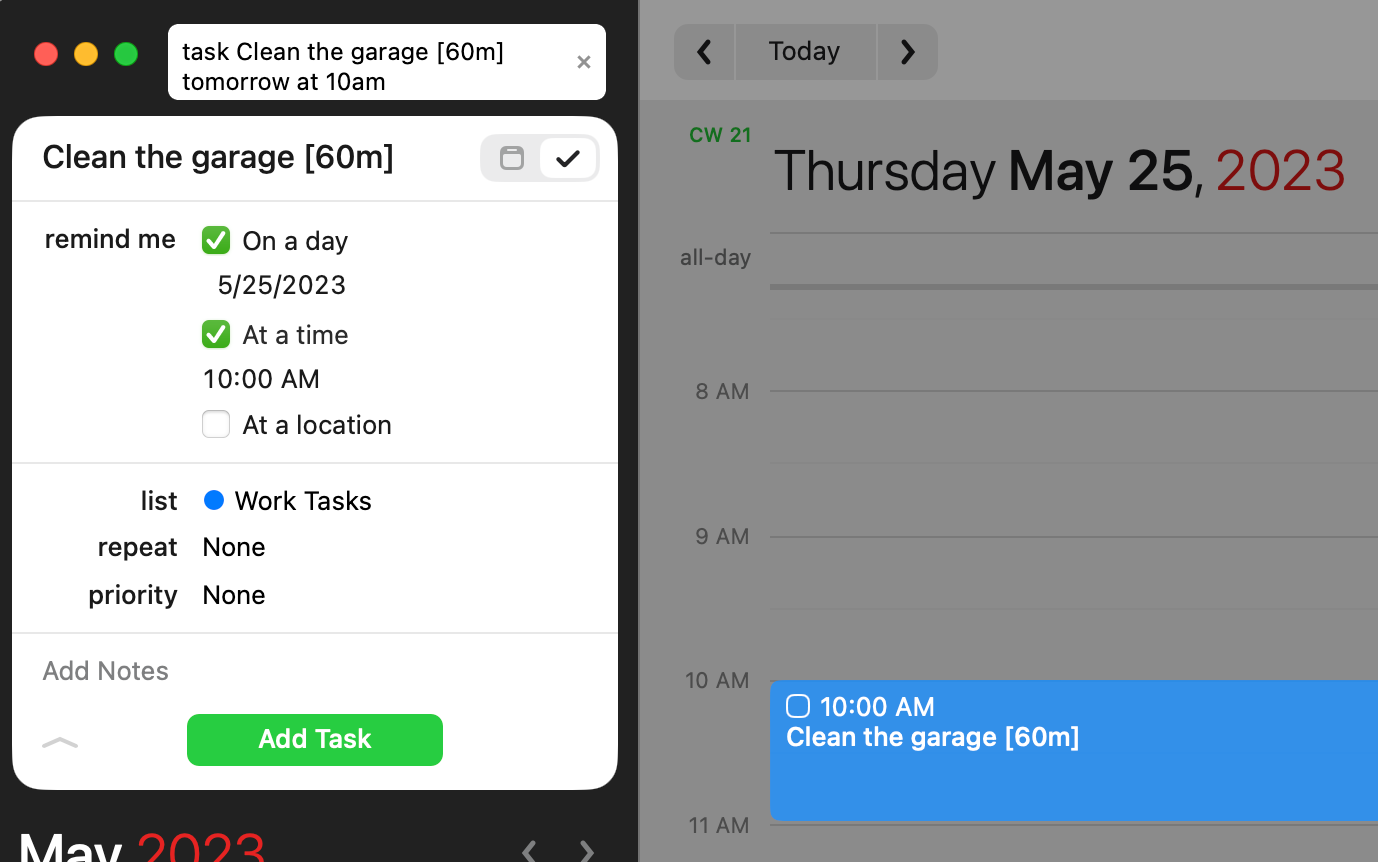 Now, the task will show as having a duration of 60 minutes in both the Day view and Week view in Fantastical across all versions of the app.
Just make sure you place the duration directly after the task title when creating your task to activate the new feature in Fantastical.
Flexibits Teams Premium Subscription
Finally, we're excited to introduce the Flexibits Teams subscription that is now available on our website. The Teams plan lets you manage multiple subscriptions for your entire team with one main account.
Get started on our Teams information page and once you create the main Flexibits Account to manage the subscription, you can change the amount of seats at any time directly in your Flexibits Account billing section. Each seat gives a user a private Flexibits Account that they will use to access the premium features in Fantastical, Fantastical Scheduling, and Cardhop.
Learn More
If you are interested in learning more about what is included in each release, you can find out more with our Release Notes on the website.
You can also keep an eye on the Flexireads blog for future Feature Roundup posts to keep track of new features available from Flexibits!