How's the View From Here? – Getting the Most Out of Fantastical's Calendar Views
If you're reading this, it probably means Fantastical has become part of your everyday life – we're glad to have you!
Fantastical offers lots of options to help manage busy schedules, with many different ways to use the app to maximize productivity and reduce wasted time. One of the most fundamental features of any calendar app are the main day, week, month, and year views. These views are so fundamental that it's sometimes easy to take them for granted and overlook them!
In this post, I'll give these calendar views some more attention, and share some examples of how they could fit into everyday life. Perhaps this might inspire you to use them in ways you've not yet tried? Let's start by turning our attention to Fantastical's newest calendar view…
Quarter view
Quarter view was introduced to Fantastical earlier this year, and is a convenient way to see the next few months at a glance.
Quarter view can be used to view goals and monitor growth over time. For example, when starting a new job, try using quarter view to see all your objectives and deadlines throughout your training period. This allows you to stay on top of your goals and really impress your new boss, showing how organized you are!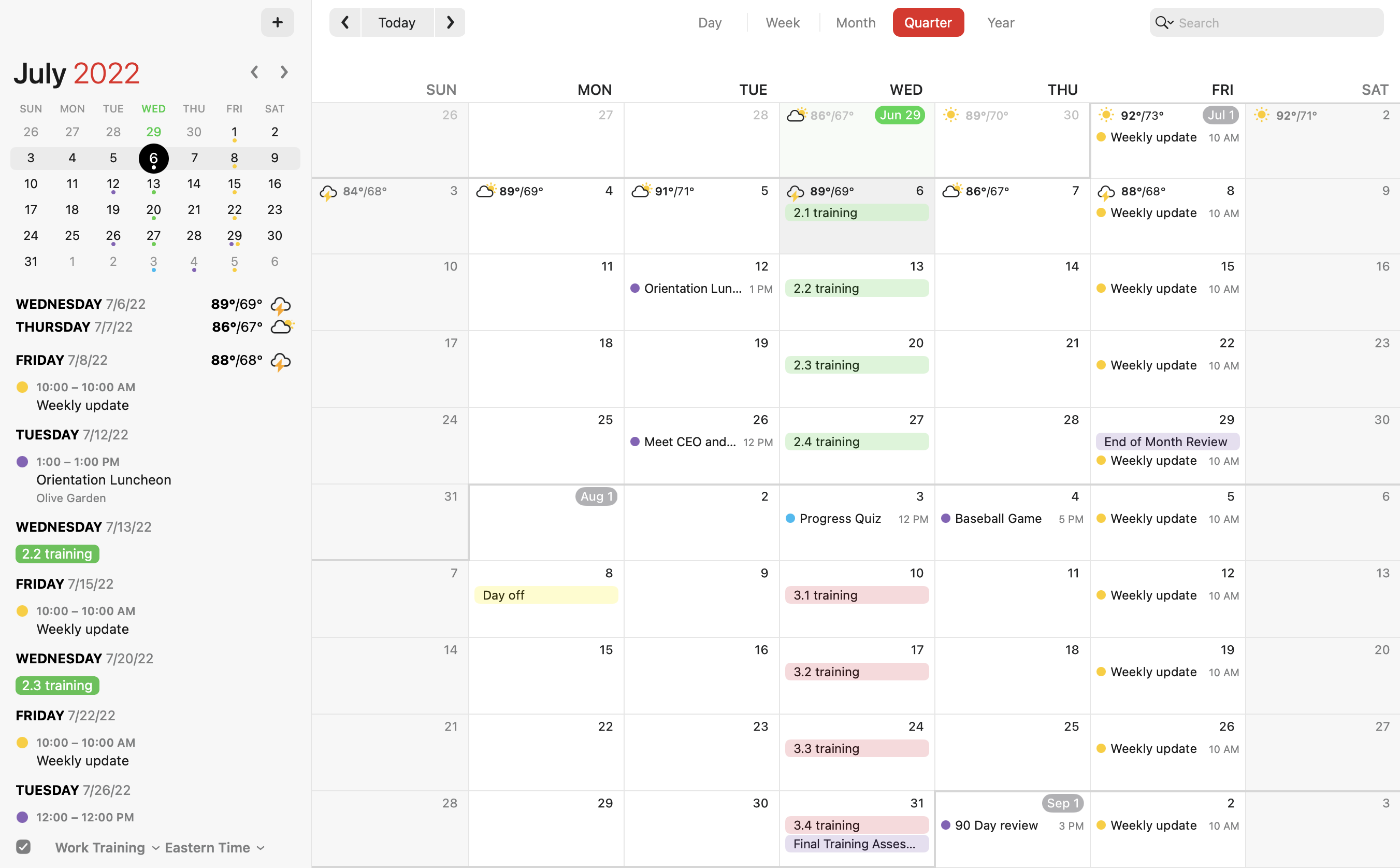 If you drive a lot for work and need to typically get your oil checked each quarter, try using Quarter view to make sure you have at least one date on the books to guarantee your vehicle will be properly serviced.
Or for the parent who manages their kids' sports leagues, Quarter view could be useful to coordinate the after game snack responsibilities between parents, and to be able to see the entire season in one view!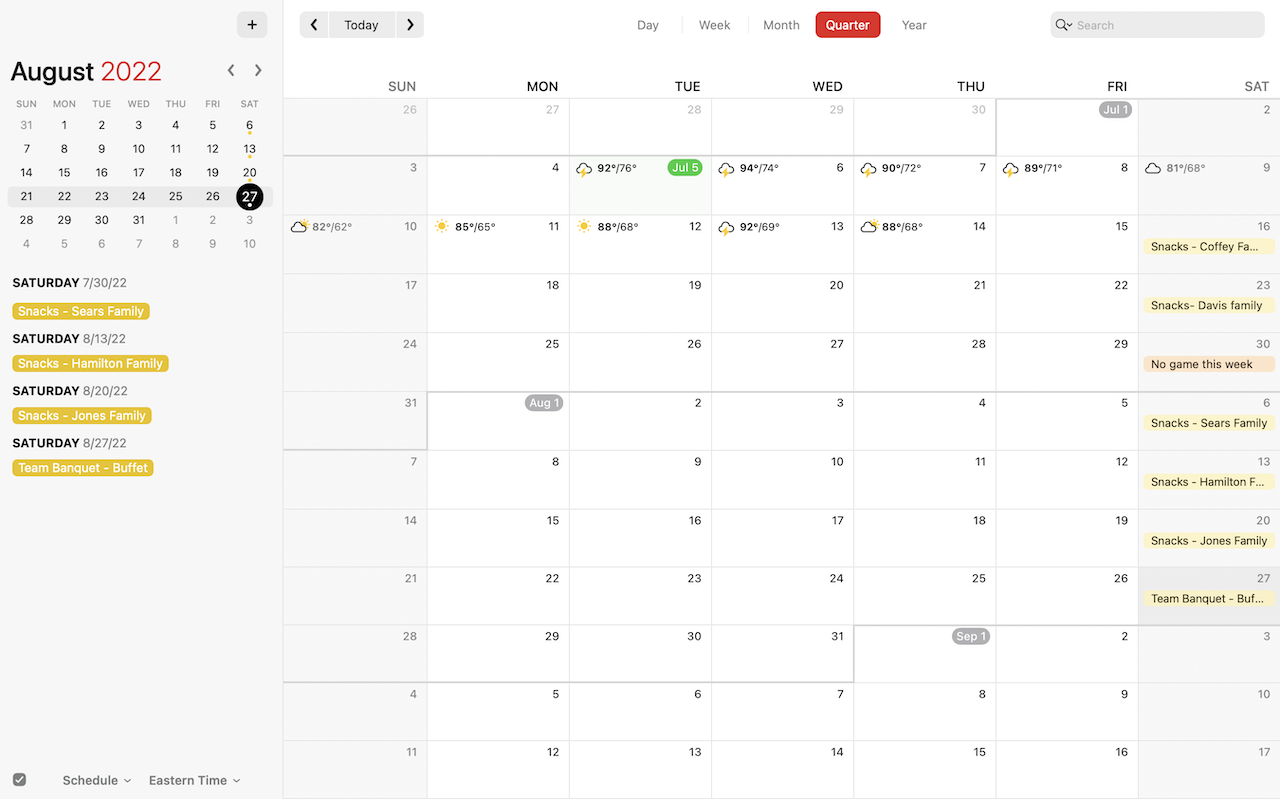 Week view
My personal favorite, Week view, is a great way to stay on track with your schedule without having to think too far into the future.
Meal prepping for the week ahead? Week view is perfect to see all your upcoming meals at once, so that you'll be prepared in time for Taco Tuesday! If you have any missing ingredients that you need to pick up by a certain date, add them as a task so you're ready in time. If you like to keep the rest of your family organized with the weekly meal planning, try using shared calendars to keep everyone up to date.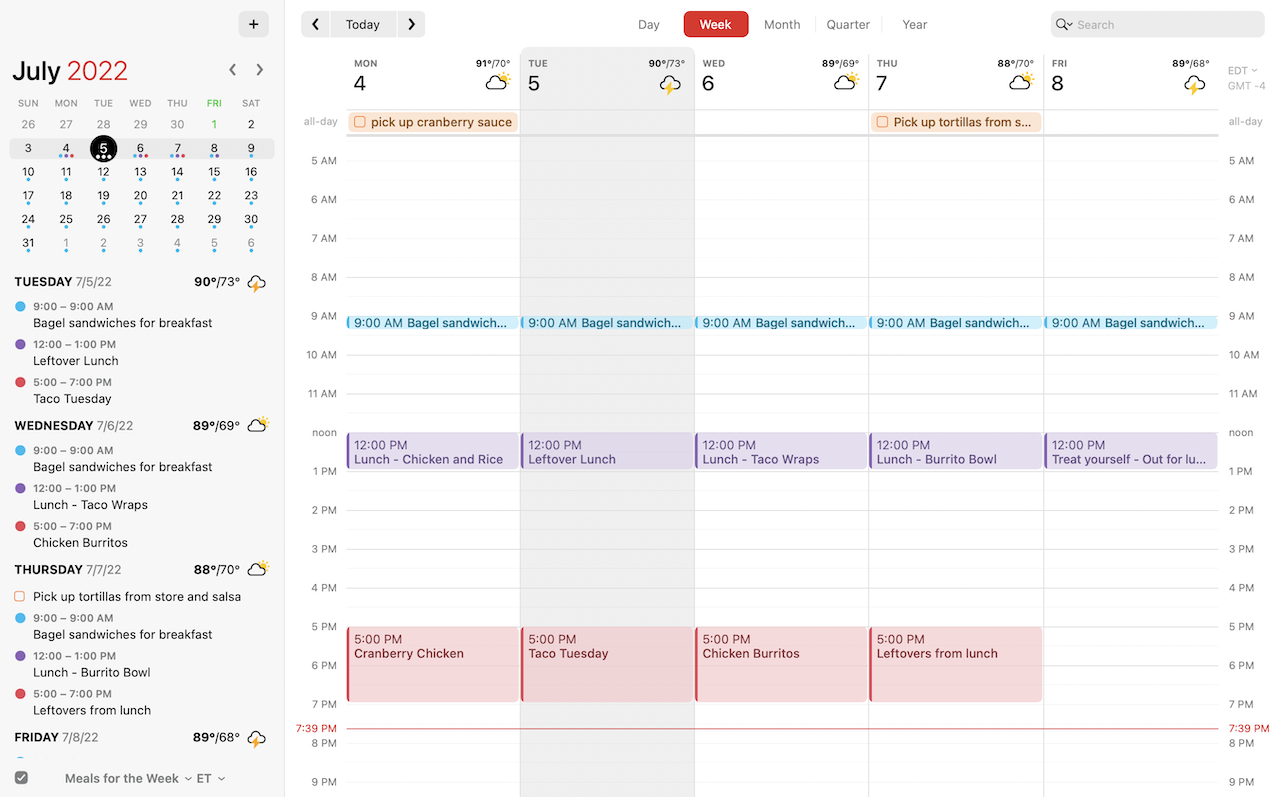 Day view
For those of you just trying to get through a busy work week, maybe taking it one day at a time is best? Day view is an ideal way to see what you have scheduled for the remainder of the day, without overwhelming yourself with what's to come tomorrow.
Making sure you're on schedule with meetings is a great use for Day view. In fact, you can add, edit, and join meetings directly from the Day view. For our remote friends who practically live on video conferences, Day view will keep you on track and minimize confusion as to which calls you need to join and when.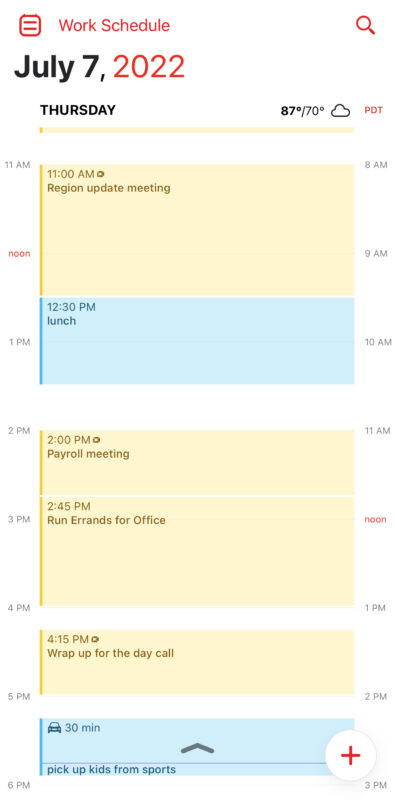 Day view is great for travelers as well. Add your flights to your calendar, and keep your gate information, times, and locations in one place. This is much easier than searching for that screenshot of the confirmation that you have in your photos… somewhere…
Once you arrive at your destination, use Day view to follow your itinerary for each day and make the most of your time without worrying too much about tomorrow's plans. After all, you can end up spending more time trying to come up with fun vacation ideas than actually doing them!
Prepare your days ahead of time, follow the schedule, and enjoy your much needed relaxation 🙂
Month View
If you're like me, you function best when you have every single detail planned out. To my mind, there's nothing scarier than committing to multiple plans and then not being able to follow through with them! Month view is perfect to get a feel for which days in the near-ish future already have plans, and which you can start to book up.
Next time your friends are deciding on a date for everyone to go out on the town, use Month view to give you an overall view of how busy your month is, making sure that you have a chill weekend reserved in between your social plans over the next few weeks. And don't forget to check the weather forecast in Month view to help decide which day will work best.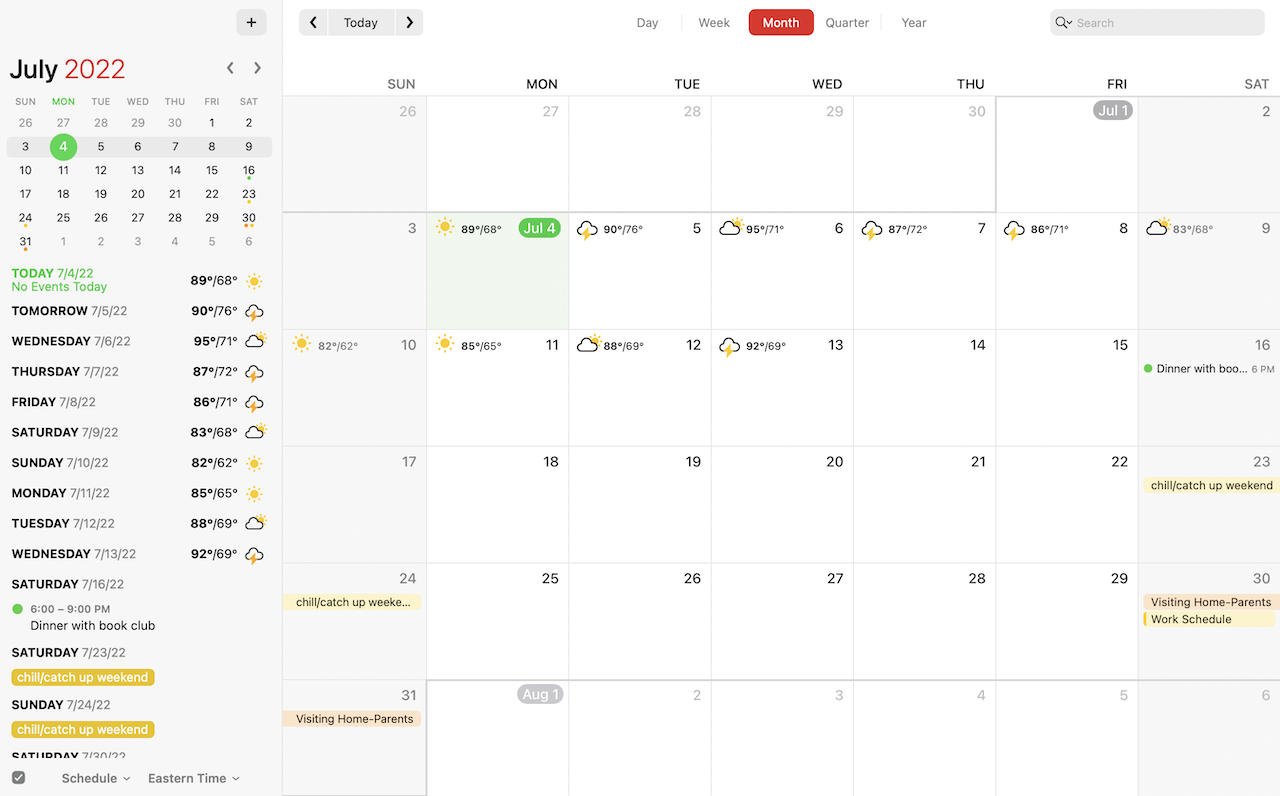 Year view
Year view is super helpful when you need to schedule an event further out than usual, especially for those irregular appointments you need to book in advance. After my recent trip to the dentist's office(!), the receptionist asked to book a follow-up appointment in about six months time. Normally at this point I'd panic and say I'll call back later to schedule, or just accept whatever was offered! But quickly switching over to Year view in Fantastical for iPhone allowed me to take a quick glance at my availability later this year, and get the appointment booked right then and there using Fantastical's natural language parser. No more scrolling through different months or accidentally double-booking myself!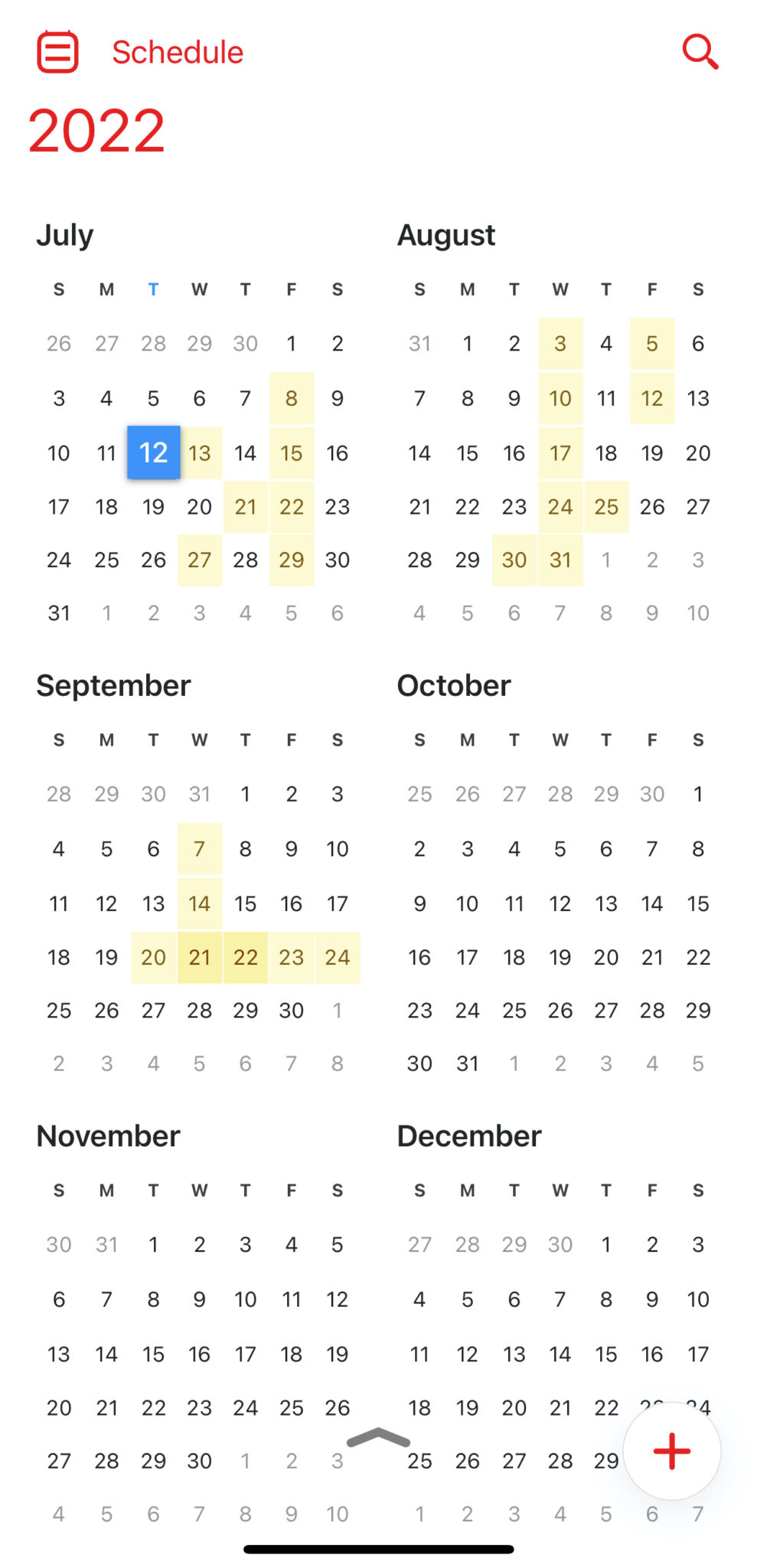 Year view is also great to schedule family vacations, organize work events, or plan for household budgeting. This gives you an overall idea of where a date falls and prepares you for whatever else life has coming your way around that time. Also, if you're a sports fan, Year view is a great way to keep tabs on important dates in the season's calendar. This way you won't ever miss a game again!
Tips and tricks
You didn't think I'd leave you without a few tips and tricks, did you? Here are a few useful ways to switch between and customize Fantastical's calendar views.
Using your keyboard, quickly switch between views by holding the command key and pressing a number key. Each number between 1-5 corresponds to a different view. No need to take your hands from the keyboard.
If you like to customize your views without diving into Fantastical's preferences on your Mac, try right-clicking the Week, Month, or Quarter view buttons. This allows you to quickly change the days or weeks per view.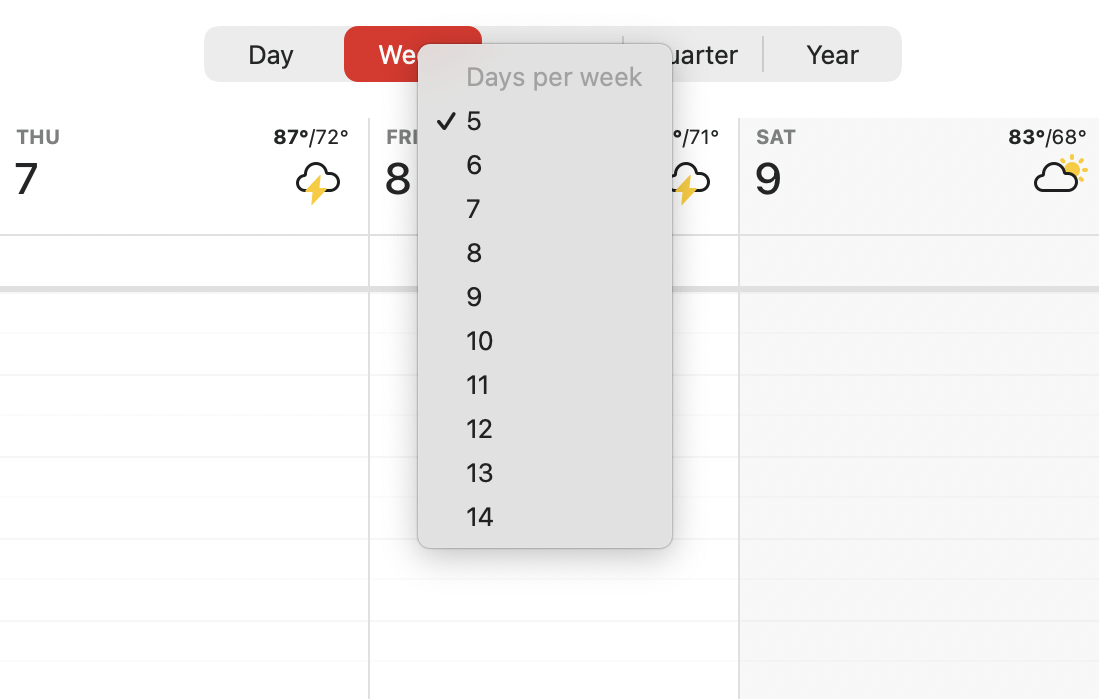 Finally, try setting the Week, Month, and/or Quarter views to start on the current day or week. This makes sure you only have upcoming events visible, and maximizes the amount of future events you can see on your screen at once. It's a nice alternative to Fantastical's default display behavior, and you can find these options in the general section of Fantastical's Settings/Preferences.
Learn more
Hopefully this post has inspired you with different ways to use Fantastical's various calendar views. Sometimes it's fun to switch up your routine and find alternative ways to view your calendar! Try it out and let us know if harnessing the different calendar views in Fantastical has helped make your life easier. For further details about Fantastical's calendar views, please refer to our Help Books.
See you soon!