New Improvements to Fantastical Scheduling
A few months ago we launched Fantastical Scheduling — an effective solution to streamline your meeting planning with the help of Openings, Proposals, and the new Quarter view.
Fantastical Scheduling is included as part of the Flexibits Premium subscription, and was warmly received by our community. Over the past few months, we've been listening to everyone's feedback and comments, and we're proud to roll out our first major update to Fantastical Scheduling. We think many of our fans will be pleased with this one! Let's dive in and highlight a few of the enhancements now available in Fantastical Scheduling.
Automatic conference calls

We've all come to rely on call services to make our working lives continue irrespective of location or lockdown restrictions, and Fantastical was widely praised when we introduced direct integration of Zoom, Google Meet, and Microsoft Teams into our user's calendars. Being able to quickly add a scheduled conference call to an event without any additional steps is super powerful.
We've now extended this feature to Openings! This means you can create Openings meeting templates that automatically add conference calls to the time slots people request from you.
Try setting up different templates for online and in-person events, and then share both template URLs with your clients or co-workers, and give them the option to choose between a face-to-face meeting or an online one.
Break Time

Over the past few months, Fantastical users have been enthusiastic about letting others automatically request appointments, but having a bunch of subsequent meetings with different people back-to-back can prove to be challenging to arrive at on time.
This is where Break Time comes in. Use Break Time to select a time interval before or after meetings that people request from you, allowing yourself to have a few moments to refresh yourself, collect thoughts, and arrive at your next meeting fully prepared and focused.
Lead Time

Have you ever had someone request a meeting with you a few minutes before it would begin, leaving you scrambling to prepare or having to decline the request? If so, then Lead Time will be your new best friend!
Lead Time allows you to control how soon a meeting can be requested, giving you the time you need to prepare for each meeting. Set your Lead Time to whatever you feel is an appropriate amount of notice before meetings can be requested.
Date ranges for meeting requests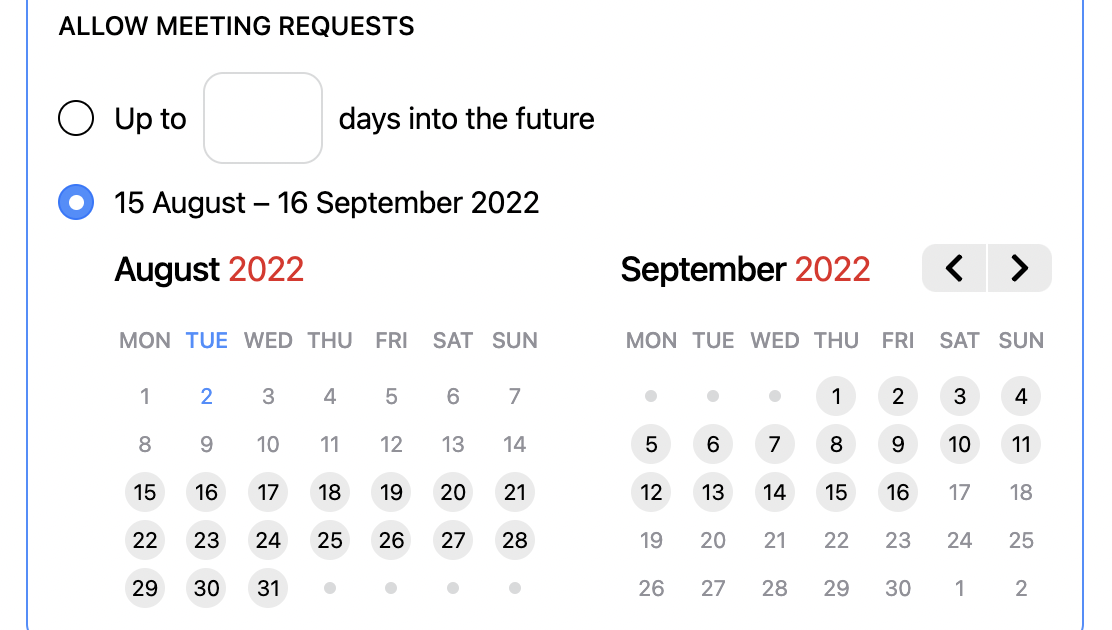 Previously it was possible to allow meeting requests a specific number of days into the future. Now we've also added the option to let you choose a range of dates that your meeting requests should fall between. This is perfect if you know in advance when you'll be available for meetings, rather than specifying a rolling number of days into the future.
Openings Availability view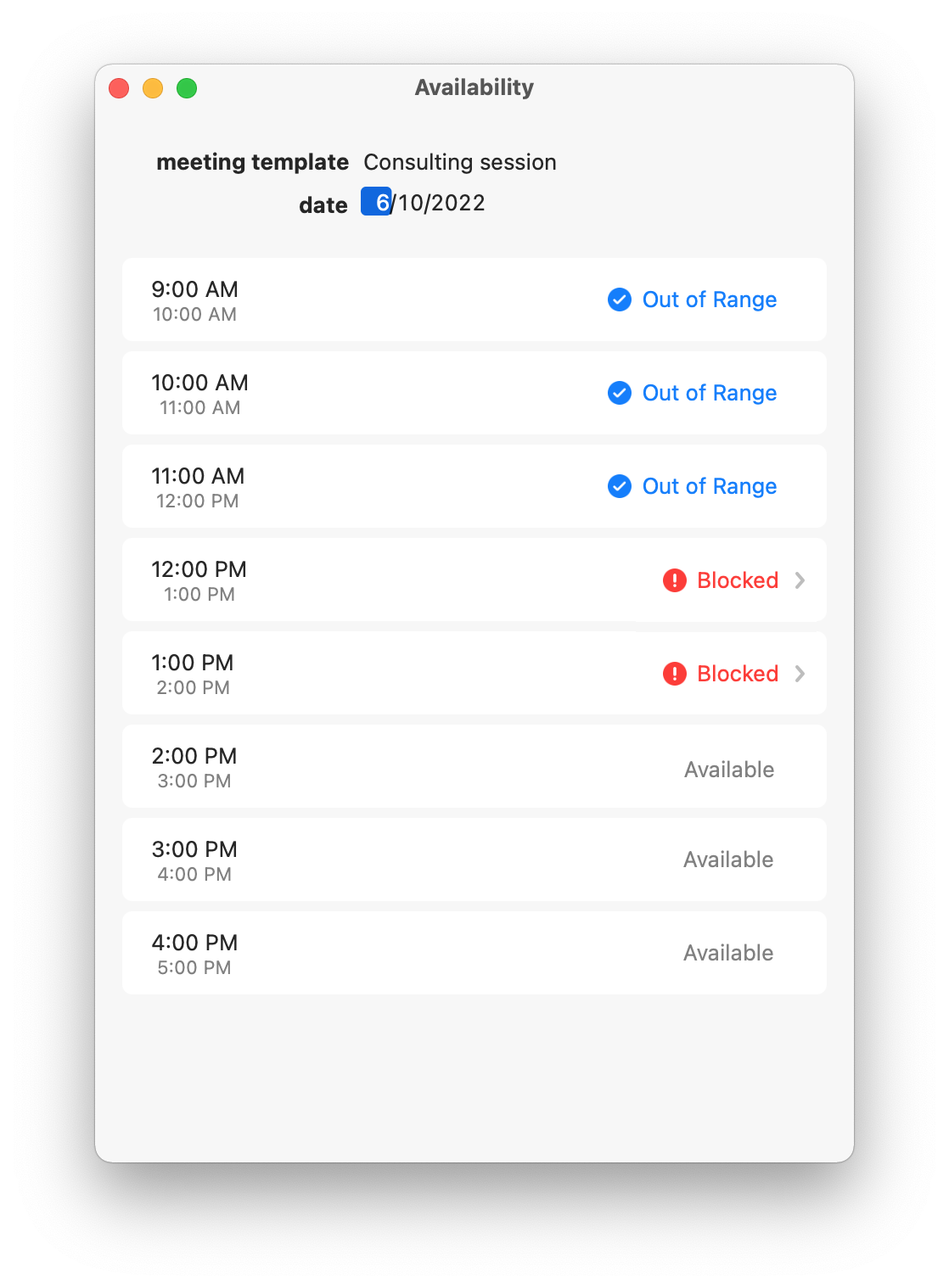 If you want to check which time slots you still have open, or which are no longer available, Fantastical introduces a convenient way to do this. Clicking or tapping the new ellipsis icon in the Openings Templates window will now let you see your remaining availability.
Your Openings slots will be clearly marked by whether they are 'Out of range' (meaning the time for the slot has passed), 'Blocked' (when you have a conflict in your calendar that's preventing people requesting this time slot), or 'Available'. This helps you to understand how people who use your Openings URL will see your availability, and allow you to make adjustments to your schedule as necessary.
…and more!
We packed a few other goodies into this update too, such as support for joining Butter calls, a way to re-size the Openings Templates window on Mac, and a few other tweaks and fixes to make sure Fantastical continues to run smoothly and reliably.
Learn more
The best way to get to grips with Fantastical Scheduling, and make use of the features highlighted in this blog post, is to take a look at Fantastical's help book and then try it out for yourself! Whether you're organizing work meetings, running a business, or planning family events, let Fantastical Scheduling do the hard work for you!
We hope this update addresses your feedback and makes you even more productive. We can't wait to share what else we have in store later this year.