Keep Your Interests Sorted With Interesting Calendars!
Interesting Calendars is a gem of a feature that, if you're not using already, you definitely should be! This blog post will aim to convince you to try it out 🙂
Interesting Calendars puts a large number of curated calendar options right at your fingertips, allowing you to subscribe to what you like with a simple click. Interesting Calendars in Fantastical is powered by our friends at SchedJoules, and quality calendar subscriptions are their thing – rest assured you have access to a wealth of different calendars to subscribe to! Interesting Calendars are easily accessible directly through Fantastical, and will automatically sync across your devices via your Flexibits Account.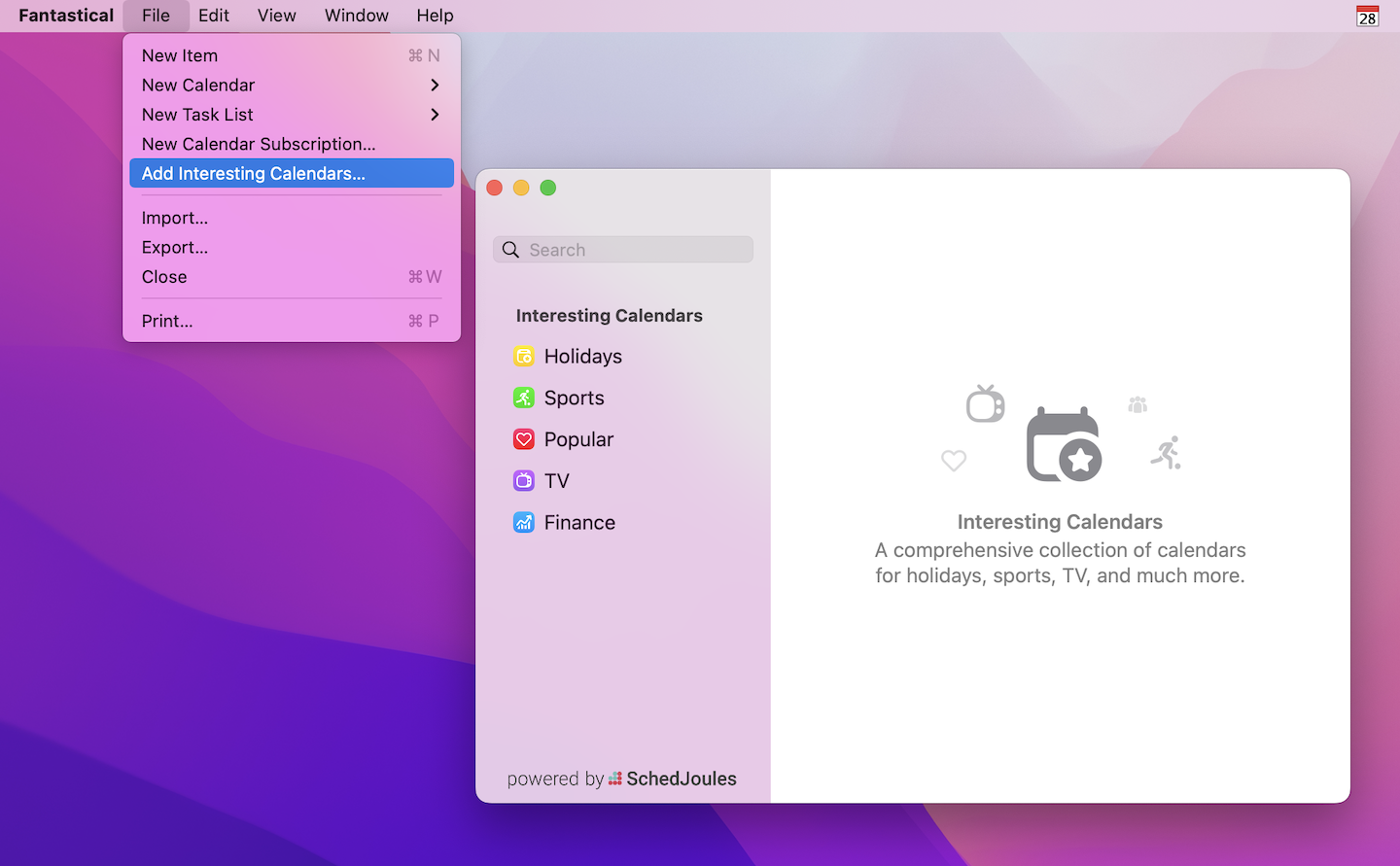 Before Interesting Calendars, if you wanted to subscribe to dedicated calendars for specific holidays, sports, finance, etc; then you had to go through the process of tracking down specific subscription URLs for those calendars (good luck with that!), and then taking multiple steps to import them into Fantastical.
Now, Interesting Calendars allows you to search for a large number of different calendars via a convenient user interface. Access Interesting Calendars by going to File > Add Interesting Calendars on Mac, or if you're working with Calendar Sets on Mac or iOS, use the + symbol from the Calendars section of Preferences/Settings.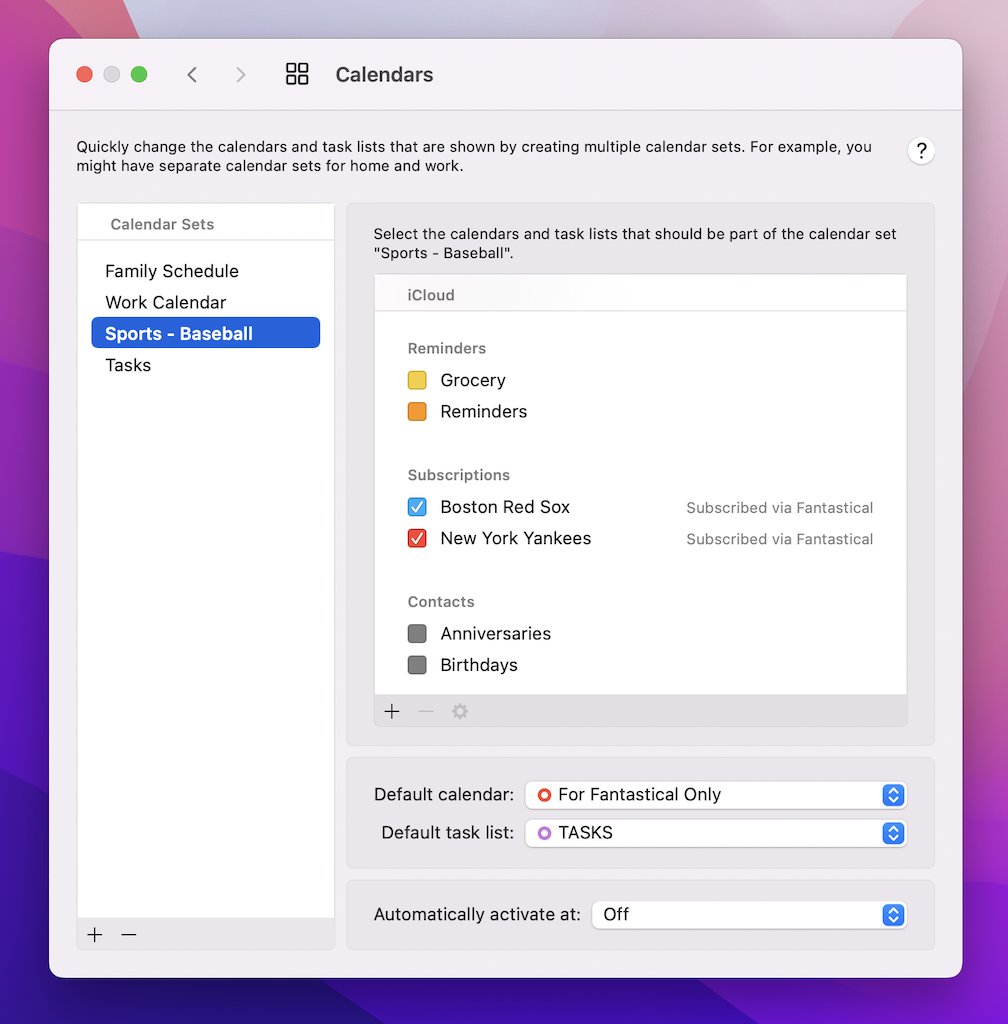 With Interesting Calendars you can easily browse through various calendar categories and add any that interest you with just a few clicks. This makes it extremely easy to add the calendar information you need or want.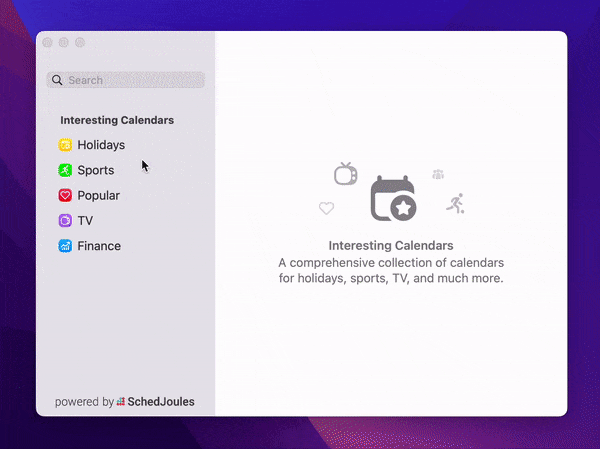 Perhaps you're thinking, "That's great, but how can I use Interesting Calendars in my life?" Well, I'm so glad you asked!
Are you a sports fan?
Let's start with Sports, and right off the bat Interesting Calendars includes an extensive list of calendars for major leagues such as the NFL, NBA, NHL, and MLB, to name a few American favorites. There's also an extensive list of popular sports leagues from around the world, and major global events like the World Cup and Olympics. While you can follow the entire calendar for the league, for most folks that might be a bit much, so you can always just add the calendar of your favorite team(s) instead. Interesting Calendars also includes a generous list of other sporting events such as cycling, volleyball, badminton, racing etc. By subscribing to a Sports calendar you'll know when to watch or record your favorite events, and you'll never miss a minute of the action! So, whether you're looking to follow a specific event or cheer on your favorite team throughout a season, Interesting Calendars helps you track your sporting events from season start to end.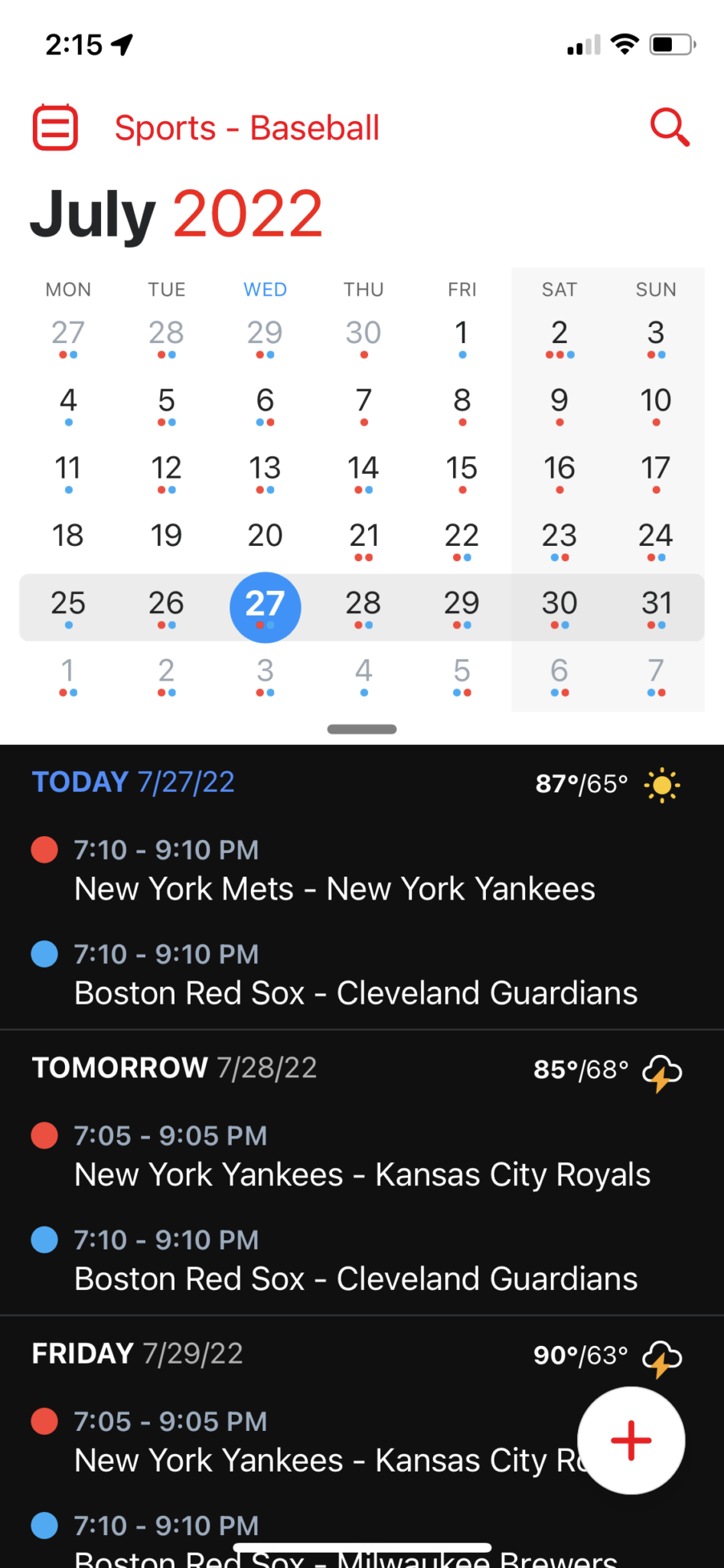 Local and regional holidays
Next up – holidays! Sure we usually have the major public holidays on our radar, but how about keeping track of local holidays that might impact scheduling for school or work? Interesting Calendars helps with that, finding calendars relevant to your state or region, so you'll have a heads-up if there's a holiday that may affect operating hours of businesses or schools near you. You can even add Holiday calendars from other countries so you can anticipate what might impact the schedules of colleagues working abroad – pretty handy instead of finding out late via their out-of-office reply.
Interesting Calendars doesn't stop there. Try subscribing to a calendar to track quarterly reviews or company conferences from Interesting Calendar's "Finance" section, or browse the TV category to follow your favorite TV series and see when new episodes drop! Or if you're simply not sure where to start at all, check out the "Popular" category to see if any of those widely-subscribed calendars tickle your fancy.
Chances are, Interesting Calendars has what you're looking for, and if not you can always reach out to SchedJoules to make a request. Thanks to our friends at SchedJoules for making our daily calendars a little more interesting 🙏
Learn more
Having learned a little more about Interesting Calendars, we hope you're tempted to take a look at this feature yourself, and maybe try adding some new calendars to Fantastical if you haven't already! If this is your first time checking out Interesting Calendars, you can watch a guided overview in our Interesting Calendars tutorial. So give it a go, and let us know if you have any questions! As always, you can contact us via our website or tweet at us if you need help.
Thanks for reading, and see ya next time 🙂