Networking skills can be elusive, subjective, and just plain tricky. With so many different ways to present yourself online and keep in touch with new people, it's important to be strategic about how you craft your first impression (and your lasting impression) in a professional environment.
Contact management is a key component of your networking toolkit. Now that the era of the Rolodex is far behind us, what are the norms, tricks, and best practices for managing your professional contacts? Read on to find out!
Have your information at the ready
We've all been there: you're having a great conversation with someone you know want to keep in touch with. You're ready to exchange details, and… now what? Who puts whose number into whose phone? How will you know which "Taylor" this is when you try to look them up later? Should you connect on Facebook? LinkedIn? BeReal??
It's 2023, and if you're not using a digital business card, it's time to up your game.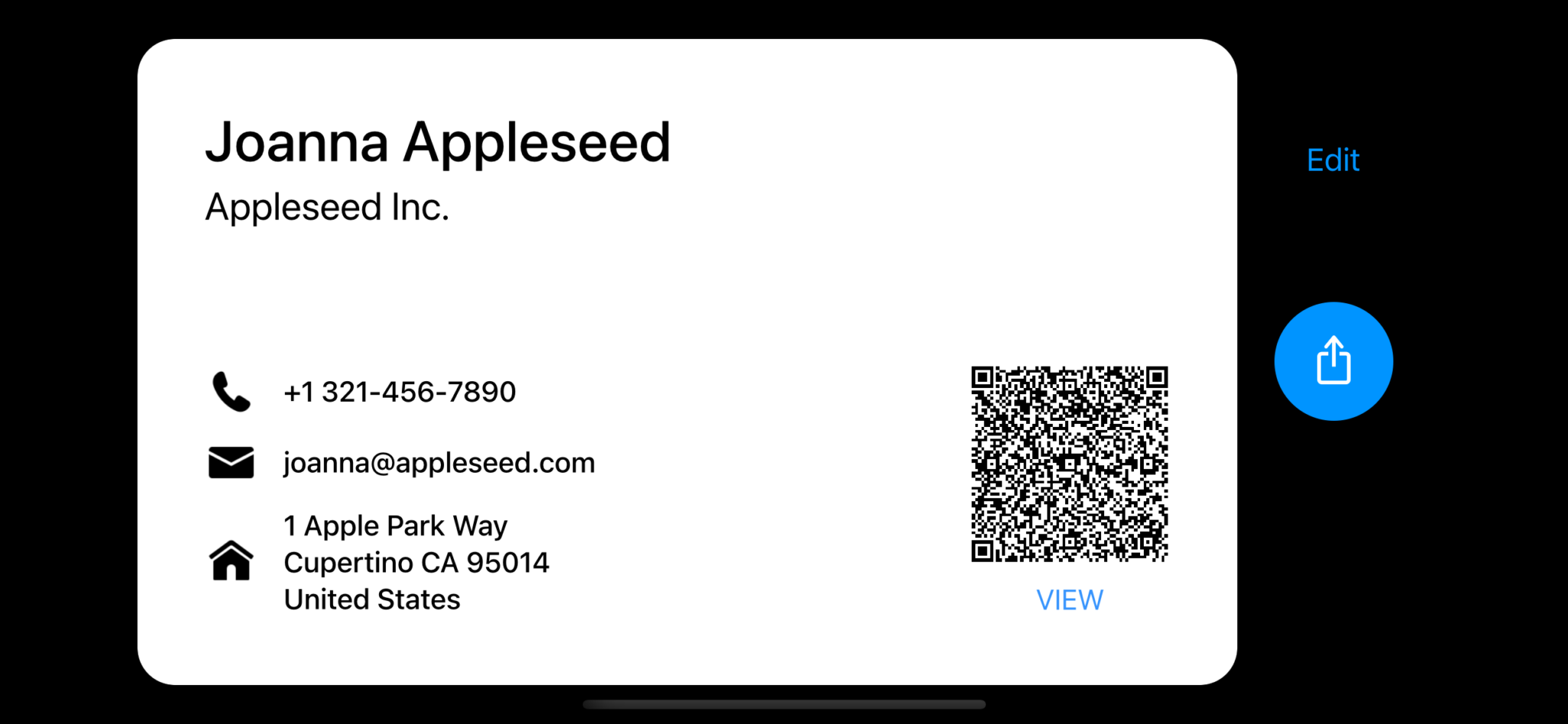 In Cardhop, your details are automatically housed in a digital business card that you can quickly share with new contacts. You can customize the information that's shown, change the color of the card, add a photo or logo, and more to ensure you're making exactly the right professional impression. This support article will tell you everything you need to know about configuring your digital business card in Cardhop.
Depending on how often you find yourself needing to share your digital business card, note that you can add your business card QR code as a widget on your home screen. (More information on how to do that can be found here.)
🤔 Do people still use physical business cards?
This varies a bit from industry to industry and place to place. If you're a technologist at an AR/VR convention handing out physical business cards, you might get a few raised eyebrows — but in general, the physical business card hasn't died out just yet.
For the most technologically forward but inclusive approach, try leading with the digital business card, but have a few physical cards on hand in case someone prefers to connect the old-school way.
If you receive a physical business card from someone else, note that you can quickly scan their information directly into Cardhop. When adding a new contact on iOS, Cardhop gives you the option to type details in directly, or scan them in from a card: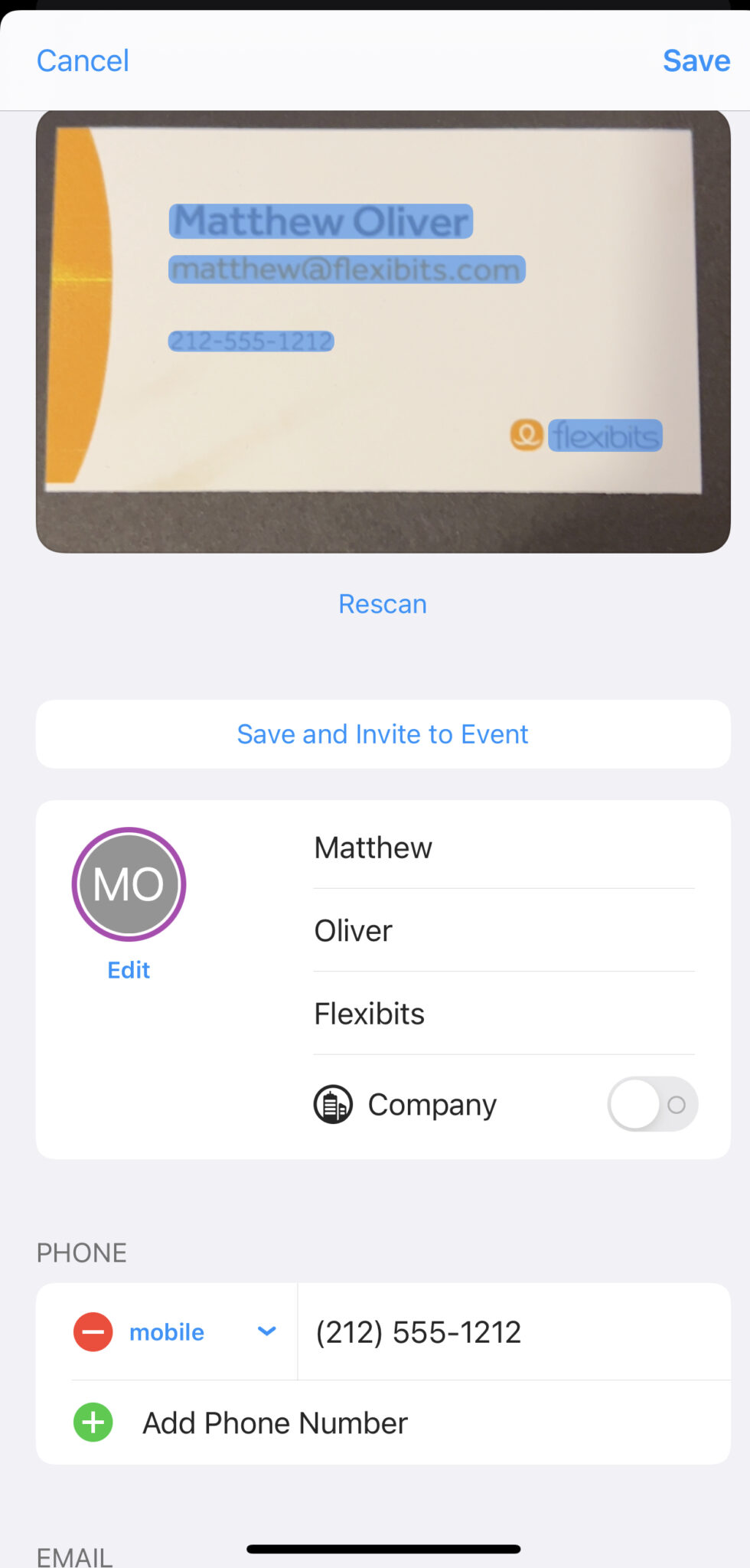 Related reading: Managing Business Cards with Cardhop
Track Groups, Relationships, and Details
When you make a new professional connection, you'll want to keep track of their basic contact and work information, of course — but there are a few other useful thing you may want to track as well.
Group contacts by industry or other professional context
Beyond simply tracking someone's workplace, you can create custom lists of contacts based on your own criteria. For instance, you could…
House all of the new contacts you met at a VR technologies convention under one "VR Professionals" list
Create a "Potential Leads" list after making connections at a trade show
Group all of your contacts at different press outlets in a "Journalists" list
Click here to learn more about how to create lists in Cardhop. Note that Cardhop's Smart Lists feature can also automatically group your contacts by company for you.
Track relationships within an organization
If you meet a group of people at the same organization, it can be very helpful to keep tabs on their organizational hierarchy (if you know what it is). That way, you can be sure you're going to the right people with the right questions, and not chasing up an intern for an inroad they can't provide.
In Cardhop, you can add relationships to your contacts, then see relational graphs at a glance: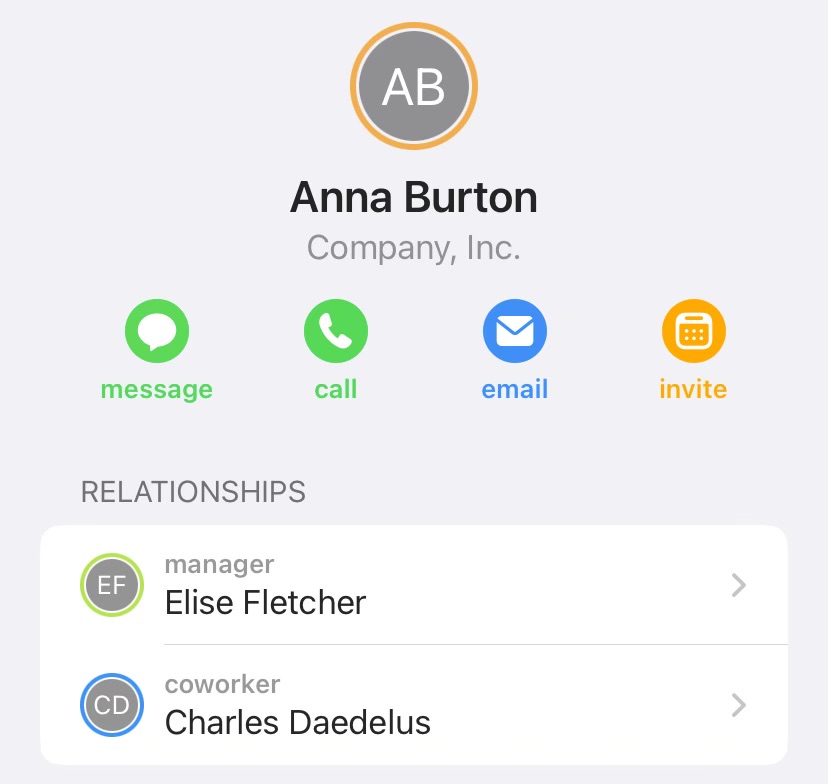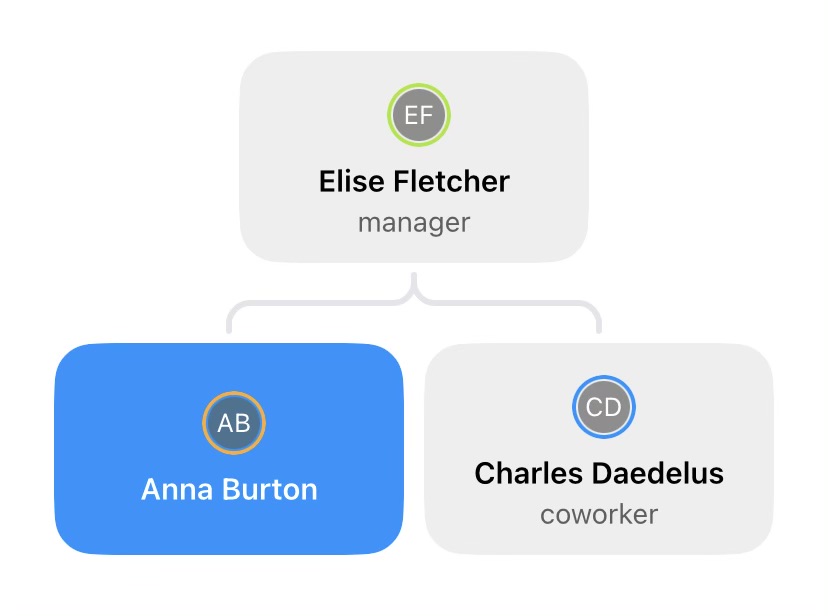 You can also import information from an entire directory based in Google Workspace, Exchange, or Microsoft 365 to auto-fill these workplace relationships.
Information on adding relationships to your contacts can be found here, and you can learn how to import entire directories here.
Record the right details
Remembering useful details about a new contact can be a great way to stand out in future conversations — just make sure you're not bringing up anything that's overly personal or specific. There's strategy to networking, but remember that the professional contacts you make are humans, too.
Jot down things like…
Pronouns
Specific areas of the industry that they're really excited about
Cool projects they're working on
High-level tidbits about family, pets, hobbies, etc.
But maybe don't include…
Notes on physical appearance
Highly subjective thoughts on their work, company, or style
Overly specific details about family or personal life
As a rule of thumb, if you think they'd be embarrassed or upset if they saw a certain note, don't write it.
You can add notes to the bottom of your contact cards in Cardhop, and even include specific timestamps on your notes to make sure you're aware of how recent your information is before referencing it in future conversations.
Following up with new contacts
After you've exchanged information and kept track of the right details, now comes the big question: when should you follow up?
This is also pretty variable based on context, but here are a few guidelines:
If a specific timeframe was mentioned: If one of you referenced any specific kind of plan, e.g. "Let's get coffee next week!", set yourself a reminder to reach out within that timeframe to firm up plans.
If you have a specific ask from them: Whether you're hoping for an interview, trying to lock them down as a new client, or similar, follow up quickly (a matter of days) so that the details of your conversation are still fresh on their mind when they hear from you.
If you don't have a specific ask from them: For people with whom you just want to stay in touch, follow up in a more leisurely manner (a matter of weeks) for something casual. You could even look out for an event that matches their interests and invite them down the line.
🤔 What if they're not answering?
If you've put a feeler out and haven't heard back in a week or two, try them one more time, then leave them be. You never know what is going on in someone else's life — maybe a family emergency or unforeseen issue is keeping them from answering, and the more you pester them with no response, the more you're souring the relationship.
Following up with Cardhop and Fantastical
Cardhop's quick actions integrate seamlessly with Fantastical so that it's easy to follow up with your new contacts.
Use the invite or Fantastical keywords in Cardhop to invite a contact to an event in Fantastical
Use event or calendar to directly create a new event in Fantastical with a Cardhop action
Use task, todo, or reminder to set a task in Fantastical relating to a contact (e.g. "reminder email Anna Burton 11/1")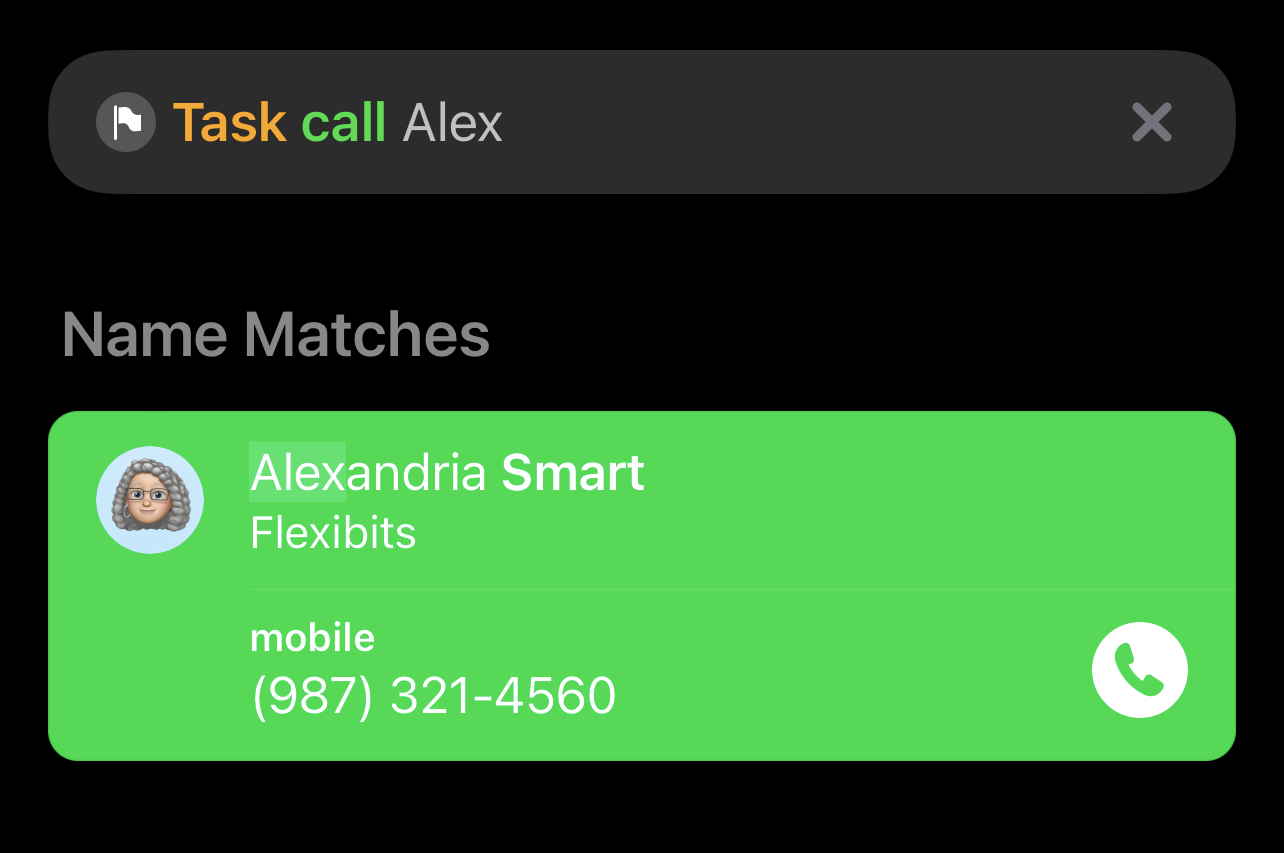 You can get a deep dive on quick Cardhop actions that integrate with Fantastical in this support article.
Related reading: Fantastical Actions in Cardhop
—
Hopefully these tips will help you feel ready for anything at your next networking event! And if networking with Cardhop has you excited about all of great ways you can manage your contacts, head here for extra Cardhop tips and tricks.