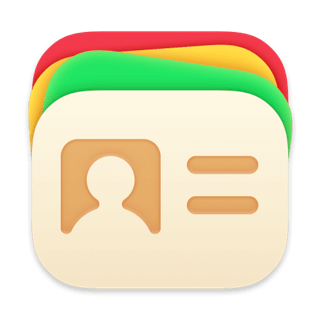 Cardhop
Tips and Tricks
Label your information

When adding details to a contact using the parser, you can choose what label to assign to that information (home, work, school, other etc.) by placing it after the entered information. For example, "234-456-7890 work" would set this phone number as the contact's "Work" number.

Quickly manage a contact

Right-click a contact to quickly add the card as a favorite, add it to a group, or share it quickly. When viewing a contact card, to quickly edit a specific field, just click on the information and type in the new details.

Quick action in list view

When browsing your contacts in one of Cardhop's list views, hover the cursor over the contact to reveal quick actions you can take on that contact right away. Click and hold the quick action to choose from alternative numbers or email addresses to complete the action with.

Customize your quick actions

Go to Settings > Actions to configure which quick actions you want to see as default.

Email an entire group using one action

Type "Mail /[groupname] [subject]" into Cardhop's search bar and complete the action in your default mail app. For example, "Mail /London Drinks tonight?" will open your mail app and create an email to all the contacts in the group called "London" with the title "Drinks tonight?" in the subject line.

Set up Cardhop's widgets

Configure which contacts or actions you want to appear in your widgets in Settings > Widgets. Add a widget to Notification Center, then Control-click the widget to edit and select the configuration you want. Your favorite contact or action will be a single click away!

Detach Cardhop form the Menu bar

Click the setting icon and select "Detach From Menu Bar" to make Cardhop act like a regular macOS window. You can also use the cursor to drag Cardhop out of the menu bar too.

Customize your shortcut

The easiest way to use Cardhop is with the global keyboard shortcut. Change this shortcut to a combination of your liking in Settings > General > Keyboard Shortcut.
Keyboard shortcuts
Depending on the screen or item you have active at the time, you can use various shortcuts with Cardhop.
Main view
New card
Settings
New Smart Group
Recents
Favorites
All Contacts
Birthdays
Hide groups
Go to My Card
Move between contact groups
When a contact is selected
Go to next card
Go to previous card
Add note
Add note with timestamp
Mark as a company
Add to Favorites
Print
Delete card