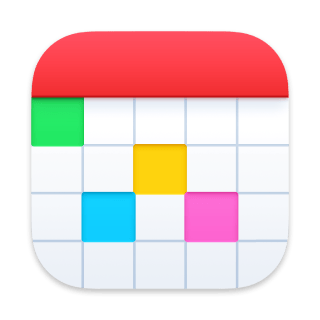 Fantastical
FAQ
I've upgraded from Fantastical 2. What happens to the features I paid for?
All of your features from Fantastical 2 are automatically available and do not require a Flexibits Premium subscription. This only applies to existing Fantastical 2 customers.
Mac Users: In order for Fantastical to activate your prior purchase you need to download Fantastical from the same location you originally purchased it from (either directly from our website or the Mac App Store). Otherwise Fantastical will not unlock your Fantastical 2 features.
If you purchased Fantastical 2 for Mac directly from our website (you have a Fantastical 2 license code) then you need to download Fantastical 3 directly from our website.

If you are using the version from our website, you can enter your Fantastical 2 license by clicking 'Fantastical' in the Menu bar > Enter License. This will not work with the Mac App Store version.

If you originally purchased Fantastical 2 for Mac on the Mac App Store then download Fantastical on the Mac App Store. Make sure you're signed in to the same Apple ID you used to make your previous purchase of Fantastical 2. Fantastical will automatically detect your previous purchase from the Mac App Store and make the existing features available.
Note: You will only receive the features that were available on the previous app you purchased. For example: Fantastical 2 for Mac had calendar sets, but Fantastical for iPhone did not.
There are also new features available for free to existing Fantastical 2 users:
New: 3 day weather forecast (powered by AccuWeather)
New: Full task support including Todoist and Google Tasks
New: Parser autocomplete recommendations for invitees, locations, calendars, and task lists
New for iOS: Apple Watch syncs over Wi-Fi and LTE, even if your phone isn't nearby (requires creating a free Flexibits account, but no Flexibits Premium subscription is needed)
New for iOS and iPadOS: Improved invitee support. Add your calendar accounts directly to Fantastical and receive and respond to invitations as well as G Suite and Exchange invitee lookup
New for macOS: Fantastical can now run in the background (receive notifications and sync even when Fantastical isn't running) and the mini window can now run over other full screen apps
New for macOS: Support for attachments on Google Calendar events
New for iPadOS: Full screen day, week, month, and year views
New: Universal app on iOS and iPadOS - If you are an existing iPad user, please download the new Fantastical from the App Store and your existing features will be made available
How do I use my Fantastical 2 license code in Fantastical 3?
If you previously purchased Fantastical 2 you can still use Fantastical 3 with all of your features from Fantastical 2 unlocked.
If you originally purchased Fantastical 2 from the Mac App Store then please be sure to download the latest version of Fantastical from the Mac App Store. If you originally purchased Fantastical 2 from the Flexibits Store and have a license code, download the latest version of Fantastical from our website. If you download Fantastical from the Mac App Store you will not be able to enter your license code.
Once you have Fantastical installed by downloading it from our website, enter your license code:
Open Fantastical
Click the Fantastical menu
Select Enter Fantastical 2 License
Enter your name and license code to unlock Fantastical
Why aren't my events or accounts appearing when I can see them in the macOS Calendar app?
If you use a service such as iCloud, Google, Microsoft 365, or Exchange, you probably need to add that account directly to Fantastical. Open Settings and click the Accounts tab to ensure your accounts have been added.
If you have On My Mac calendars that you want to use with Fantastical, Fantastical needs access your Calendars and Reminders. Go to the macOS Settings app > Security & Privacy > Privacy and ensure Fantastical as allowed to access your Calendars and Reminders. Then enable Fantastical's local Calendar sync in Settings > Accounts > Apps. Fantastical will not work if you disallow access to either of these. You also must allow access to Contacts in order for birthdays and event invitations to work.
I'm having trouble opening Fantastical. How do I reset Fantastical and start over?
Are you having trouble with Fantastical crashing on startup, accounts missing, or just want to quickly remove your accounts and start over again? Here's how to do that:
Go to the Finder and press command-shift-G
Copy and paste the following into the window that appears: ~/Library/Containers
Move the folders named Fantastical to the Trash (if you're using macOS Catalina or earlier then the folder will be named com.flexibits.fantastical2.mac)
Go to the Finder and press command-shift-G
Copy and paste the following into the window that appears: ~/Library/Group Containers
Move the folder named 85C27NK92C.com.flexibits.fantastical2.mac to the Trash
Restart your Mac
Open Fantastical and set up your accounts again
It is important that you restart your Mac after deleting the folder, otherwise Fantastical will not be able to save your settings!
Why is Fantastical is quitting unexpectedly?
If Fantastical quits unexpectedly, this is likely the result of macOS trying to re-allocate space on a storage drive that's starting to run out of room. For full details, please read this article.
My iCloud Reminders lists are not syncing, and I see a yellow exclamation mark in Settings > Calendars, what's happening?
This yellow exclamation mark means that you upgraded your Reminders database to the new format Apple is using for iOS 13. This makes iCloud reminders disappear entirely on Mac because it takes them off the iCloud CalDAV server and moves them to the new iCloud reminders format.
You must upgrade to iOS 13 and macOS Catalina to view upgraded Reminders. Also update to the latest version of Fantastical to view upgraded reminders.
Once you update to macOS Catalina you can enable reminders by doing the following:
Open Fantastical Settings
Select the Accounts tab
Select Reminders
Make sure Show Reminders is checked
Select the Calendars tab
Make sure your lists are enabled in the Tasks section
Why do I only see one Join Call button for conference calls when I have multiple calls scheduled?
The Join Call button will only appear for your next, upcoming call. This has the advantage of reducing clutter in your calendar, and when future calls become due you can click the Join Call button to join these calls too.
Why does Fantastical not accept my iCloud password?
Apple requires app-specific passwords when using two-factor authentication with iCloud. Please see our documentation for more information on creating an app-specific password. You will not be able to connect to iCloud using Fantastical if you don't have two-factor authentication or two-step verification enabled.
Also, make sure you are using your Apple ID's primary email address. You can check which email address is your primary address at appleid.apple.com.
Why isn't Fantastical syncing with my iPhone or iPad?
Why can't I add new reminders to Fantastical?
You don't have an account that supports reminders added to Fantastical. This usually happens when there's no iCloud account set up. Open Fantastical's Settings, click the Accounts tab, and add your iCloud account.
How do I show or hide Fantastical's mini-calendar and event list?
Click View > Show/Hide Sidebar to toggle the sidebar's visibility. Keep the sidebar enabled to quickly refer to a mini-calendar for the selected month and a list of your upcoming events and reminders. Hide the sidebar to give your main calendar view more space.
How do I select a specific calendar when entering an event or searching?
You can specify a calendar by using a slash (/) at the beginning or end of a sentence. Even easier, you only need the first character of a calendar. For example, /w or /h would create your event in the Work or Home calendars, respectively. You can be more specific if you have multiple calendars with similar names, such as /pe for Personal and /pr for Private.
Notifications are not working or are displaying duplicate alerts. How do I fix this?
You need to disable the Apple Calendar and Reminder notifications and enable Fantastical's notifications. Please perform the following steps:
Open Fantastical's Settings > Alerts. Make sure the notification options you want are enabled.

Open the macOS Settings app > Notifications. Disable all Calendar and Reminders notification options, including setting the 'alert style' to 'none'.

Whilst in macOS Settings > Notifications, make sure that all Fantastical notification options are enabled.
Why are my new events being set as all-day events?
New events will be set to all-day if you don't specify a time in your sentence. If you want a timed event, simply add the time to your sentence, such as "Meeting on Friday 3pm-5pm," and Fantastical will disable all-day mode and set the event times.
How do I disable all alerts on a specific calendar or reminder list?
All notifications and alerts for a calendar or reminder list can be disabled by doing the following:
Open Fantastical's Settings > Calendars
Right-click on the calendar or reminder list you don't want to receive alerts on and select Get Info
Check the box to Ignore Alerts
Why do I keep being logged out of Zoom?
If you are getting frequent prompts to log back into your Zoom account, then this is caused by a device limitation imposed by Zoom: Zoom can only be signed in to one computer and one mobile device at a time. Zoom's authentication system doesn't yet support multiple devices of the same type being able to sign in to the same account simultaneously. Thus, signing in to Zoom through Fantastical one one device will automatically log you out on another device of the same type. We have reported this limitation to Zoom.
For more information on this topic please refer to Zoom's help center
Are my accounts and events safe in Fantastical? Does Flexibits collect any personal data?
Do you offer education or military discounts?
Yes, we offer a 20% educational or military discount! This discount is valid for 24 months of your Flexibits Premium subscription.
Looking for an education discount for Flexibits Premium? Please contact us here and include proof of your educational institution, student status, or military service (such as a copy of your ID).
Do you offer team/enterprise plans for Flexibits Premium?
Yes, we have a team/enterprise plan that gives you a main Flexibits Account that is used to purchase and manage multiple subscriptions for your team. Once the account is activated, each user sets up their own Flexibits account and uses it to sign in to Fantastical and Cardhop on each of their devices, giving them full access to Flexibits Premium.
You can get started on our Teams information page. Once you create the main Flexibits Account that you will use to manage your team subscription, you can change the amount of seats at any time by going to your Billing page.
If you have any questions please contact us to discuss further.
Where can I download old versions of Fantastical?
Fantastical 3.6.11 is the last version available for macOS High Sierra, Mojave, and Catalina. You can download it here.
Fantastical 2.5.16 is the last version available for macOS El Capitan and Sierra. You can download it here.
Fantastical 2.2.5 is the last version available for macOS Yosemite. You can download it here.
Fantastical 1 is the last version available for macOS Snow Leopard, Lion, Mountain Lion, and Mavericks. You can download it here.
Please note that support for Fantastical 1 ended in 2015 and support for Fantastical 2 ended in 2020. You may encounter issues when using old versions of Fantastical on newer versions of macOS.
What is your subscription cancellation and refund policy?
Flexibits Premium offers a 14-day free trial period. During the 14-day free trial period, you have the option to cancel your subscription before it is billed.
Subscriptions automatically renew unless you cancel them
If you cancel, you can keep using the subscription until the next billing date
If you signed up for a free 14-day trial subscription and don't want to renew it, cancel it at least 24 hours before the trial ends.
If you are currently on a plan that has been billed, you are responsible for those charges. However, you can cancel future billing at any time. If you want to cancel, follow these instructions:
Once a subscription charge has been billed, it is non-refundable.
Where can I get information about the open source code that Fantastical uses?