Getting Started
Getting started with Fantastical is simple, and we'll walk you through the process.
Start-up prompts
The first time you open Fantastical you'll be greeted with a few of iOS's security prompts. These prompts will ask for permission to access your calendars, contacts, and location. Make sure you grant Fantastical access to these, as Fantastical will need them to display your calendars, invite your contacts to events, and add locations to events and tasks. Fantastical only needs access to your data to show you your schedule, it does not pass any data to third parties. Please refer to our privacy page for full details on exactly what data Fantastical collects and why.
Creating a Flexibits account
When you first open Fantastical you'll be prompted to sign up for a Flexibits account. This is used to manage your subscription, sync calendar sets, templates, notifications, weather, and more. Flexibits does not use your data for commercial purposes, and you can read more about our data safeguarding practices in our privacy policy.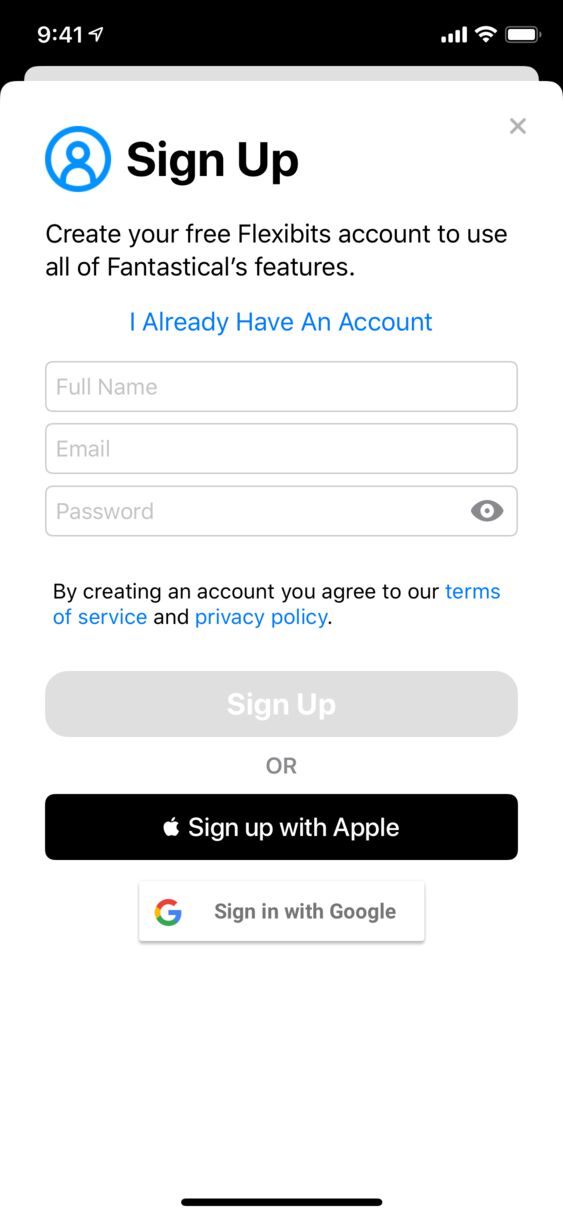 After signing up, you will be presented with your account key. This is used to secure your account data, and it is required to sign in to Fantastical on other devices if your devices do not share the same iCloud account.
Check your subscription status, view your account key, and sign out of your Flexibits account in Fantastical's settings.
IMPORTANT: You only need a single Flexibits account for all of your devices. When you log in to your Flexibits account on other devices, choose the "Sign In" option and use the same login method that you used when you originally created your Flexibits account (either your email address and password directly, Sign in with Apple, or Sign in with Google).
If you don't use the same sign in method, you will end up with multiple accounts which cause sync and subscription problems.
Connecting calendar accounts
Connect your calendar accounts directly to Fantastical. Open Fantastical's in-app settings and tap Accounts > Add Account. Select the calendar service you use to sync your events and enter your credentials to connect the account directly to Fantastical.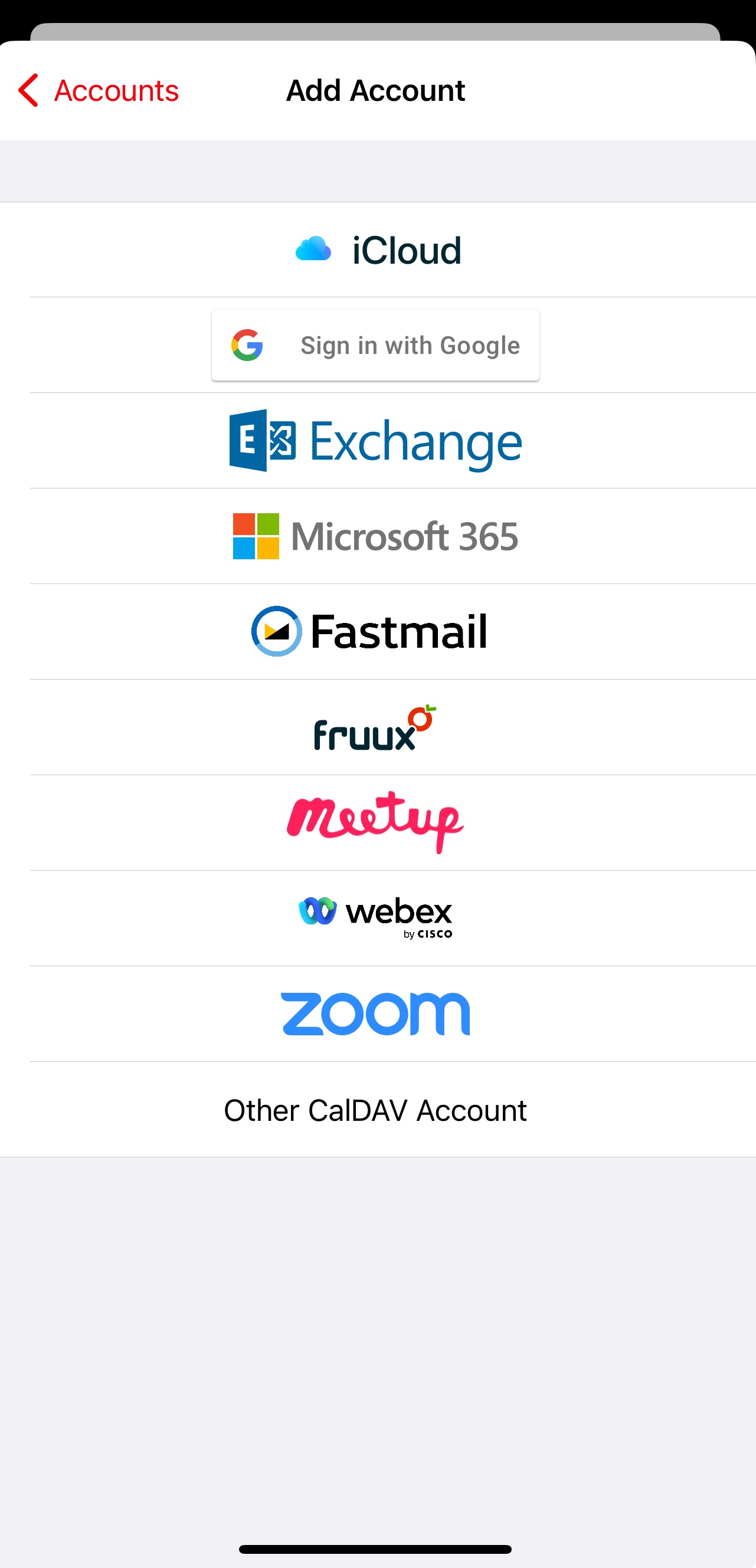 Viewing Fantastical's Microsoft 365 OAuth scopes
If you use Fantastical in an organization, your admin may want to view the OAuth scopes Fantastical requests. Your admin can view this information here.
Adding a calendar subscription
Fantastical can also add a calendar subscription via an iCal URL, or using Fantastical's Interesting Calendars feature.
To add a calendar via a URL, go to Settings > Calendars > + > Add Subscription. Here, paste the URL of the calendar you want to subscribe to and it will be added to Fantastical.
To add a calendar via the Interesting Calendars feature, go to Settings > Calendars > + > Add Interesting Calendars. Here, search or browse for a calendar you want to subscribe to and click the '+' icon to add it to Fantastical.
Viewing calendars and tasks from the built-in apps
To make full use of Fantastical's various features, we recommend adding your accounts directly to Fantastical. However, you can enable the "Show Calendars from iOS" and "Show Reminders from iOS" options in Fantastical's Settings > Accounts > Accounts from iOS, and any calendars or tasks you've configured to work with Apple's Calendar and Reminders apps (iOS Settings > Calendar > Accounts, or if you use iOS 13 or older, iOS Settings > Passwords & Accounts > Add Account) will be available in Fantastical.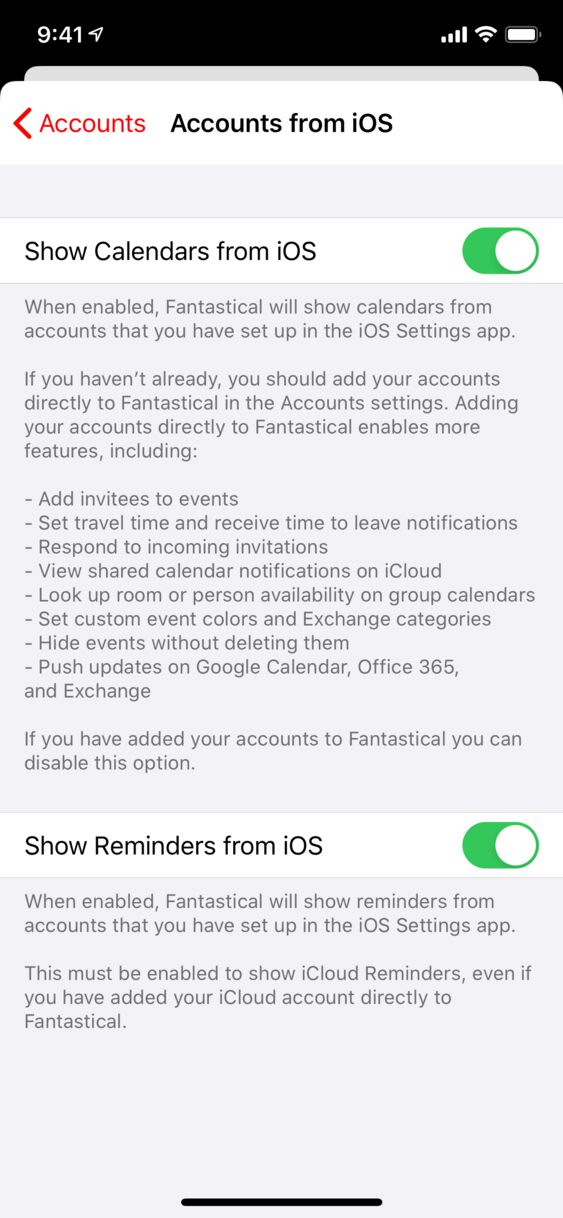 Viewing different dates
Scroll the event list or DayTicker to view different dates. To return to today, tap the month and year header at the top of the screen. Tap and hold this header to jump to a specific date.