Notifications
Fantastical shows notifications for different types of activities related to your calendar, such as event or task notifications, travel time notifications, or changes to shared calendars.
Disabling alerts from specific calendars or task lists
You can disable alerts and invitation notifications from a specific calendar by doing the following:
Open Fantastical's Settings.

Select the Calendars pane.

Double-click on the calendar to modify.

Check the Ignore alerts checkbox.
You can also disable shared calendar notifications by unchecking the Show shared calendar messages in Notification Center checkbox in Fantastical > Settings > Alerts.

Snoozing notifications
Snooze a notification for an event or task by clicking on the Option button in the notification and choosing the snooze duration from the list.
Accepting or declining invitations
Click on the Option button to respond to an invitation directly from the notification.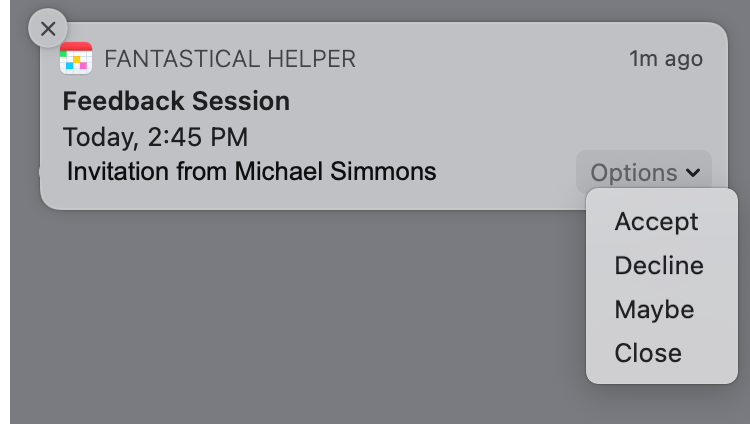 Dismissing multiple notifications at once
Hold down the option key and click on the icon of a notification to dismiss all notifications from Fantastical with one click.